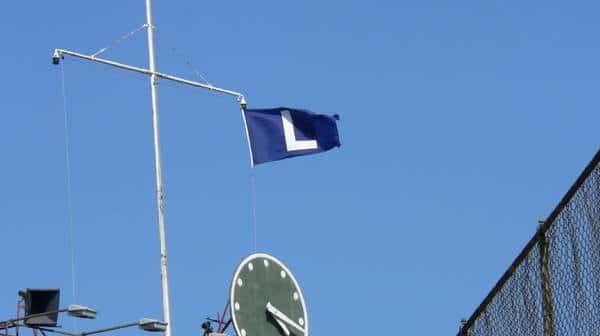 A Tip of the Recap – June 27th
The Cubs dropped the 2nd game of the series with the Cardinals tonight and lost by a score of 8-1 to fall to 10.5 games behind the division leaders.
The Good
Not much good from tonight's game; the Cubs had chances early and didn't capitalize before the pitching of Donn Roach and Travis Wood proceeded to give up a total of 8 runs.
Starlin Castro had a nice day at the plate, going 2 for 4 with a sharp single and a hard hit double (only his 6th) to bring his AVG up .265. He made a bit of a base-running gaffe when he was on 3rd with one out and Mike Baxter hit a grounder to first; Castro was a quick out at home (too quick) and the Cards were able to double up Baxter on the play (I believe it went 3-2-5-4 on the scorecard).
Chris Coghlan reached base 3 times, going 2 for 3 with a walk to bring his AVG to .253. He had a single and his 14th double tonight and continues to get the batting average to a respectable number.
Edwin Jackson continues to dominate low-leverage situations and put in 2 solid innings of relief, giving up just 1 hit and walking 1 to lower his ERA to 2.17 on the year. But if you put him in a tie game or a one-run lead situation then, all bets are off with him.
The Bad
Donn Roach was as advertised and pitched to contact, except it was consistently hard contact and he gave up 4 runs (all earned) on 8 hits and a walk with just 1 K. He had some good moments with a couple double play balls, but nothing here more than a spot start (hopefully).
Travis Wood was probably even worse than Roach, though he did eat some innings so that was decent. He gave up 4 runs (all earned) on 4 hits, 4 walks with 3 Ks. He was mopping up for Roach and, to be honest, 2 runs would have been enough for the Cards to win this one. Still, it wasn't a great outing for Wood.
The Cubs had many chances again tonight and went 1 for 8 with runners in scoring position while leaving 18 men on base. If they are going to really threaten for October baseball they will have to get some of these timely hits or else they will continue to lose to good teams.
On Deck
The Cubs will look to salvage at least one game out of the series tomorrow at 7:05 PM (CST) on ESPN. The Cubs will bring Jason Hammel (5-2, 2.65) to the mound to stop this four game slide and he will go against Carlos Martinez (8-3, 2.89) for the Cardinals.