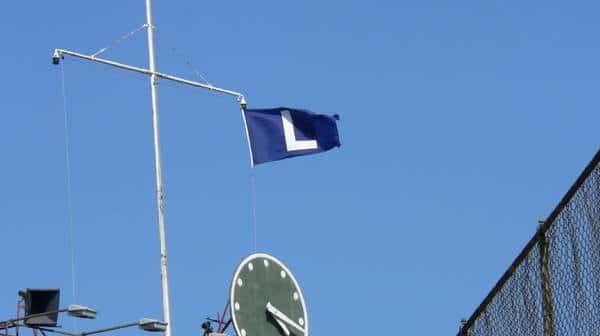 A Tip of the Recap – August 28th
The Cubs' bats were mostly silent tonight against Clayton Kershaw as they lost to the Dodgers by a score of 4-1.
The Good
Anthony Rizzo was able to smash a HR to straightaway CF (441 FT) to tie things up at 1-1 in the top of the 4th. It was his 26th HR of year and 78th RBI.
Matt Szczur, who came into the game 3 for 5 with a HR against Kershaw, got his 2nd start in a row and went 1 for 2 with his 5th double and a walk against the tough lefty. He is only hitting .222 and has been up and down from AAA Iowa quite a bit this year, but he does have some value with his speed and glove.
Clayton Richard and new Cub Fernando Rodney each pitched a clean inning of relief work. Richard was perfect in his inning while Rodney grazed Scott Van Slyke, but got out of the inning unscored upon in his debut.
The Bad
The Cubs struck out 15 times tonight and could only come up with 3 hits as a team. There were 6 different Cubs who struck out at least 2 time each, with Kris Bryant striking out in all 4 of his ABs. Granted, it was against a superstar pitcher who came into the game on a pretty extensive hot streak, but it was still pretty ugly overall.
Jason Hammel was pretty solid through 5 innings, but things came a little unraveled in the 6th and he had to be replaced by Travis Wood without retiring a single hitter. Travis Wood allowed an inherited runner to score to close the book on Hammel. In all he pitched 5+ innings and gave up 3 runs (all earned) on 4 hits and 3 walks with 5 Ks and 2 wild pitches. He falls to 7-6 on the year with a 3.42 ERA.
Perhaps one of the bigger turning points in the 6th inning was when Chase Utley tried to advance on a ball in the dirt that Miguel Montero blocked. If Montero makes a good throw to 3rd he gets Utley easily and the inning probably turns out a little differently, but instead it was a little wild and glanced off of Kris Bryant's glove allowing Utley to score, setting the stage for a big inning from the Dodgers.
On Deck
Game 2 will be tomorrow night at 8:10 PM (CST) on WGN and the MLB Network. The Cubs will turn to Jon Lester (8-9, 3.44) to stop the 3 game losing streak as he faces off against Mat Latos (4-9, 4.81) for the Dodgers.