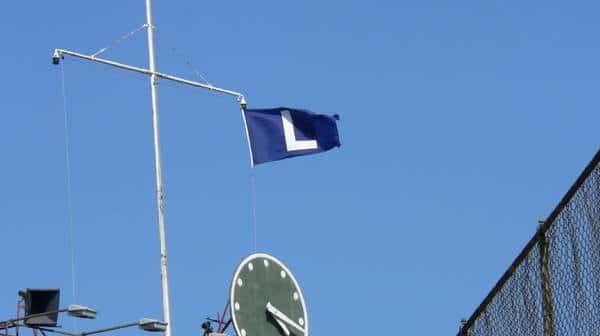 A Tip of the Recap – August 29th
The Cubs couldn't capitalize on chances to score and they ended up dropping their 4th game in a row to the Dodgers by a score of 5-2.
The Good
There was really not too much good about this one; the Cubs had tons of opportunities to score but just couldn't come through with the timely hit.
Dexter Fowler reached base 3 times, via his 23rd double and 2 walks, while Kris Bryant added a single and an HBP with a run scored. Addison Russell did drive in the first run of the game with a sac fly RBI and later scored on a balk by Mat Latos, but had a chance to some damage with the bases loaded and 1 out in the 8th and grounded into the inning-ending double-play.
But sadly, that was about it for the good things that happened in tonight's game for the Cubs.
The Bad
The Cubs were 0 for 8 with runners in scoring position tonight, their runs coming via a sac-fly and a weird balk by Mat Latos. Other than that though, the bats were quiet again with only 6 hits and 11 Ks as a team.
Jon Lester was solid through his first 6 innings, but he came out for the 7th and what was a great start turned into a disaster for him and the Cubs. He ended being charged with 4 earned runs in 7th (though Justin Grimm allowed an inherited runner to score). In all, Lester pitched 6+ innings and gave up 5 runs (all earned) on 8 hits, no walks with 7 Ks. He also gave up 4 stolen bases as he fell to 8-10 on the season and saw his ERA rise to 3.59.
On Deck
The Cubs will look to salvage at least 1 game out of the series with the Dodgers with the final game starting at 7:08 PM (CST) on ESPN. Jake Arrieta (16-6, 2.22) will hopefully play stopper for this losing streak as he takes on Alex Wood (9-8, 3.70) for the Dodgers.