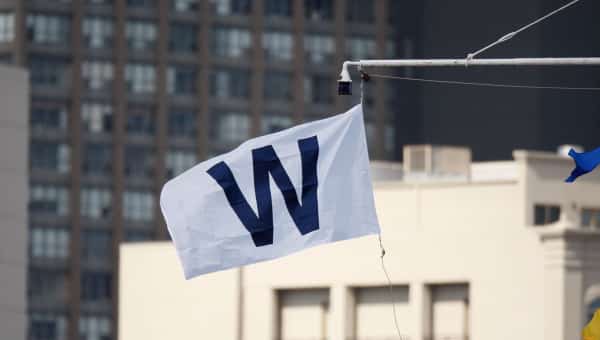 A Tip of the Recap – September 11th – Game Two
The Cubs swept the doubleheader Friday with a 7-3 victory over the Phillies in the nightcap behind 2 HRs from Kyle Schwarber and another from Kris Bryant.
The Good
Kyle Schwarber had what you would call a bounce-back game after striking out in all 4 ABs of his last start. Today was a different story for him; he went 2 for 4 with 2 HRs, 3 runs scored and a walk. He hit the first pitch he saw in the top of the 1st almost 450 feet. The next time up he hit an opposite field shot to LF, this time a 2-run shot, but again on the first pitch of the AB. Schwarber is now hitting .267 with 15 HRs and 41 RBI on the year.
Kris Bryant had another multi-hit game after going 2 for 5 in game 1 of the twin bill. In game 2 Bryant went 3 for 5 with a 2-run HR, a RBI single, and infield single. His impressive (and eventual Rookie of the Year) line currently stands at .271, 24 HRs and a team-leading 90 RBI. Every RBI he gets from here on out will be an extension of his Cubs' rookie record.
Chris Coghlan had a 2-hit day, going 2 for 5 with a run and an RBI double. It was his 22nd double and 37th RBI to go with his .250 AVG. The RBI total is low, especially when you consider that he has 15 HRs for the year, but there is no denying he has been a very valuable offensive player.
Miguel Montero had a 3 for 4 day with 3 singles and a walk to bring his 2015 AVG to .243. Certainly not a super-impressive AVG, but his OBP of .345 is driven by his patient approach (12.5% BB%). He is just 3 HRs away from tying his career high of 18 with the D-Backs in 2011. I know Beef Castillo is having quite the year, but I can't say that I am disappointed with what Montero has brought to this team.
Kyle Hendricks had a quality start today and went 6.2 innings, giving up 3 runs (all earned) on 4 hits and 2 walks with 5 Ks. He seemed to tire a bit once he reached 80 pitches or so, but he was efficient and looked like he was going to get through 7 innings tonight. Either way, it was a great start from him and he improved to 7-6 on the year with a 4.08 ERA.
Hector Rondon came into the 9th inning with 2 men on and no outs and closed the door in impressive fashion. He struck out the first 2 batters he faced then got the final out on a grounder to Bryant. He earned his 28th save and lowered his already miniscule ERA to 1.43.
The Bad
Fernando Rodney has been pretty solid in a Cubs' uniform, but tonight was not his best work. He came into the game in the top of the 9th to, in theory, close out the victory. Instead, he hit the first batter he faced then gave up a single and Joe Maddon had a short leash (and rightfully so), pulling him for Rondon.
You could tell by Maddon's face on the trip to the mound that he was less than pleased to have to go to the closer Rondon in this situation but I'm pleased he decided to pull him early before things got too dicey.
On Deck
Game 3 of the series will be tomorrow night at 6:05 PM (CST) on CSN. Dan Haren (9-9, 3.73) will get the start for the Cubs against a young righty named Jerad Eickhoff (1-3, 4.70) for the Phillies.