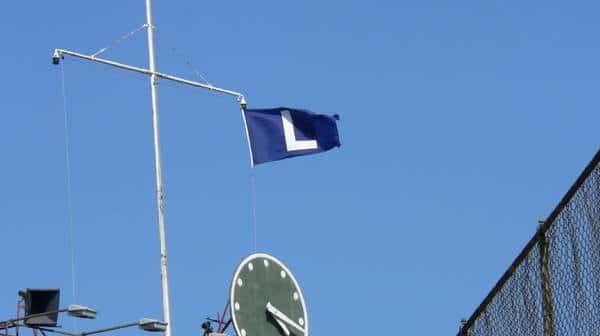 A Tip of the Recap – October 17th
The bats were mostly silent against Matt Harvey as the Cubs dropped the 1st game of the NLCS by a score of 4-2.
The Good
There was not much good about this one that saw the Cubs fall behind early. As a team, the Cubs only managed 5 hits with 3 walks and couldn't get the big hit when needed.
Starlin Castro got the Cubs on the board with an RBI double to CF in the 5th inning. Anthony Rizzo led off the inning with a HBP and came around to score after Castro smashed the ball to right at the center fielder, who misplayed it into an RBI double.
Kyle Schwarber continued to display some outstanding power in the postseason. He crushed a solo shot to right-center off of Harvey in the 8th inning to cut the deficit to 4-2. It was a 459 foot shot, which is the longest of the postseason; as has been typical with Schwarber, he got every bit of it.
The pen got 4 outs in relief of Jon Lester; Justin Grimm and Clayton Richard each retired a single batter and Trevor Cahill got the final 2 outs of the 8th to keep the Mets where they were.
The Bad
Jon Lester was just not good enough tonight to get a win in a postseason game. He made it through 6.2 innings, but gave up 4 runs (all earned) on 8 hits (2 HRs) and 1 walk, while striking out 5. He did work around some trouble to limit the damage or else this one could have been much worse.  He should get the ball again in game 5 at Wrigley this Thursday.
On Deck
Game 2 will be tomorrow night at 7:00 PM (CST) on TBS again. Jake Arrieta (22-6, 1.77) will get the start after seeing his 21 straight quality start streak end against the Cardinals in the NLDS. Hopefully he can give a better performance against Noah Syndergaard (9-7, 3.24) for the Mets.