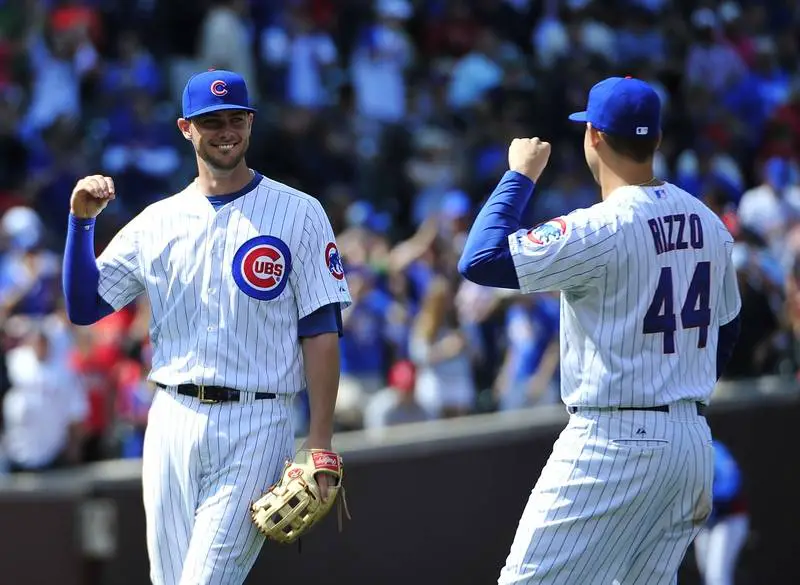 Do the Cubs Have the Best Infield in Baseball? Buster Olney Thinks So
The BIIB? I'm applying for a trademark as we speak. That's because, in Buster Olney's opinion [Insider…$], the Cubs have the best infield in baseball. It makes sense that a unit that added Ben Zobrist to round out a young quartet of Anthony Rizzo, Addison Russell, and Kris Bryant would be highly ranked, but it's always nice to see this kind of external validation.
Cubs first baseman Anthony Rizzo finished 10th in National League MVP voting in 2014 and fourth last year. Third baseman Kris Bryant was the NL Rookie of the Year, after reaching base 230 times in his first 151 big league games. Addison Russell and the Cubs thrived after he took over at shortstop and established a more consistent defensive presence at the most important infield position.

And during the winter the Cubs added the cherry on top of what appears to be the best and most well-rounded infield in the majors, signing Ben Zobrist to play second base. His defensive metrics dipped last season, but keep in mind that he had midseason knee surgery, and Zobrist continues to be a very strong offensive player among middle infielders; he had a .359 on-base percentage and .809 OPS. He also has proved adept against lefties — he hit .329 against them in '15 — which could be a skill more valued in the Cubs lineup as opposing managers attack Kyle Schwarber and Rizzo with lefties.

Here's another thing about this group: The players are all similar in personality and professionalism, and even if they weren't the best group of infielders — which they are — they would have a great experience playing together [emphasis mine].
I highlighted that last sentence because it's essentially the same thing many of us have been saying for a long time now. When you're really close to a particular team, you're naturally going to have a little bias and to perhaps paint them in a particularly good light. As such, it's nice to have a more objective voice sharing the same thoughts about the Cubs' makeup and how that impacts the team in more ways than what we see in the box score.
Warm fuzzies and torrid bromances aren't what's at the core of Olney's assessment though. While I'm sure Rizzobrist and Brussell (or is it Brizzo and Zobrussell?) will, like totally be bros in and out of the dugout, it's what they'll be doing on the field that has them at the top of the heap. Russell is an elite defensive shortstop who has serious potential with the bat as well, Zobrist is a very well-known, valuable commodity, Rizzo is one of the best first basemen in the game, and Kris Bryant is…well, he's freaking Kris Bryant.
Some of you out there might be getting a little worried about all this hype about the Cubs, and I get it. I mean, I just wrote about how FanGraphs picked them to finish with MLB's best record and we've already seen all the falderal about the Vegas odds on their success. The fatalistic instincts of oft-burned fans are hard to break, so it figures that you're getting the willies reading about how good the Cubs are supposed to be.
But I'm here to tell you to embrace it. Own the hype. Just don't act like a Patriots fan though, please. The Cubs are going to be good, really good, and it's not just a one-year thing. Then again, it's not anything until this team actually gets to prove it on the field. Is it April yet?