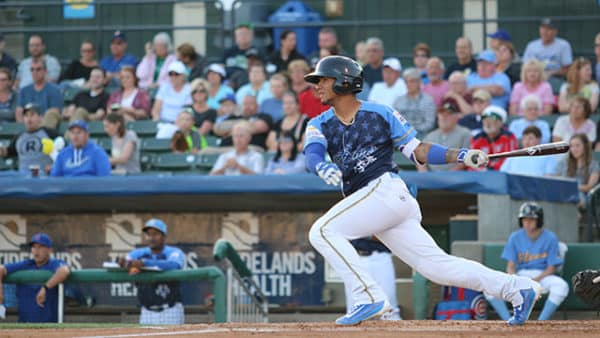 Team Update: Pelicans Getting Close to Another Shot at the Playoffs
Last year, the Myrtle Beach Pelicans won the Mills Cup Championship Series in their first year as a Cubs affiliate. This year's Pelicans team had the misfortune of the having most of the Boston Red Sox top prospects, including Andrew Benintendi, opposing them at Salem when the year began. Myrtle Beach's chances of catching up to the Red Sox improved greatly when he left the league. Going into Saturday's game, the Pelicans are 4.5 games back with less than 25 to play in the first half.
At 26-21, the key to the Pelicans' nice run this year is a dominating starting pitching staff that leads the Carolina League in ERA at 3.17. Their staff also has the fewest walks and the lowest WHIP in the league. Trevor Clifton leads all starters with a 2.25 ERA, followed by Jeremy Null (2.55), Zach Hedges (2.70), Jake Stinnett (3.09), Jonathan Martinez (3.35) and Erick Leal (3.71). They pitch inside, throw strikes, hold runners on, and use a variety of pitches to keep hitters off balance.
The Pelicans' hitting, on the other hand, is not as good. A team batting average of .237 is quite low despite having two of the top five prospects in the system in Ian Happ and Gleyber Torres. The team does not lead the league in any category, but they are third in home runs. Despite hitting .179 three weeks ago, Gleyber Torres' current average of .251 is fourth on the team behind Daniel Lockhart (.261), Ian Happ (.274) and Jason Vosler (.285). They clearly need more offense.
What needs to happen the next three weeks
1. Relief corps – With the promotions of Dave Berg and Jose Rosario to AA Tennessee, the Pelicans need to stabilize the back of the bullpen. James Farris is having an excellent year with a 2.13 ERA in 25.1 innings. Tommy Thorpe (3.00 ERA in the pen) has been solid in his return to the pen after making four starts in April. After that, their bullpen has been unstable. Two new arms arrived this week in Dillon Maples and Daniel Lewis, though both had debuts they would soon like to forget. Daury Torres, Ryan McNeil, and Jordan Minch have been quite unpredictable.
2. Yasiel Balaguert – On the surface, his .202 average for May is disappointing. However, he earned a Carolina League Player of the Week award in the midst of this slump. His importance to the middle of the lineup cannot be emphasized enough. In a down month he's hit 5 homers and has racked up 18 RBI. Imagine if he had a good month.
3. Jeffrey Baez – Last year, he was moved from the middle of the South Bend lineup to the top and the team took off. Baez hit .348 with 8 HR's, 28 RBI, and 25 steals to help trigger a run toward the playoffs. I wonder if that is an option for manager Buddy Bailey.
4. Rashad Crawford – This has not been good year for Crawford. He got off to a hot start and then concussion issues derailed it. If he stays at the top of the order, Crawford needs to get back on to the form that had him batting .304 in April.
That might seem like a lot to figure out in a three week span, and it is.
If, however, the Pelicans can figure things out and fix some of their issues by the end of the first half, it would set them up for a nice beginning to a second half run to get into the playoffs. It is not out of the question because Salem has lost some top prospects and could lose more, including MLB.com's #5 and #14  prospects, Yoan Moncada and Rafael Devers.
The Pelicans offense could improve if South Bend sends up some of its potent bats like Eloy Jimenez or Donnie Dewees up the ladder. However, the odds of those two getting promoted to is slimmer than most think. Dewees might be more ready than the 19-year-old Jimenez, but the Cubs are in no hurry. For one, I don't know who would replace them at South Bend. On top of that, I don't know what would happen to the outfielders at Myrtle Beach like Charcer Burks, Shawon Dunston, Trey Martin, Baez, and Crawford.
Regardless of who goes and who stays, the Pelicans need some offense to go with that solid pitching. The Salem Red Sox are not too far in front of them and can be caught.