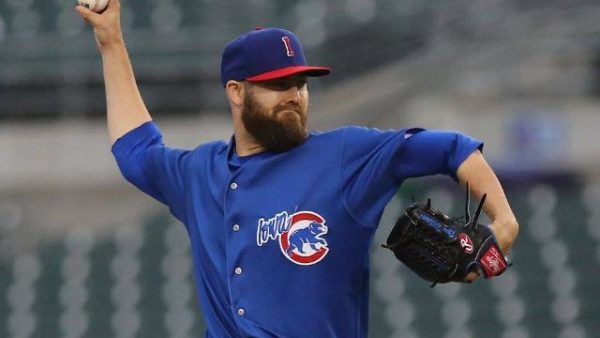 Iowa's Rough Season Still Provides Hope for Next Year
There's winning going on almost everywhere in the Cubs minor league system. South Bend and Eugene already punched their tickets to the postseason by winning first-half titles. Myrtle Beach, Arizona, and the Dominican Summer League 2 team are all within striking distance of getting into the postseason. It's pretty good that five of the Cubs' eight affiliates are in contention. Conversely, the fact that Iowa (44-60) will not make it to the playoffs is not a total loss. The Cubs know what they need to do to improve the upper level of the organization. In fact, they are trying to fix some of those things right now.
Here are a few thoughts on the opportunities and challenges facing the I-Cubs this year and beyond.

MLB talent
While winning is nice, the ultimate goal of every AAA affiliate is to develop major league players. Iowa has done that this year. Gerardo Concepcion, Carl Edwards Jr, Albert Almora Jr, and Willson Contreras were all promoted and performed admirably in Chicago. Edwards and Contreras are still in Chicago for the foreseeable future and Almora should return shortly to be a part of the postseason roster, if only for his defense.
Relievers everywhere
There are still several relievers at Iowa who are setting themselves up to help the ballclub next year. Armando Rivero, Spencer Patton, and Jose Rosario are in Iowa now, David Garner is pitching well at AA after a rough April and May, and James Farris is another reliever who could develop well at AAA next year.
Developing a starter
I felt bad for Iowa's manager, Marty Pevey, because he lost four of his five starters in the first week of the season. Since then, Iowa has scrambled to fill out the rotation. Rob Zastryzny was promoted more out of need than based on performance and he has had very mixed results (5.02 ERA). Iowa also used AA reliever Stephen Perakslis and A-ball reliever Michael Wagner as replacement starters. They also brought in minor league free agents, with only Jake Buchanan sticking. Their starters' ERA at one point in May was over 6.00. It was not pretty.
The injury bug has bit the rotation throughout the year. Pitcher Pierce Johnson, a fan favorite, had a horrible start (7+ ERA) and will be working out of the pen the rest of the year. Lingering health issues derailed his performance and attributed to his high ERA.
On the other hand, there may yet be some hope in the newly acquired Jordan Pries. I watched his debut start and he looked very good, going 6 IP with 4 K's and only 2 runs allowed.
How long is too long
There are players (Logan Watkins and John Andreoli) that have been in the Cubs organization for several years now. I don't see the harm in the Cubs letting them play in AAA right now, but it is something that the team is going to have to address in the next year. Several former elite prospects have either hit their ceiling or underperformed this year. The Cubs will have to make decisions on Corey Black and Rob Zastryzny, who I think will be kept but will not be protected from the Rule 5 Draft.
Looking Ahead to 2017
If Jeimer Candelario and Mark Zagunis make it through the trade deadline and the winter, they, along with Albert Almora, will be the position players most likely to make an impact next year at the major league level. There are only a few players who should be arriving next spring from Tennessee, including Victor Caratini (C), Ian Happ (2B), Bijan Rademacher (OF), Trey Martin (OF), and maybe Chesny Young (2B). Starting pitching depth probably won't be an issue next year, but Markey and Tseng will be promoted along with Garner, Farris, and a few other relievers.
If the organization is to grow stronger, AA and AAA have to produce players that can go from one level to another. I know there are no new spots waiting in Chicago for the next few years, but the Cubs did call upon the farm system plenty this summer. At some point in the near future, there are going to be prospects coming up from Myrtle Beach, South Bend, and Eugene who will push these players out of the way. And here's the thing; there are waves of  extremely talented players coming from the lower levels.
Over the past five years, the Cubs have amassed a collection of talent to create redundancy throughout the system. That has allowed them to part with players like Dan Vogelbach and even Gleyber Torres. Competition is a part of that redundancy and I think the Cubs minor league system truly gets crowded next season, even after the trades they just made. The Iowa Cubs, and ultimately those in Chicago, will bear the fruit of that competition.