Then and Now: Side-by-Side Video Compares Prep, Current Versions of Javy Baez
Is there a player out there who's more fun to watch than Ednel Javier Baez? Here's a hint: No. With his frequent displays of awesomeness throughout the playoffs, Javy showed everyone else what Cubs fans have known for a while now.
But it wasn't always that way. Or at least he wasn't always awesome without the "aw, man." Baez came into the league as an unadulterated whirling dervish, a barely controlled force of nature who dangerous power was as enthralling as it was appalling. You'd be all, "Ugh, that 41.5% K-rate" while at the same time thinking, "Yeah, but just look at him doing it."
As he's been able to harness that freakish ability, though, Baez has turned into a very productive baseball player. And there's still room to grow, particularly if he can continue to channel his light-tower power through an improved plate approach and better contact.
In this, the next chapter in our ongoing side-by-side comp series, we take a look at Baez in high school and the pros to see what tweaks his made. It's far from comprehensive, but it's pretty fun to see.
I was actually expecting a bigger leg kick in the prep clip, to be honest. But while the step isn't quite as exaggerated as I'd though it would be, the load phase of his swing sure is. Look how far back his hands travel before they're in position to start forward momentum.
Now let's compare that to his big homer in Game 1 of the NLDS.
The load is greatly reduced and the stance is wider, resulting in a blink-and-you'll-miss-it timing step. Nothing tempered when it comes to that follow-through, though. Let's check the swings out together to get a better comparison.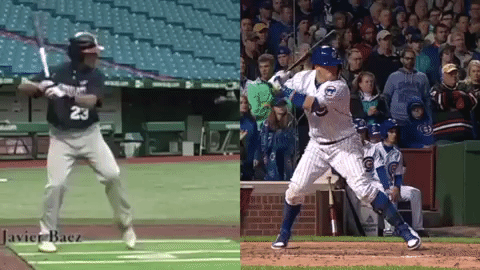 We need to remember that Javy was sitting on this particular pitch from Johnny Cueto and that he had some very bad intentions for it, but look at how fast and violent that swing is. The bat head actually comes around and hits him on the right hip as he's finishing. But it's clean and controlled at the same time.
When it comes to controlled insanity, though, perhaps no play better personifies Javy Baez than his steal of home in the NLCS. Because he's just a joy to watch, even just running, we present the following for your approval.
For more on Baez as a prep player, check out the showcase video below. And for more from this series, click to see comparisons of Addison Russell and Anthony Rizzo.
https://www.youtube.com/watch?v=mMlngmhYlME