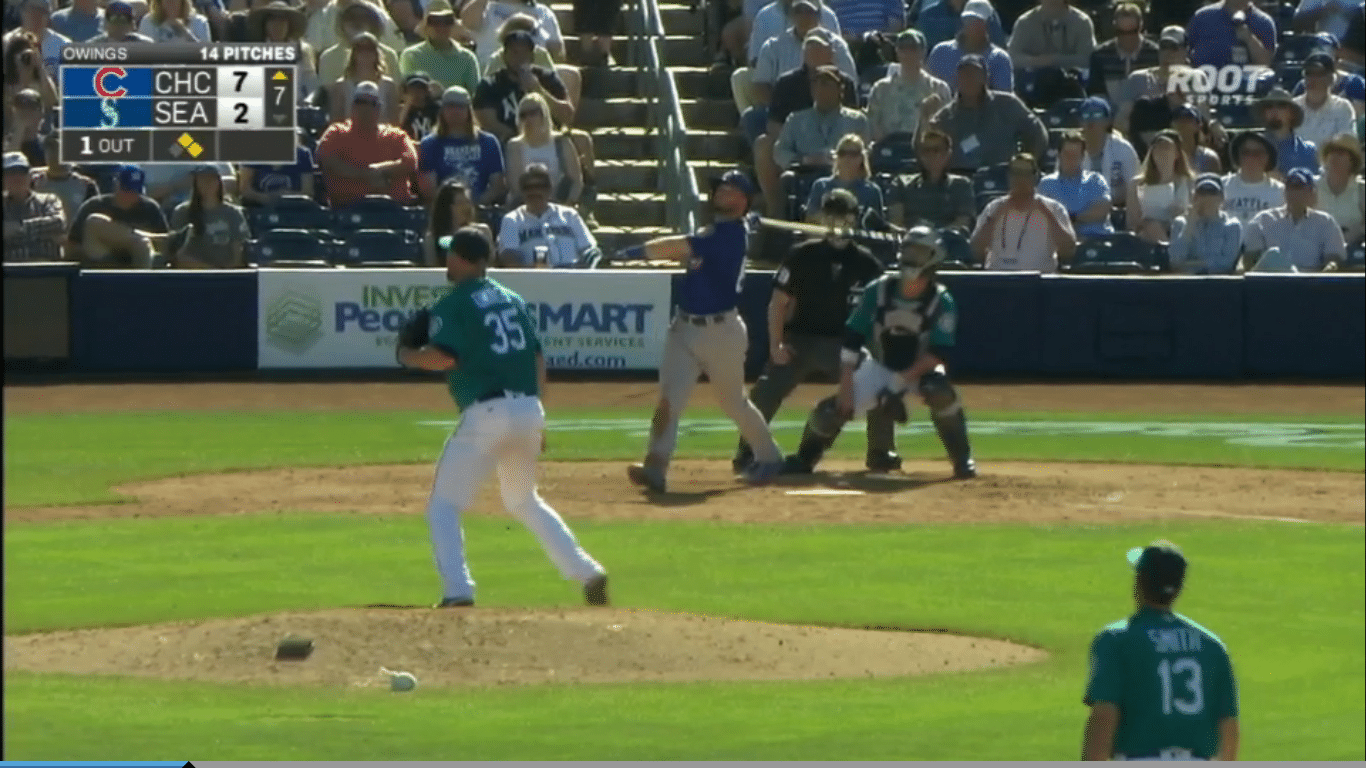 The Rundown: Kyle Hendricks' Throwing Routine, Hammerin' Happ, Cubs in the Community
The silent assassin looks anything but deadly, addressing the media beneath a shower-wet school-picture-day haircut. Then he talks about his approach with a measured cadence reminiscent of his performance on the mound and you get flashes of the tempered steel undergirding both his game and personality.
"I've learned more about myself what I need to do to get ready," Hendricks said after another sterling performance Friday. "But as far as kinda taking it easy or waiting until Opening Day, that's not really my style.
"If you notice (regression), maybe take a step back. But I haven't hit that point, really, ever. Until I get there, I'm just gonna keep with my routine, but definitely need to be aware of that."
That means throwing every day, or at least most days, even tossing bullpen sessions after his abbreviated spring outings. But it's more than that, as CSN Chicago's Tony Andracki laid out.
Here's Hendricks' typical four-day plan in between starts, as he ran down Friday afternoon:

Day 1: Weighted ball routine
Day 2: Bullpen + band work
Day 3: Bodyblade routine
Day 4: Light band work
Man, it's almost like Jake Arrieta Light. Wait, are we still not supposed to compare Hendricks to Cubs Cy Young winners? While the comp to Arrieta is incongruous as all hell, Hendricks continues to evoke Greg Maddux with his no-nonsense approach and league-leading results.
And as long as the renowned soft-tosser is able to continue defying common convention, he's going to keep hearing his name in the same breath as past greats. Not that it'll matter to Hendricks one way or the other. He'll just shrug it off with an impassive expression and then get back to work.
Ian's Happening Now!!
Any of you who spent your 80's summers watching WGN no doubt remember the parade of awesome sitcoms that sandwiched Cubs games in the afternoon. One of my favorites was What's Happening, which was followed up by What's Happening Now!!
Cubs camp is missing Raj, Dwayne, Shirley, and Dee, but Ian Happ is looking like a rerun of the great prospects we've seen over the last few years. He paced the lineup Friday afternoon, going 4-for-5 with 4 RBI and ending just a triple shy of the cycle.
You watch that whip-crack swing and wonder how quickly Happ can make his way to Chicago. The only thing that appears able to slow the University of Cincinnati product at this point is circumstance, hemmed in as he is by youthful talent at the MLB level. So what does that mean?
I've been saying for a while that multi-talented rising star will end up as the centerpiece of a trade, and I still lean heavily toward that eventual outcome. But seeing how the Cubs have been able to spread playing time among a glut of players over the past two seasons does make you wonder whether they could squeeze in one more.
We'll save any further looks into the crystal ball for now and just enjoy how this kid is playing.
More news and notes
If you or anyone you know will be in Mesa next weekend, be sure to stop by The Brass Tap to enjoy a huge craft beer selection and the company of your favorite CI writers (and me)
Not even sure how to describe this, so I'll let the video do the work
You've never seen a baseball game end like this. pic.twitter.com/Ow9qecsOm2

— Sports Illustrated (@SInow) March 10, 2017