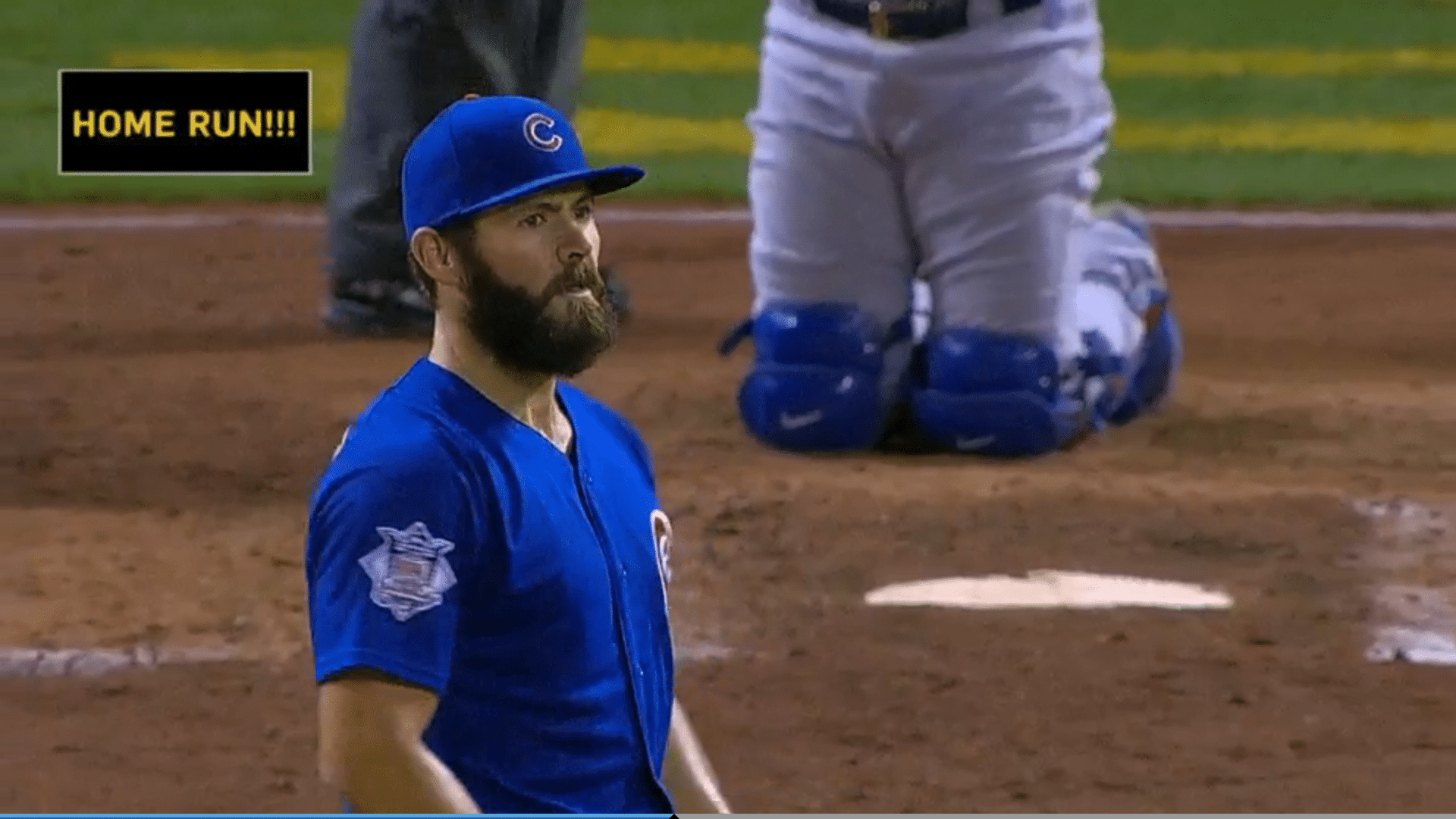 Jake Arrieta Talks Poor Mechanics, Mental Impact of New Contract on 670 The Score
There are all kinds of ways to sugarcoat disappointing performances, particularly with all the advanced metrics we've got access to these days. But I don't care how you position his whiff rates and (fingers crossed) unsustainably high BABIP and home run per fly ball rate, Jake Arrieta has been bad this season. I'm not just talking in comparison to past iterations of himself, either. Only 16 pitchers — among them former Cubs Jason Hammel (28), Clayton Richard (29), and Jeff Samardzija (31) — have allowed more than Arrieta's 27 earned runs.
What's more, this isn't something altogether new, as he's been trending downward since last May. And if we look at some factors underpinning the 16 percent HR/FB (league average this season is 13.0, Arrieta's career average is 10.6) or the .355 BABIP, we can see that the results are not simply due to bad luck. In addition to the decreased velocity everyone is focused on, Arrieta has changed the way he attacks hitters.
Pounding the corner down and away to righties/down and in to lefties gives you a little leeway when it comes to mistakes. The movement on the 2015 Cy Young winner's filthy stuff would generally carry pitches down and out of the zone, so misses were either balls or weren't at all square-uppable. Now, however, he's been wearing out the inside corner to righties. Good when it works, very bad when the ball works back over the plate. Which it has far too often.
Hence, the 37.9 percent fly ball rate that's the highest Arrieta has surrendered since 2012 and a 40.2 percent ground ball rate that is the lowest of his career. Add to that a 31.8 percent hard-hit percentage that's significantly higher than in any of his three previous full seasons with the Cubs. This isn't a matter of misfortune, it's a matter of wonky mechanics leading to more frequent mistakes that are infinitely more hittable than those he's made in the past.
The results are far too evident to hide from, which is why Arrieta made no attempt to do so when he joined the Bernstein & Goff Show Wednesday afternoon. In fact, he was incredibly forthright when discussing exactly what has gone wrong for him so far.
"Sometimes, when I break my hands, I kind of go too far behind my body," Arrieta explained. "And what that will do, wherever my right arm's going to go, my left arm's going to go. So, basically, I was going too far behind my body, which was turning my left shoulder and changing my line basically directly at a right-handed hitter. And then I was having to overcompensate, rotate laterally to get back on line. And the room for error there is so small."
Remember that bit I mentioned about how his location has changed? There it is. And though I know I spent some time arguing somewhat pointedly against bad luck as a primary culprit, there's no denying that opposing hitters are making Arrieta pay every time he's missing his spots.
"Another thing is, I feel like all the mistakes I'm making are getting hit," the pitcher lamented. "They're not going at somebody; they're either for a double or going over the wall. It's kind of one of those time periods."
The other major aspect in all of this is something that can't be quantified but that may be no less influential, and that's Arrieta's contract situation. There's no need to belabor the point here, as I've already made it more than once in the past and it's never something he'd openly admit is hampering him. Of course, that didn't stop the show's hosts from asking anyway.
"Well I think the main reason that I think about it — along with my wife and my family — is just the unknown of where we're gonna be, really," Arrieta said. "I've been a Chicago Cub since, what was it, July of 2013 and going on my fourth full season here, so it's just gonna be a completely different dynamic if I happen to not stay in Chicago.
"But outside of that, there's really nothing else that enters the equation. You know, financially — if that's what you guys are referring to — whether it's this number or that number, again, to me doesn't necessarily matter 'cause it's gonna be good either way. And if I go out there worrying about that in the game or in between starts or before games, that's not really doing anything to help me on the field.
"So you guys are correct that it's something you think about, but if you're thinking about it and it's affecting you in a negative way then you probably should try and alleviate and eliminate some of that thinking if you can."
Far be it for me to question the veracity of Arrieta's claims, but I do find it hard to believe that the little contract-talk birdie hasn't become a psychological albatross for him thus far. This sounds kind of like he's talking his would-be reality into being, which is a good thing. If he can sufficiently alleviate and eliminate some of that thinking, perhaps he can ameliorate the performance woes that go along with them.
Maybe it's not the catalyst for what we've seen so far, but when you've addressed your impending free agency and desires for a huge deal for the last two offseasons, it's impossible to not think about what a 5.44 ERA means to your future. And it means a lot less money over fewer years.
There's a lot of time left, though, and Arrieta is confident that he's found the root of his issues. Well, except for those extra ticks of velocity that have gone missing and don't seem to want to be found. He'll get a chance to show us whether the changes have taken hold when he takes the mound Saturday against the Brewers, who lead the world in team home runs. And they'll probably have Eric Thames back from his bout with strep throat by then.
Milwaukee's firepower will be a serious litmus test and we should know really quickly whether or not Arrieta's really figured it out.