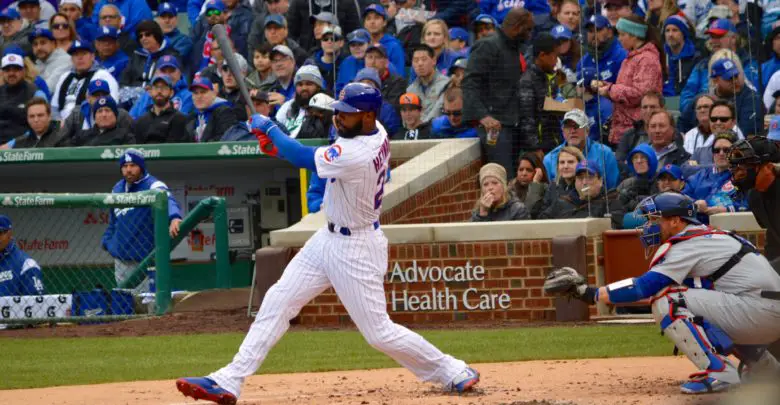 The Rundown: Heyward Looks Good, Bryant Leading Off Too Much, Schwarber's Golden Sombrero
It's only 129 plate appearances, but I think that's still enough for us to say with reasonable certainty that we know what Jason Heyward is going to be able to give the Cubs this year. And, unlike last year, that's more than just a great glove and a fiery speech. This is the player the Cubs thought they were getting when they beat out several teams vying for his services prior to last season.
Heyward's resurgence couldn't have come at a better time, what with several of his teammates underperforming to this point. That's the beauty of having such a deep roster, being able to gloss over reduced contributions from more than one key player by getting impact from others. That's how, despite what an interesting gentleman told me earlier this week, the Cubs were able to win with a glove-only right fielder.
The .776 OPS Heyward is putting up so far is just a teensy-weensy bit higher than last year's .631 and he's already halfway to the 1.6 WAR he put up in 2016. He's on pace for 23 home runs, more than three times as many as he hit last season. Looks like all the offseason work on his swing is really paying off. Being at full health has helped too.
We heard a few weeks back that a wrist injury had hampered Heyward to a greater degree than we'd understood last season. You can see that his mechanics are much smoother now, that he's not just chopping with a wooden, arms-only hack. What's kinda strange, though, is that Heyward's grounders are actually up this year while his flies are down.
The key to the results lies in the type of contact the right fielder is making, or not making as the case may be. While he had 27 percent soft and only 26.4 percent hard contact last season, Heyward's soft contact has dropped to 21.5 percent so far. More hard-hit balls means more chances for them to land safely. And it's not smoke and mirrors, either. These results are easily sustainable.
I'd be remiss if I didn't give a nod to the role the Cubs' mental skills program has played in Heyward's season as well. We've written about that in the past and it's something that continues to underpin the story of the organization's success on the whole. If you're interested in such things, Tom Verducci has an extensive article about how Heyward is working with Cubs mental skills coordinator Darnell McDonald to continue his improvement into the future.
Maybe Bryant's the real leadoff hitter
It's becoming almost uncanny at his point, this little inside joke I've got with a friend about how Kris Bryant always seems to lead off innings. Of his 200 plate appearances, 42 have come in the 1st inning, when he clearly can't lead off. Of the remaining 158 PA's, 36 (22.8 percent) have come with no one on and no outs.
All he's done in those three dozen trips to the plate is slash .371/.463/.462 with three home runs. What does that mean? Well, just that he's been really good with no men on, which is not great because you'd rather see him doing damage with more opportunities to drive in runs. Also, the guys in front of him haven't been doing their job.
We're not talking about huge numbers yet, but they'll continue to mount as the season progresses. Or maybe the won't if things improve a bit in the spot ahead of Bryant. Yes, I'm talking about…
Kyle Schwarber's performance
He walked out of the clubhouse wearing a Champ Kind cowboy hat, which was a welcome change from the golden sombrero he'd donned during the game. Four at-bats against Giants pitching, four strikeouts.
There is no one who wants to see War Bear succeed more than I do, no one who believes more than me that he'll turn this around. But as much as I want to lean on expected stats and the idea that water will find its level, it's evident that something is not right. I've written about the discrepancy in Schwarber's looking and swinging strikes and how straightening out his approach could mean a return to leadoff spot.
Thing is, I think he's gotten himself all twisted up and needs some time to extricate the psychological tendrils that are choking out his physical results. First, it was that he was taking to many called strikes, which you accept because he's learning the zone. Then the patience was putting him in holes that he'd try in vain to swing out of. When you take more strikes than you swing at but whiff three times as often as you go down looking, that's bad.
Thursday's game, though, was a whole 'nother story. Anyone wanna take a guess at how many of Schwarber's 15 total strikes were of the looking variety? Yes, you. Nope, that's a little high. You. Almost. Okay, last one. No, sorry, it wasn't zero. Schwarber took just one called strike in the game, as compared to eight fouls and six swings and misses.
One way to look at that would be to say that fouling balls off is a sign that he's just missing. Another way to look at it would be to say that he's flat-out missing. Except when he isn't. Maybe Schwarber just needs to run into a few pitches and get off the schneid, I don't know. What I do know is that it's frustrating as all get out to him struggling, so I know it's far worse for him.
More news and notes
The Cubs went to bed in first place in the NL Central; they woke up that way too
The Reds have claimed former Cub Jake Buchanan, who was designated to make room on the 40-man for Zac Rosscup
Eloy Jimenez hit a grand slam and drove in five runs in the 1st inning of Myrtle Beach's win Thursday.
Jesse Rogers writes that, according to MLB execs, Javy Baez presents more overall trade value than Schwarber or Ian Happ
Ryan Braun has been placed on the 10-day DL with complications from sunburn (actually his calf)
The Padres may be shopping Brad Hand, who always makes me think of Fast Times at Ridgemont High because his name is a mashup of Brad Hamilton and Mr. Hand.
David Price is set to be activated Monday