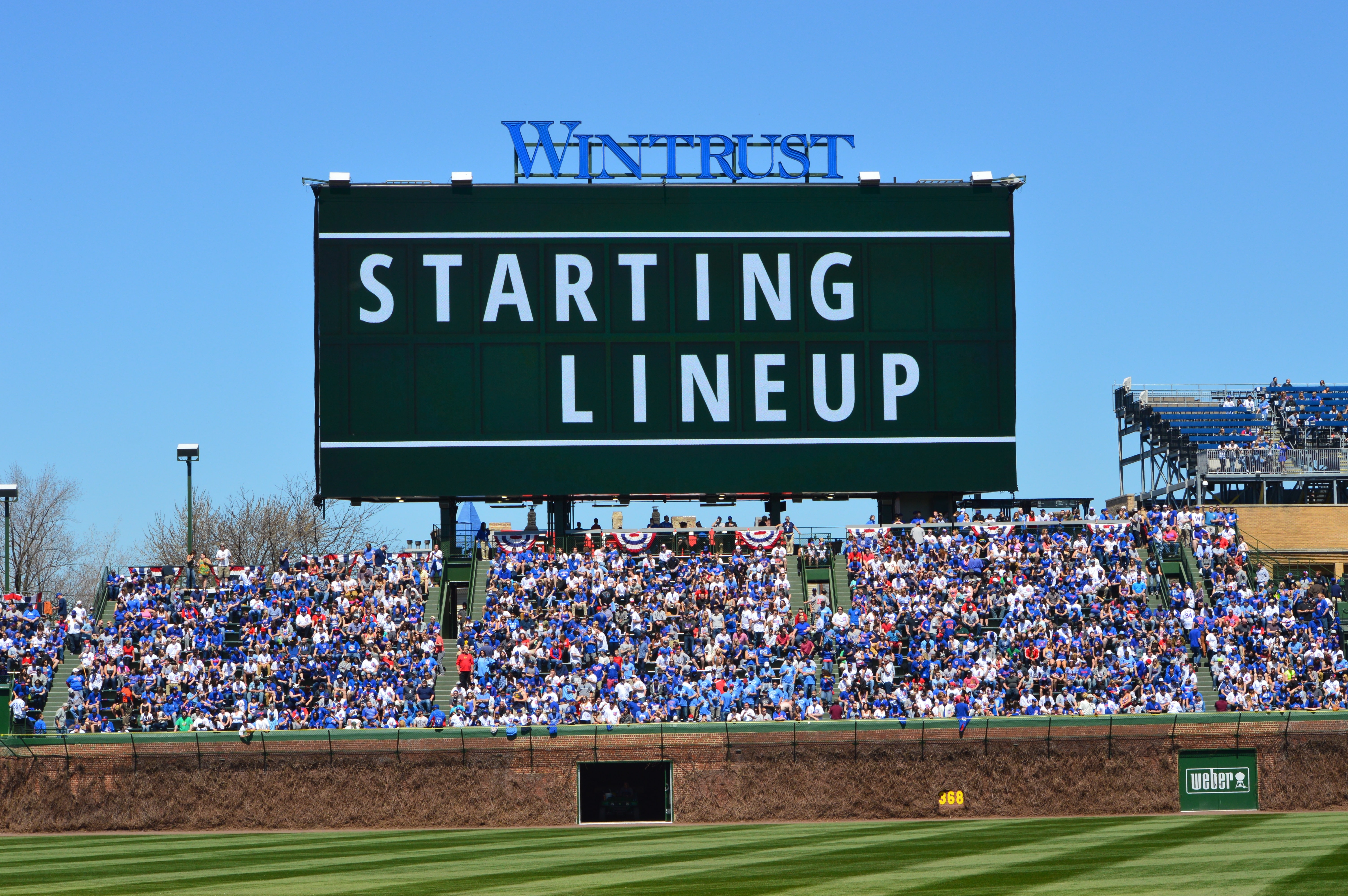 Chicago Cubs Lineup: Happ Leads Off, Schwarber Ninth as Hendricks Looks to Complete Sweep
If it ain't broke, don't fix it. It's a bit of a misnomer to say the Cubs' offense ain't broke, but the end results can't be argued with. Though Ian Happ has been striking out at a 40 percent clip of late and isn't hitting much, Joe Maddon feels good about him leading off.
The hitters from second to sixth are what we've grown used to and have generally been productive. The struggles of Addison Russell and Kyle Schwarber, though, make for an interesting lower third. Add in the pitcher's spot and Happ and there's not a whole lot in front of Kris Bryant once the lineup turns over.
Something tells me we're going to see a big contribution from one of those underperforming hitters tonight.
Kyle Hendricks had been cruising along quite nicely, allowing two or fewer runs in each of his last six starts, when a few bloops and a blast derailed things in San Diego. He'll be looking to bounce back against a Cardinals team that has jumped out for early runs in each of the last two games.
One thing that has really stung Hendricks this season is the longball, which he's allowed eight of thus far. What's crazy is that he's actually giving up fewer flies and line drives and more grounders than last year. The balls that are getting up in the air, however, are going over the wall at an alarmingly high 17 percent rate. You'd like to think that's a sign that things are going to start regressing back to normal soon, but it might not be.
What it's really telling us is that Hendricks needs to continue to get that velocity up just a couple ticks here and there. Throwing just a tad slower means hitters can time him up that much better, which has resulted in much more hard contact this season than ever before. After allowing 25.8 percent hard contact each of the last two seasons, Hendricks is at 33.5 percent in 2017. That's a recipe for Yadi Molina to make Cubs fans curse his name. Well, more than usual.
I'm almost surprised the Cards didn't call Randy Grichuk back from high-A just to play spoiler. Yes, you read that right, Grichuk really is playing A-ball right now after being sent down to receive individual instruction to help with his plate approach. We won't see Grichuck playing spoiler, but maybe a couple Cubs hitters whose names are being thrown around as demotion candidates can do damage tonight.
Cardinals starter Michael Wacha's stats don't really jump off the page and he's not a guy who either intimidates opponents or has them thinking they're in for an easy win. Unless that opponent is the Cubs. Though Wacha possesses a 4-4 lifetime record against his division rivals, he's gotten there with a 5.90 ERA and 1.448 WHIP over 12 appearances (10 starts). In those 58 innings, he's struck out 57 and walked 24, both of which represent higher per-9-inning rates than his career averages.
The Cubs have historically OPS'ed .836 against Wacha, the highest mark he's allowed to any team he's faced more than once. And they boast the kind of lefty-heavy lineup that has given him trouble this year. Traditionally a reverse-split pitcher, the righty has flipped this season in a big way. A quick glance through his pitch repertoire and location doesn't reveal much that would explain the shift, but perhaps there's a little something.
Wacha does appear to be locating slightly differently to lefties, coming inside on them more often than in the past. Does that explain why their .852 OPS against him this season is more than 200 points higher than in the past (.645)? Perhaps as much as it explains why righties are only OPS-ing .655 against a the .742 they had previously put up on him.
What it boils down to is that the Cubs have always hit Wacha very well, lefties are hitting him very well this year, and the home team is going for the sweep. Wacha has pitched out of the 6th inning only once this year and has walked at least two batters in each of his last four starts, while striking out as many as six only once in his last five starts. The Cubs can get to this guy. Check that, they will get to this guy.
I'm feeling a real offensive explosion when Sunday Night Baseball opens up at 6:35 CT on ESPN. As of the time this was published, the wind was blowing straight out to center at Wrigley.
Here is tonight's #Cubs starting lineup vs. St. Louis.

Game preview: https://t.co/uGAnXrWGKv pic.twitter.com/EjwW4Qx05e

— Chicago Cubs (@Cubs) June 4, 2017