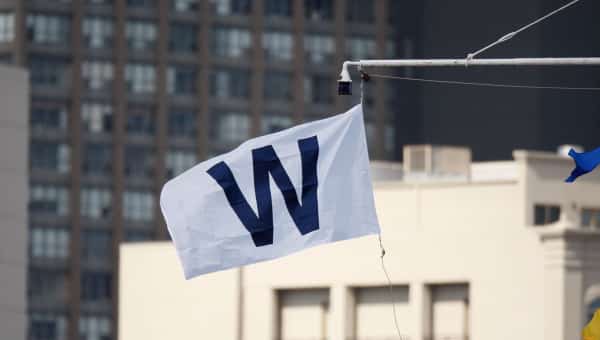 CI Recap (6/19/17) – Cubs 3, Padres 2: Cubs Rally in the 7th to Beat the Padres
Jon Lester put forth a quality effort and the offense came back like Robert Downey Jr. in Iron Man. Okay, maybe it was not that unexpected, but it felt like one of those games in which a comeback was not in the script.
For most of Clayton Richard's start, the offense did exactly what he wanted them to do: hit ground balls. The Cubs grounded into three inning-ending, rally-killing double plays. They were able to scratch a run across in the bottom of the 3rd when Albert Almora walked to lead the inning off and Lester sacrificed him over to second. Jon Jay hit a single to move Almora over to third, and Anthony Rizzo hit a sacrifice fly to drive him in.
That was pretty much it until the 7th. Willson Contreras led off the inning with an opposite-field home run to commemorate the one-year anniversary of his debut dinger. His hop was very reminiscent of a certain right-handed power hitter who used to play right field for the Cubs.
Something very familiar about that Contreras HR. If only I could put my finger on it… pic.twitter.com/vxPDCeCytT

— Cubs Insider (@realcubsinsider) June 20, 2017
After a pitching change, Javy Baez reached on a single. Albert Almora then stepped up to the plate and hit a double to left. Baez was running on the play and was able to score easily when Jose Pirela bobbled the ball for an error.
Anthony Rizzo hit a triple tonight, his first since August 11 of last year against St. Louis. He also extended his perfect on-base streak while leading off the game with a bunt single. I hate bunts more than anybody, but if teams are gonna shift on Anthony like they often do, it's an easy way to get on base and try to start the offense.
Jon Lester labored through six innings tonight, allowing two solo shots while striking out seven and walking only one. The Padres really made him work, fouling off tough pitches and forcing Lester to stay in the strike zone. Luckily, he doesn't scare easily and pitched his game. At no point did he look uncomfortable on the mound and he probably could have gone further, but he was at 111 pitches at the end of six.
The bullpen shut the Padres down, for the most part. Hector Rondon struggled to get out of the 7th inning unscathed. He hit former Cub Matt Szczur, who promptly got gunned down by Willson Contreras. Rondon then walked the pitcher, allowed a single to Jose Pirela, struck out Yangervis Solarte, walked Wil Myers, and gave up a loud out to center off the bat of Hunter Renfroe to finish the inning.
Koji Uehara allowed a single in his inning of work. Wade Davis had some issues today with his breaking ball. After hitting Pirela and walking Solarte, he bounced a curve in the dirt that got away from Contreras and allowed the base runners to advance to second and third. Luckily, it's Wade Emeffing Davis and he's nails, so he shut the door on the Padres.
Stats that Matter
Anthony Rizzo extended his hitting streak to 13 games with his bunt single in the first. It's the longest he's had so far in his career.
Kris Bryant struggled today, going 0-for-4 with a strikeout and a line out that led to an inning-ending double play in which Anthony Rizzo was gunned down at the plate by Matt Szczur. Bryant hasn't looked great in June, hitting a mere .208 prior to tonight's game. Luckily, he's still getting on base at a high rate and is still smacking the ball. Hopefully it's a short slump, because it would be great to see him hitting the ball well while Rizzo is doing the same.
Bottom Line
The Cubs scored runs when they needed them the most and the pitching did a great job limiting the Padres to those solo home runs. Right now, things are looking up for them.
On Deck
Tomorrow night at 7:05, Mike Montgomery will square against Jhoulys Chacin on CSN Chicago as the Cubs try to take another one from the Padres.