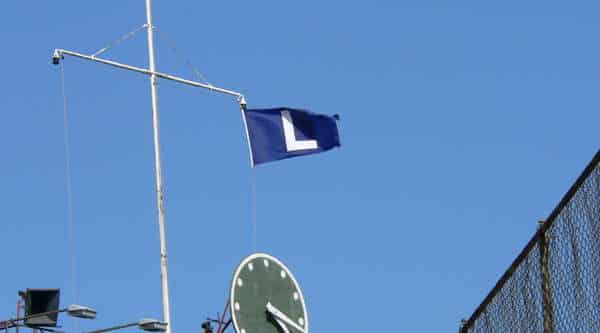 CI Recap (6/21/17) – Padres 3, Cubs 2: That's All We Got? Two Goshdarn Hits?!
The Cubs looked to complete a three-game sweep of the Padres Wednesday afternoon at Wrigley, but the combination of a lack of hitting and a short start by Eddie Butler prevented that from happening.
We knew this day would come. Anthony Rizzo was retired to begin the bottom of the 1st after reaching base to open a game on his first seven tries. Kris Bryant followed with a double, but was stranded.
Padres starter Miguel Diaz held the Cubs in check before leaving the game in the 3rd with a right forearm strain. Eddie Butler kept the Pads scoreless despite a high pitch count.
Ian Happ finally broke the scoreless draw with a two-run homer off Craig Stammen in the bottom of the 4th.
Butler allowed a leadoff double to Stammen in the 5th, and he would score on a Jose Pirela single (Pirela advanced to second on the throw). Justin Grimm came on and stranded the runner to escape the threat.
Erick Aybar tied the game at 2-2 with an opposite-field home run to right field off Brian Duensing in the 6th.
Two singles and an intentional walk against Koji Uehara loaded the bases for San Diego in the 8th. Uehara walked catcher Luis Torrens to force in the go-ahead run, but escaped further damage.
Brandon Maurer got the save to end the 3-2 Padres victory and avoid the sweep.
Stats That Matter
Ian Happ has been on a power tear of late. With his homer today, Happ has hit four bombs in the last week.
Justin Grimm has been very good since his recall from Iowa. The Reaper has allowed only one run the last nine appearances.
Anthony Rizzo saw his fourteen-game hitting streak snapped. Hopefully a new one can start on the road.
Bottom Line
The Cubs offense was almost a complete no-show on Wednesday. After the Padres starter left injured, the Northsiders had a chance to put up some runs. When they failed to do that, San Diego scratched out a comeback win.
On Deck
The Cubs start a four-game series with the Marlins in Miami on Thursday at 6:10 CT. Jake Arrieta is opposed by Jeff Locke in a game that airs on MLBN (out of market) and CSN-Chicago.