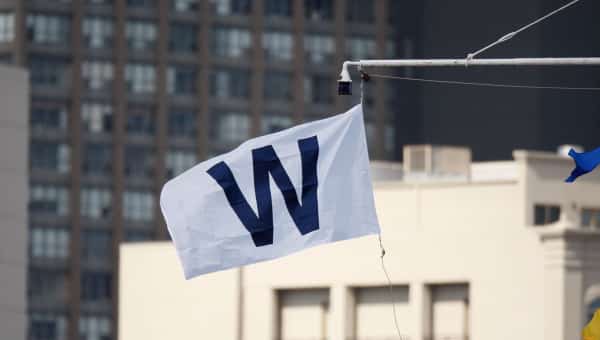 CI Recap (6/22/17) – Cubs 11, Marlins 1: Jake Arrieta Great Again in Rout
The Cubs brought the power to South Florida and Jake Arrieta was great again as the visitors easily won the first of a four-game series against the Marlins. It was so beautiful to watch.
Addison Russell and Ian Happ each went 4-for-5 tonight. Russell scored three and drove in two on a single, two doubles, and a home run. He looked very impressive and was able to get good wood on the ball pretty much every at-bat. Happ scored one and drove in two on three singles and a double. He may have been slumping for a bit, but it appears he's broken out of it.
Kris Bryant and Willson Contreras both hit long bombs, with Bryant's dinger driving in three and Contreras's pushing two runs across. KB went 2-for-4 with a walk and three runs scored in addition to the three RBI. Contreras had only that homer.
The GLOAT, Anthony Rizzo, was not able to reach base in his first at-bat, but he did get on three times tonight. He singled and walked twice, scoring two runs in the process.
Even the pitcher got into the mix on offense. Arrieta had two singles, one of them an infield job that drove in the first run of the game.
Mark Zagunis made his major league debut and made Jeff Locke work pretty hard, fouling off multiple pitches before he was able to make contact and drive Happ in on a fielder's choice. He then stole second. Though he wasn't able to reach base after that, he did put in good at-bats and looked solid in the field. I can't wait to see what he can do long-term at this level.
Arrieta only struck out three, but he had the Marlins hitters off balance and did not walk a single batter in his seven innings of work. The only run he allowed was courtesy of a really loud Marcell Ozuna home run. It was great to see him not lose his release point or control because that had been an issue in the past.
As we've written previously here on CI, Jake Arrieta was due for this type of positive regression for a host of reasons. One of those is his mechanical improvement, which our own Brendan Miller wrote about. Hopefully this means he's going to have good starts for the foreseeable future, because the Cubs need him to at least be good if they have any hope of making a postseason run.
Stats that Matter
The Cubs recorded 16 hits tonight, the majority of which were struck well. That's a surefire way to win, and the Cubs should try to reach that number of knocks every single game.
The Cubs only grounded into one double play tonight. In the past week, they had had issues with rally-killing twin killings.
Bottom Line
After that gut-wrenching loss Wednesday, it seemed as though the Cubs would follow their usual pattern of not showing up the next day. The opposite happened, and it was great. They are now two games above .500 and a game and a half out of first. Now they just need to keep performing how we've been expecting them to.
On Deck
Tomorrow night at 6:10 CST, John Lackey and the Cubs square off against Jose Urena and the Fightin' Fish from Miami. The game will be broadcast on WGN.