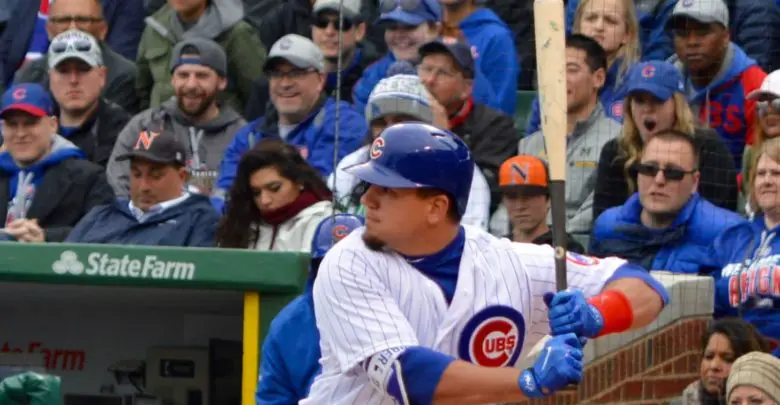 The Rundown: Schwarber Might Be Okay, Cubs After Span?
While the Cubs were busy fizzling out in their spangly holiday duds, Kyle Schwarber was launching rockets over the wall at Principal Park. Over the scoreboard too.
That monster was his second shot of the night and fourth in the last two games (two off of lefties), putting him at 9-for-23 (.391) with four walks and nine strikeouts. The accumulation of that latter number appears to be waning, though, so we'll see what happens over the next couple days. It's a small sample, to be sure, but I've been surprised by how quickly Schwarber has adjusted to both the mental and physical goals set forth for him.
And before you start bringing down Schwarber's recent performance in Iowa by mansplaining that he's been doing it against AAA pitching, please consider that the Cubs just got beat by a guy who made his MLB debut after posting a 5-ish ERA in AAA. For the Reds.
Yes, that was intentionally obtuse and more than a little sarcastic and yes, I understand that a 1.413 over parts of seven games doesn't really mean anything in and of itself. But you can't deny the fact that the Cubs haven't been able to mount anything in the way of consistent offensive production this season. What's more, this demotion was never about re-establishing a groove over the course of a month.
I'm not saying Schwarber is "fixed" or whatever, only the things that needed to be shaken up appear to have been sufficiently shaken. That said, I'd still like to see him stay through the conclusion of the first half to keep on shaking a little more. But with the I-Cubs headed to OKC Tuesday and the C-Cubs (which I'm only using because it fits as their season grade too) coming home that same day, a recall makes sense in terms of timing.
For more on the process of going down and fighting to get back to the bigs, check out Tommy Birch's column in the Des Moines Register on the parallels between Schwarber and Anthony Rizzo.
Levine on Span
No solid information on this outside of reports, but The Score's Bruce Levine (who knows his stuff) has said that the Cubs are sniffing around on Denard Span. The 33-year-old is guaranteed another $15 million after this year ($11M in 2018 with $12M team option/$4M buyout for 2019), so a deal for him wouldn't be a temporary move.
Still a very capable hitter, Span would presumably fill the leadoff role and become the everyday centerfielder, which would essentially displace Albert Almora Jr. It's certainly an interesting option, though one that flies somewhat in the face of the publicly-stated strategy to this point. The Cubs have talked about acquiring pitching and have said all along that their position players are all here.
It just comes down to cost and what they think will best improve the team.
More news and notes
Jason Heyward begins a rehab assignment in South Bend Sunday

Like his previous stint there, I expect this to last one game, two at the most
People underestimate how Heyward solidifies the outfield defense

In the midst of what was otherwise a screed (maybe too strong a word) against Kyle Schwarber, Joe Sheehan had this interesting defense of John Lackey
The Cubs were one of only two teams out of the last six defending champs to find themselves within two games of the division lead on July 1
No word on whether MLB will authorize the use of Canadian tuxedo uniforms to match the denim-style Stars & Stripes hats