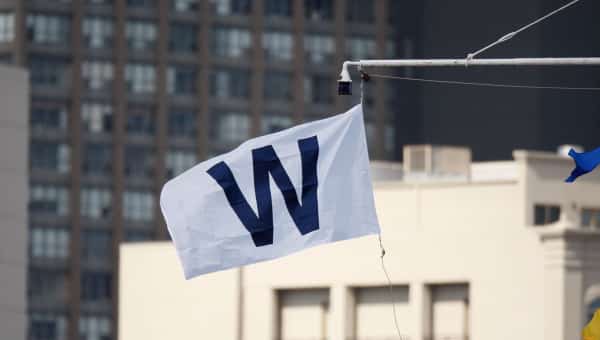 CI Recap (8/1/17) – Cubs 16, Diamondbacks 4: Jon Lester 2K, Pitcher Who Rakes
The Cubs started off their six-game homestand in style on Tuesday by burying the D-Backs. Jon Lester had a day for the ages despite not even qualifying for the win.
Chicago got to Arizona starter Patrick Corbin in the opening inning when Ben Zobrist and Kris Bryant singled, after which Willson Contreras walked to load the bases with one out. Albert Almora Jr. continued his success against lefties, slashing a single up the middle to score two.
Ian Happ added to the lead in the 2nd inning with a solo shot to left that was only the start of the Cubs' dinger game. Lester singled and Zobrist reached on a Chris Drury error at third. Bryant knocked in a run with a sacrifice fly and Anthony Rizzo followed by going deep to left for opposite-field bomb to make it 6-0.
The D-Backs scored in the top of the 3rd, but Lester responded with his bat. After a Happ single, the lefty pitcher hit a high fly ball to left that kept carrying. Then it happened, the ball landed in the bleachers for a home run. That's right, dogs and cats living together, mass hysteria!
For good measure, Big Jon also registered his 2000th career strikeout in the 4th inning. Arizona worked some deep counts against him and ran his pitch count up early, which forced him out after he allowed a run in 5th retiring anyone.
The Cubs removed all doubt about the outcome of the game in the 6th, when an error by shortstop Adam Rosales on a Bryant grounder allowed a run to score and opened the flood gates. Contreras doubled home two more and an Almora grounder scored another.
Javy Baez delivered the coup de grâce in the seven-run inning with a three-run blast to left. Rizzo added homer number two in the 7th to make it a 16-3 bloodbath. Per Christopher Kamka, it was the first time the Cubs had scored so many runs since April 21, 2016 to back Jake Arrieta's no-hitter in Cincinnati (Enough already!) and the first time they'd scored so many at Wrigley August 14, 2009 (17-2 over Pirates).
Mike Montgomery got the three-inning save, allowing only a single unearned run in the 16-4 Cubs victory.
Stats That Matter
Other than a high pitch count, Jon Lester pitched decently Tuesday: 4 IP, 3 R, 5 H, 9 K, and 3 BB. He arguably had more impact with his bat in this contest, as his homer electrified the Wrigley crowd and was pretty exciting to watch on TV.
Anthony Rizzo had a huge game with the two homers and a single. It was particularly good to see him go to the opposite field with all three hits.
Ian Happ was pretty quiet on the road trip, so it was good to see him get a couple of hits including a home run.
Bottom Line
The Cubs put the hammer down on a quality team. The main takeaway, though, was Jon Lester going deep.
On Deck
Jake Arrieta will try to match Lester at the dish and on the mound against former Cub Zack Godley. The game starts 7:05 CT and can be seen on WGN.