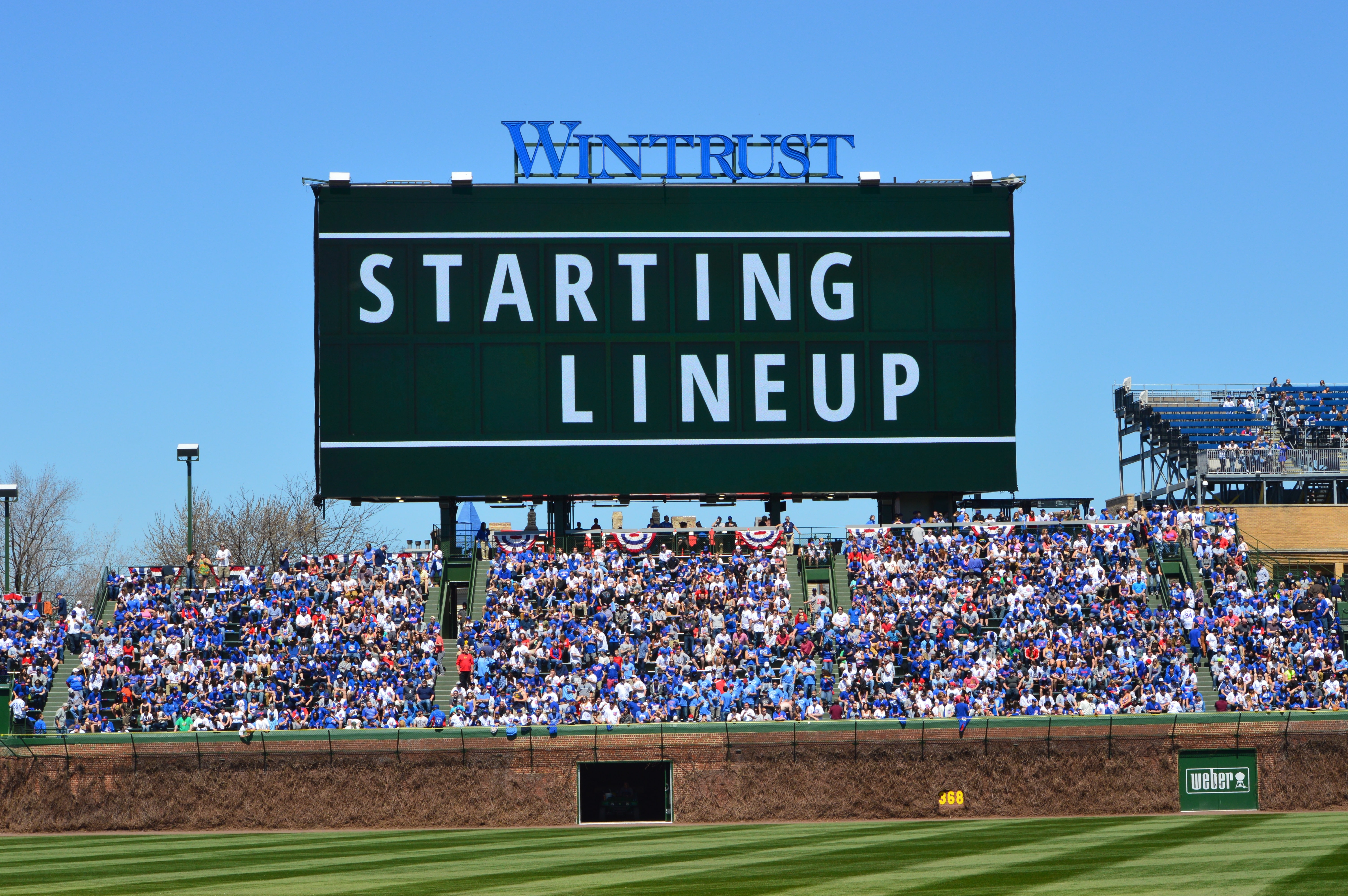 Chicago Cubs Lineup: Jay Leadoff, Schwarber Sixth as Cubs Try to Spur Keith Hernandez to Say Something Dumb
***Update***
Though he was not in the original starting lineup, Addison Russell has been placed on the DL with a right foot strain.
---
Joe Maddon wasn't kidding when he talked about getting Jon Jay more playing time. With a righty opposing them on the mound and Ian Happ in a funk, the Cubs have Jay leading off in center once again.
The next three spots you know by now, but Ben Zobrist will be hitting fifth and playing seconds. Kyle Schwarber moves down to sixth as he looks to get it rolling again, with Jason Heyward in right and Javy Baez at short.
Kyle Hendricks will be out there making his third start since coming off the DL and all eyes will be on his velocity numbers. In a productive manifestation of his unhealthy obsession with those stats, our own Brendan Miller discovered that Hendricks throws slower when he has a higher release point. It's not as though dropping down to three-quarters would get him up to 90 mph, but seeing The Professor move down from a more over-the-top motion might actually bump the speed a little.
Hendricks has allowed only two earned runs over 9.1 innings in his last two starts, but there have been times when he looks like he's just barely getting through by the skin of his teeth. Not many of the Nats have a ton of experience versus the Cubs starter, though Bryce Harper has a 1.017 OPS in with no strikeouts in 12 plate appearances.
Nats starter Tanner Roark burst onto the scene in 2014, but he didn't achieve true fame until becoming the subject of an off-color live-mic assessment that he was "getting his tits lit." Ah, but he's the one laughing now because boobs are back, baby. Except, isn't Keith Hernandez proof that they never left.
Regardless of the extent to which breasts are in vogue, Washington's stout righty probably isn't finding much humor in the eight-outing stretch that began with his own blazing bosom. His ERA over that sample is 7.02 and he's walked 4.31 per 9 while only getting out of the 6th inning once.
Roark is able to generate some whiffs, though, and he gets a lot of ground balls with a sinker that sits around 93 and that he throws nearly 40 percent of the time. He also utilizes a four-seam, slider, curve, and change. The curve may be his best pitch, generating a 15.7 percent swinging-strike rate and limiting hitters to a .563 OPS.
When it's on, the hook has a lot of bite to it and runs glove-side as well, something of a 1-7 or 2-8 movement (in terms of a clock, where 12-6 would be straight up-and-down). Roark works it front door on righties, letting it drop down and away, and knocks at the back when lefties are in the box.
But by Roark's own assessment, the curve is only his second-best offering. The sinker might be his go-to, but the changeup has looked pretty darn good since he modified his grip earlier this season. That offspeed offering generates a 19.9 percent swinging-strike rate despite only finding the zone 35.6 percent of the time.
Whether it's because he takes a while to warm up and develop a feel for his repertoire or what, Roark tends to get a little better as the game goes on. A .737 OPS the first time through the order drops to .719 the second time through and then .682 in the third pass. Batting average, BABIP, and wOBA against him go down with each revolution as well.
Comebacks are fun and all, but it sure would be nice to see the Cubs take advantage of Roark's slow starts and jump on him early. First pitch from Wrigley is at 1:20 CT and will be broadcast on WGN.
Here is today's #Cubs lineup for the opener against the #Nationals.

Game preview: https://t.co/Om3xJza43B pic.twitter.com/wzPP2ctQEL

— Chicago Cubs (@Cubs) August 4, 2017