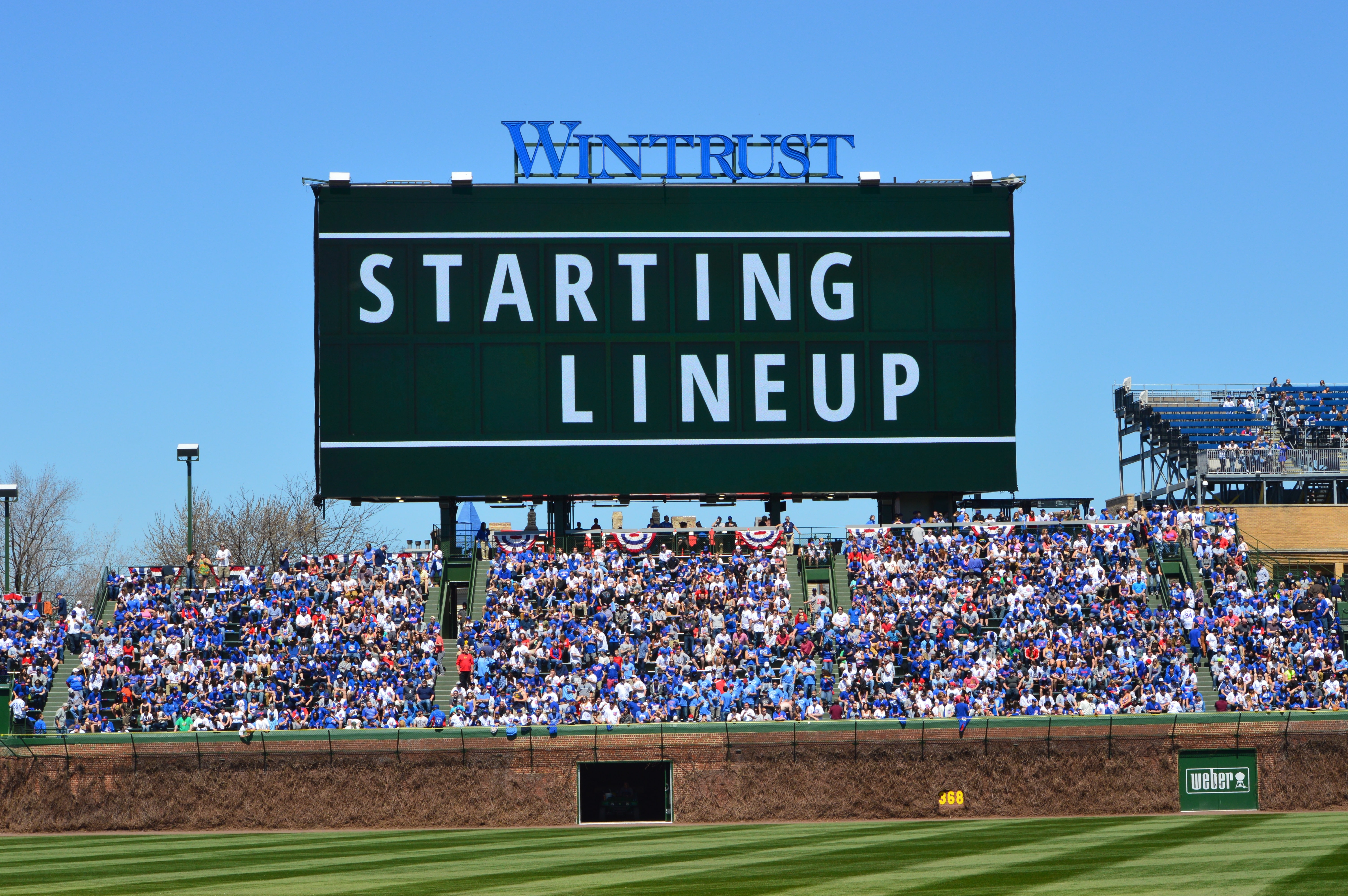 Chicago Cubs Lineup: Jay Leads Off, Happ at 2B as Cubs Dress Up for Blach, Ty Affair
Guys, I'm sensing a pattern here. With his health and/or productivity in question all season, Ben Zobrist isn't the ideal leadoff hitter. Enter Jon Jay, who's been producing steadily on all fronts. He continues his run atop the order tonight, playing left and leading a familiar cast.
Kris Bryant bats second and fellow corner man Anthony Rizzo will be trying to celebrate his 28th birthday in style. Willson Contreras is next, followed by Ian Happ at second base and Albert Almora Jr. in center.
Jason Heyward and Javy Baez once again fill out the back end. I had thought Joe Maddon might go with Kyle Schwarber tonight, what with MadBum on the mound tomorrow, but it looks like he's really serious about shielding the slugger from lefties (against whom he's actually #NotBad).
Jose Quintana is looking to bounce back from an aberration against Arizona in which he allowed half a dozen runs on three homers in a rain-soaked start. The Cubs nearly came back in that one, but it ended in disappointment. Given the Giants' dearth of power, this his affair should be somewhat different.
None of San Francisco's hitters have faced Q more than eight times, with Kung Fu Panda and his .536 OPS leading the way. Denard Span has had success in seven at-bats, rapping four singles against the Cubs lefty.
Ty Blach is the second of three lefties the Cubs will face in San Francisco and his stuff is just as middling as his position in the series. Blach managed to stifle the Cubs over seven innings in Chicago back in May, but that came during a five-game stretch in which he put up a 1.91 ERA over 37.2 innings, including a complete-game shutout in Philly.
In the 10 starts since, Black has posted a 5.17 ERA and has failed to go seven innings six times. He's generally been something of an innings-eater, though, and doesn't beat himself with walks or home runs. The disparity in the given samples belies a consistency that is evident in his FIP numbers. During that seemingly dominant stretch, Blach posted a 3.35 FIP. In the last 10 starts, he's had a 3.83 FIP.
What I'm saying is that he was neither as good nor as bad as he looked in either stretch. His full-season marks of a 4.24 ERA and 3.89 FIP are perfectly passable. In fact, that's pretty much Blach's game. He doesn't miss bats (4.46 K/9), doesn't walk many (1.97 BB/9), and doesn't give up the longball (0.74 HR/9). That K/9 mark is actually the lowest in baseball among 72 qualified pitchers, while the HR/9 is third-lowest and the BB/9 eighth.
Blach has a low-90's fastball with a change that comes in about 10 ticks slower, and that combo makes up about 85 percent of his pitches. A curve and slider account for the remainder, though neither pitch is very effective. The change is easily Blach's best offering, tumbling away from righties with a bit of armside fade. According to overall value, it's one of the top 10 changeups in the game, so that's one to watch out for.
Lefties rarely see the change, but they'll get a lot more of the breaking stuff down and away. Both the curve and slider break 12-6 and tend to generate grounders. Because Blach isn't going to generate whiffs and isn't going to walk many batters, the Cubs should be patiently aggressive early and wait on their pitches. The young righty usually fares well the first time through an order but fades quickly as hitters figure him out.
Javy Baez homered against Blach the last time these two teams played, but my money's on the birthday boy to hammer the first dinger by a lefty batter vs. the Giants starter this season.
First pitch is at 9:15 CT and can be seen on CSN Chicago.
Here is tonight's #Cubs starting lineup.

Game preview: https://t.co/A3WQh8Ortx pic.twitter.com/2IrLOlLyNt

— Chicago Cubs (@Cubs) August 8, 2017