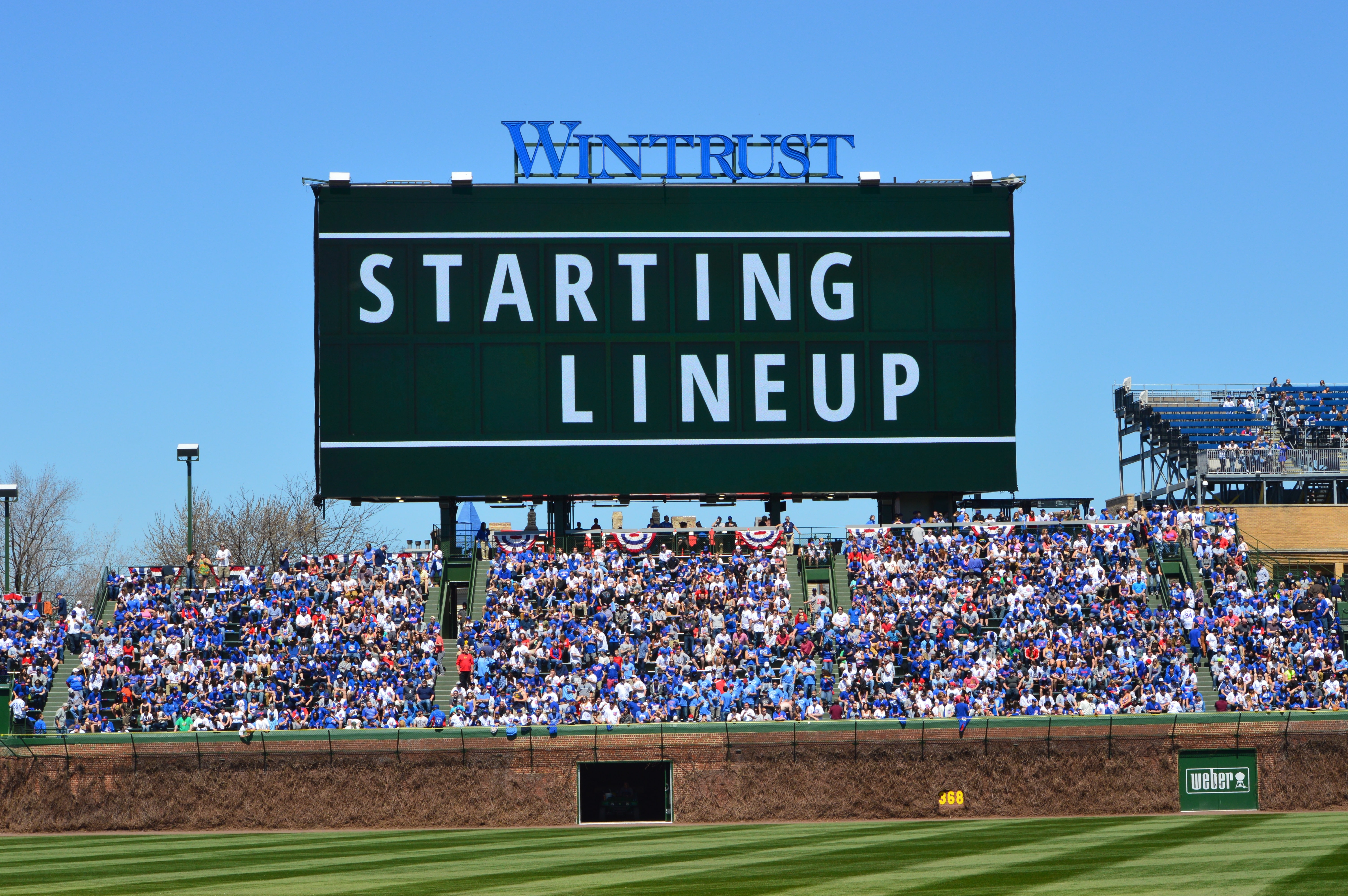 Chicago Cubs Lineup: Jay in Left, Caratini Catching, Almora Gets Rare Start Against Righty
If it ain't broke, don't change it too much. That's what Joe Maddon's staying with a lineup that once again features Tommy La Stella subbing for Ben Zobrist — who sits again with a stiff neck — batting and playing second behind leadoff left fielder Jon Jay. The white-hot Kris Bryant holds down third and Anthony Rizzo cleans up.
Vic Caratini will handle the catching duties while Albert Almora Jr. plays center in a rare start against a right-handed pitcher. Jason Heyward is in right with Javy Baez, who has been crushing it since taking over as the everyday shortstop, batting eighth. As you'll read here in a bit, this is a matchup Javy's going to need to be mindful of, as he'll be facing a guy with a hard slider that rarely comes near the zone.
Kyle Hendricks is on the mound tonight for the fifth time since coming off the DL with finger tendinitis and he's looking to put up the kind of start that doesn't make onlookers cringe with each mid-80's fastball. Some of that is me being overly pessimistic, but there are times when it feels that he's getting a little lucky and just barely avoiding disaster.
Lowering his arm slot should help a little bit, as that's part of what is leading to the lower velo numbers. It sure would be nice to see him get that fastball back up close to 90 with that disappearing change, huh? And Hendricks might do well to avoid Joey Votto, who has posted a 1.700 OPS in 24 plate appearances. Grown Man Named Scooter, however, has a mere .481 OPS against Hendricks, so there's that.
In total, Hendricks has only a 2.18 K/BB ratio against this Reds roster, a mark that is significantly lower than either his 2.65 season or 3.54 career marks. Which is to say his already slim margin for error may be as thin as he is tonight.
When you hear Luis Castillo, you probably think of the longtime Marlins infielder, which is fun since tonight's homonymous Reds starter was also once a part of that organization. And, hey, here's a little bit of trivia for you: The younger Castillo has been traded three times, each in a transaction that involved a former Cub.
Signed by the Giants as an international free agent in 2011, Castillo was traded to the Marlins in 2014 for Casey McGehee. A year and a half later, he was sent from Miami to San Diego in a seven-player deal that featured Andrew Cashner and Colin Rea. When Rea suffered an injury in his first start with the Marlins, Castillo returned to Miami as Rea went back to San Diego. Castillo was then part of the package sent to Cincinnati for Dan Staily.
And now the well-traveled rookie finally gets a chance to face the team whose alums have forced him to move so many times. Or something like that. He made his MLB debut against the Nationals in late June and has pitched relatively well for the Reds since, though his 4.51 FIP tells us that he may not be as good as his 3.73 ERA indicates.
His calling card is a blazing fastball that sits 97-98 and that he generally keeps low enough to get some grounders, though not low enough to avoid much contact. A 38 percent fly-ball rate and 23.3 percent home runs per fly ball on a pitch he throws over half the time isn't very good. It does, however, set up some nice secondaries.
As you might imagine from a guy with such velocity, Castillo's changeup is his best weapon. Though he throws it harder than a Kyle Hendricks fastball, the upper-80's offering still provides significant variation. Because it's firmer than your average changeup, its action is more sinking than tumbling, and it draws the most swings and most swinging strikes of his limited repertoire. A hard slider accounts for the rest of Castillo's pitches, and it'll be a good one for the Cubs righties to lay off of. It's going to be buried down and away and is rarely in the zone at all.
Castillo isn't a huge strikeout pitcher, though he's capable of missing some bats. He misses the zone plenty as well, as evidenced by the 3.88 BB/9. That usually leads to high pitch counts early in games, which is why he's only made it out of the 7th inning one time in 10 starts. If the Cubs can be patient and not fall for the breaking and offspeed stuff, they'll be able to get to Castillo.
First pitch is set for 7:05 CT and will be carried by CSN Chicago.
Here is tonight's #Cubs starting lineup against the #Reds.

Game preview: https://t.co/6gNoPFJRdM pic.twitter.com/17XtusWXtC

— Chicago Cubs (@Cubs) August 15, 2017