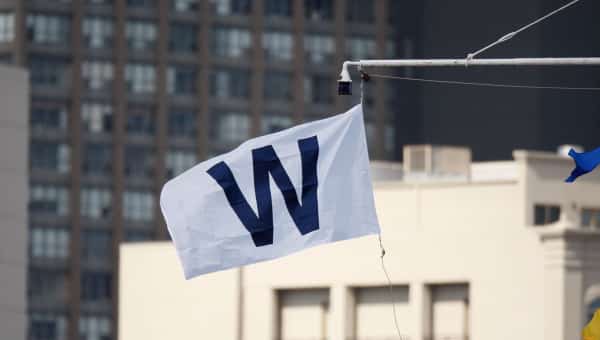 CI Recap (8/14/17) – Cubs 15, Reds 5: Rizzo Drives in Five Runs, Cubs Clobber Reds
Jon Jay was a home run shy of the cycle, and the Bryzzo boys went back-to-back as the Cubs cruised to an easy win tonight against the Reds.
The offense kicked in gear in the 1st inning when Anthony Rizzo drove in Jon Jay and Kris Bryant to give the Cubs an early 2-0 lead.
The Reds struck back in the top of the 2nd inning. Quintana allowed two singles, walked two and hit a batter, in addition to a making an error on a glove toss gone horribly wrong, trying to stop a runner from scoring from third on a play he should've easily made. He escaped with the help of a Kyle Schwarber throw-out at home as a runner attempted to score.
The Cubs exploded in the 4th for five runs, capped by back-to-back home runs by Bryant and Rizzo. They struck again in the 7th for six more runs. Mike Montgomery hit a two-run double in the inning and Rizzo singled to drive in two.
Kyle Schwarber finally broke his consecutive strikeout streak in the 3rd inning, as he was hit by a pitch. He reached base four times, getting plunked twice, walking once, and hitting an RBI infield single. He also scored a run.
Jose Quintana had command issues from the start tonight. He hit two batters and walked three, and that was only by the third inning. Luckily, he was able to make it through five innings while limiting the damage to just two runs.
On the fun side of things, Joe Maddon put Kris Bryant in the outfield when Jose Quintana faced Joey Votto in the 5th inning to create a four-man outfield. It was entertaining, but it didn't work because Votto hit a double down the right field line. He's good.
Stats that Matter
Quintana managed to bounce back nicely after a rough 2nd inning – 5 IP, 2 R, 4 H, 4 BB, 4 K
Anthony Rizzo was outstanding – 3-for-5, 1 R, 3 RBI, HR
Tommy La Stella filled in nicely for Ben Zobrist, who sat with a stiff neck – 3-for-5, 2 R, 2 RBI
Jon Jay should certainly lead off more – 3-for-5, 3 R, 1 RBI, BB, 2B, 3B
The Cubs finished 7-for-15 with RISP
Bottom Line
The Cubs did what they usually do against the Reds – win. The victory puts them at 62-55, which is good enough to lead the division by 1 1/2 games. Tonight's win is just a taste of what this team can do when they're clicking offensively. The Cubs next 23 games are against teams with sub-.500 records. It's time for the Cubs to put the National League Central division away.
On Deck
Tomorrow night Kyle Hendricks and the Cubs seek another easy win against the Reds. Luis Castillo (no, not that one) will take the mound for the Reds at 7:05 pm CT. The game will be broadcast on CSN.