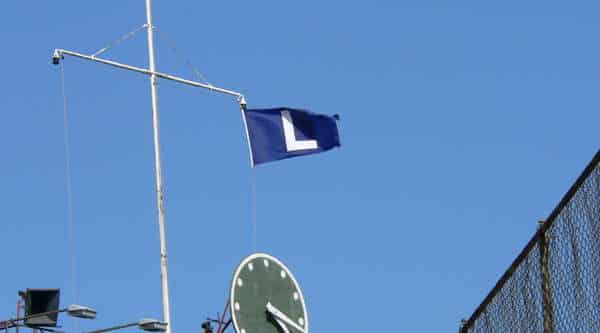 CI Recap (8/15/17) – Reds 2, Cubs 1: You Can't Save Runs For Tomorrow
After scoring double digits in a win Monday against the Reds, the Cubs looked to build on their division lead. Tuesday, however, Cincinnati had a much better option on the mound and the results were a little different.
Kyle Hendricks allowed a single and a walk in the 1st, but retired Adam Duvall and Scooter Gennett to end the inning. Kris Bryant walked and Anthony Rizzo singled in the bottom of the inning, but also were stranded by Luis Castillo (no not that one).
Both starters dominated most of the game, keeping things scoreless through six innings. Hendricks hitting 87 mph on his fastball was a sign his velocity may be returning, but even better was the command and control he exhibited. The changeup was particularly effective, generating five swinging strikeouts.
The Professor finally ran out of steam in the 7th inning, walking Eugenio Suarez and allowing a single to Jesse Winker. Joe Maddon went with CJ Edwards to escape the jam and, just like everyone expected, he struck out the side.
The Cubs got leadoff man Victor Caratini on via an infield hit in the bottom of the inning. Albert Almora Jr. singled, but was thrown out at second while Caratini went to third. Jason Heyward lined to second and Javy Baez grounded to third to end the threat.
The Reds finally broke through in the 8th inning against Pedro Strop. Joey Votto walked for the third time and Duvall singled to left. Gennett lined to right and Votto tagged, scoring the first run of the game.
Wandy Peralta walked Ben Zobrist, on to pinch hit, and Jon Jay to open the bottom of the 8th. Peralta then struck out Ian Happ and was replaced with closer Raisel Iglesias. Bryant popped out to second and Rizzo reached after being hit, but Caratini struck out leaving the bases loaded.
Justin Wilson came on in the 9th and struggled yet again. He walked Winker and Jose Peraza hit a floater that dropped for a ground-rule double. Billy Hamilton singled home Winker to make it a 2-0 Reds lead.
Kyle Schwarber singled to start the 9th inning and Jason Heyward followed with another base knock. Javy Baez sacrificed the runners over and Zobrist ripped a single to score Schwarber, but the ball was crushed so Heyward had to hold at third. Iglesias buckled down from there, striking out Jay and Alex Avila to preserve the 2-1 Cincinnati win.
Stats That Matter
Kyle Hendricks was good on Tuesday: 6 IP, 0 R, 5 H, 6 K, and 4 BB. The walks were a bit high, but two were to Joey Votto, which is fine. Against a tough lineup, it was very impressive.
Ben Zobrist came in late and got on base twice, knocking in the only Chicago run.
Bottom Line
There's an old saying that you can't save runs for the next day, and no case was more true than Tuesday night. The Cubs had late chances, but Zobrist hit the ball too hard on his single and Heyward couldn't score. Have to come back and win on Wednesday.
On Deck
Game three of the series is Wednesday at 7:05 CT. Homer Bailey takes on John Lackey in a matchup that should produce some home runs. WGN has the broadcast.