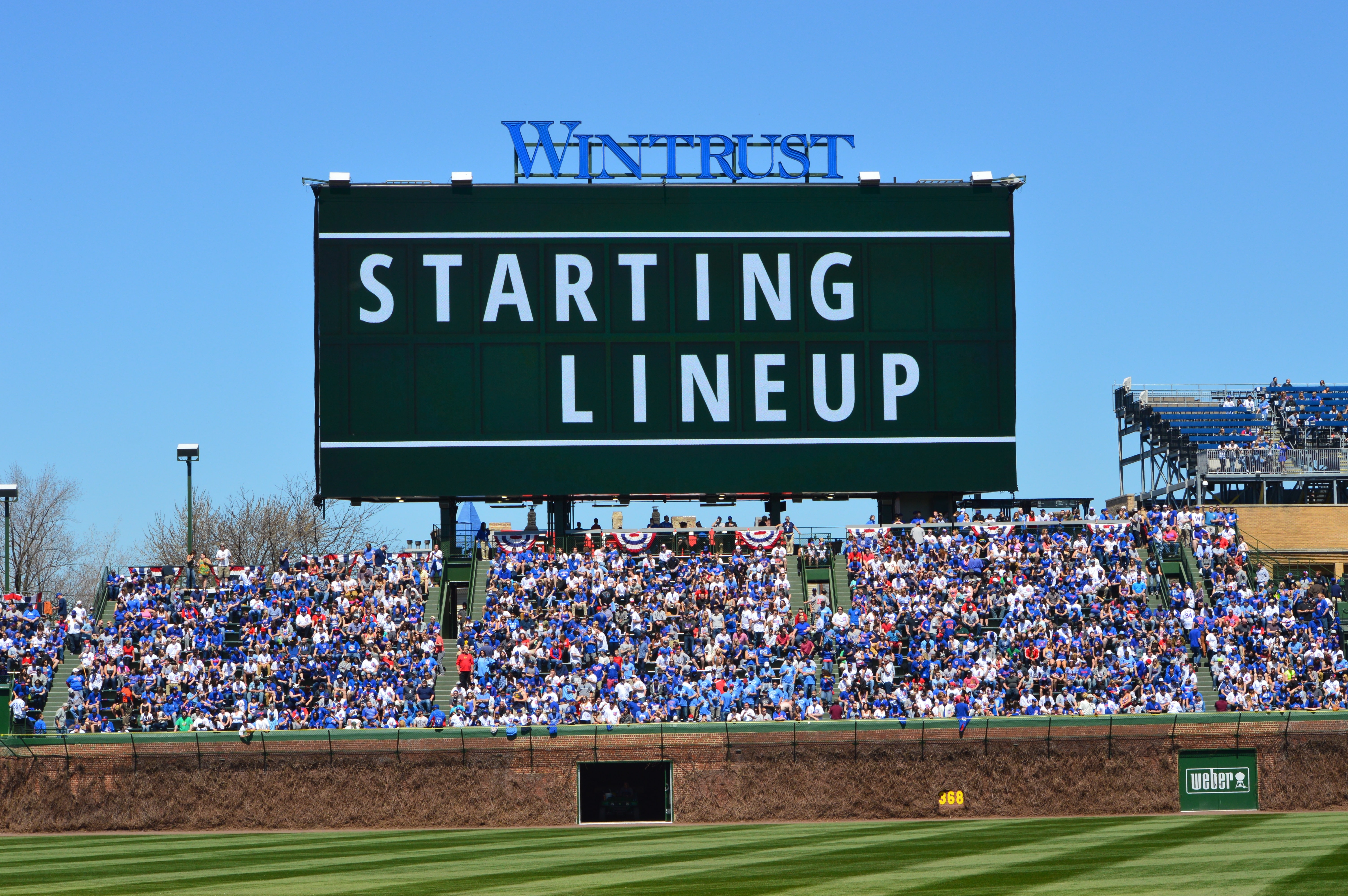 Chicago Cubs Lineup: Schwarber Bats Two, Backs Q in Game Two Vs. Blue
Jon Jay is back in today's lineup for the Cubs and, most importantly, back in at the top of the order. His .385 OBP ranks third on the team behind only Kris Bryant and Anthony Rizzo. Two guys that most players long to be just behind.
Following Jay is Kyle Schwarber batting second. Now before you get all worked up about War Bear being so high in the order, you should know that he's riding a four-game hitting streak, not to mention he's slashing a stout .317/.440/.561 in the month of August.
Kris Bryant bats third today followed by Anthony Rizzo, Ian Happ, Alex Aliva, and Jason Heyward. Rounding out the batting order is Javy "El Mago" Baez who, if you didn't notice, made one heck of a defensive gem yesterday. Oh, and then there was that majestic home run.
Jose Quintana has struggled a bit since his first Cubs start, some of which may be owing to his transition to sinker-baller. A slow starter, you get the feeling that he'll be fine if he can just make it through the first couple innings. That's no mean feat when facing the Blue Jays, a lineup more than capable of tuning up a pitcher who's off his game.
Opposing Quintana will be Nick Tepesch, which sounds like tepid, which is exactly what the 28-year-old righty has been this season. A proverbial AAAA player, Tepesch has bounced back and forth between AAA and MLB since 2013 with the Rangers, A's, Dodgers, Royals, Twins, and Jays. If you're keeping score at home, that's six organizations in five years.
Tepesch missed the entire 2015 season after undergoing thoracic outlet syndrome, which might partially explain the latter portion of his baseball odyssey. Kudos to him for sticking with it through all the designations, waivers, demotions, and releases. But as much as I love an underdog story, I can't imagine he'll be able to put up much of a fight against the Cubs.
He's only pitched a total of 235 innings at the big league level, 219 of which came with the Rangers in 2013 and 2014, so it's hard to peg exactly what he's going to do. But what we can see from past results is that he has a four-seam/sinker/slider/curve combo that includes the occasional changeup. He also gives up a lot of hard-hit contact in the air.
Tepesch has been a little harder on lefties and has generally been better on the road, but we're not talking about outstanding performances to any extent. All things considered, it would be a massive disappointment if the Cubs don't work this guy over right from the start, which will be at 1:20 CT on ABC-7.
Here is today's #Cubs starting lineup vs. the #BlueJays.

Game preview: https://t.co/VCNpw8ulQH pic.twitter.com/dpMl5xXuKw

— Chicago Cubs (@Cubs) August 19, 2017