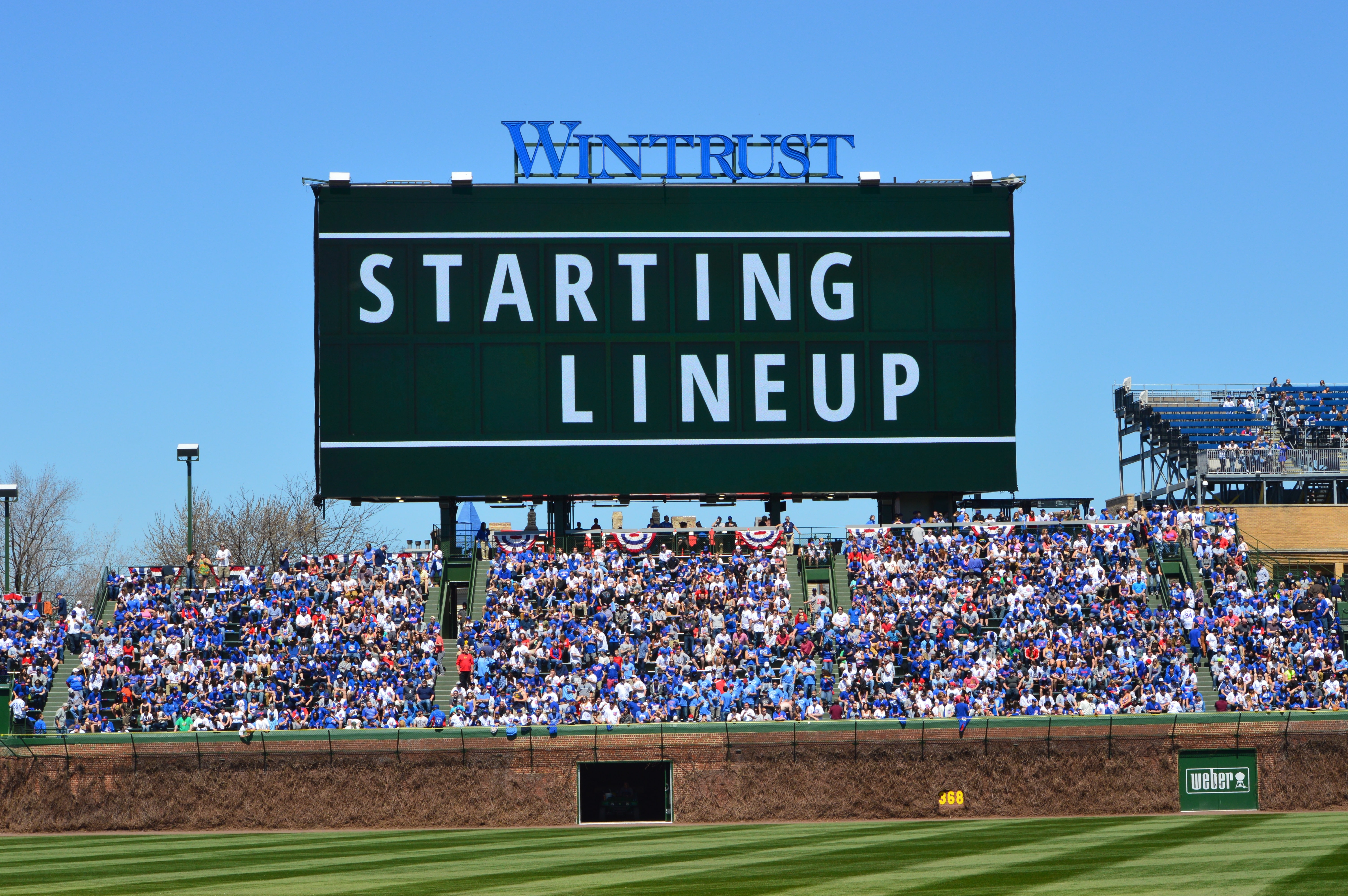 Chicago Cubs Lineup: Jay Leads Off, Almora in CF, Schwarber Sits as Cubs Look to Chase Anderson
Jon Jay leads off in left, followed by Kris Bryant and Anthony Rizzo, with Ben Zobrist  cleaning up and playing second. Pretty much par for the course so far.
But it gets a little interesting after that, as Joe Maddon has Albert Almora Jr. playing center in a rare start against a righty pitcher. The young outfielder does boast an .885 OPS in 69 plate appearances against righties at home, though, and he's facing a guy who has reverse platoon splits.
Alex Avila, Jason Heyward, and Javy Baez complete an order that is once again notably absent of Kyle Schwarber. The matchup isn't in the slugger's favor and the dearth of offense means that defense is at a premium, but it's still interesting to see that he's basically been relegated to a bench-bat role.
Mike Montgomery returned to the rotation to take Jon Lackey's place, then stayed there to give the team six starters during a stretch of 20 games in 20 days. So when Jake Arrieta went down with a hamstring strain, there wasn't much need to shift things around.
This will be Monty's fourth start since moving back from the pen and his second against Milwaukee on the season. It'll be hard not to do better than that disastrous effort on July 6 in which the lefty went only 2.1 innings and allowed 7 earned runs.
While he's been excellent overall in his last three starts, the lack of swing-and-miss in Monty's game is a little concerning. He has only struck out nine batters over 18 innings, though that's been largely mitigated by allowing only two walks and getting tons of groundball contact. He'll need to do more of the same against the Brewers this afternoon in order to find success.
Righty Chase Anderson hasn't been nearly as sharp in four starts since returning from nearly two months on the DL with an oblique injury, though he's still dangerous. His performance Saturday may hinge upon whether he can get comfortable with the changeup, which has been his best pitch this season. For whatever reason, he's had trouble dialing that offering in and it hasn't been as big a part of his repertoire of late.
However, Anderson has been ramping the change back up after really struggling with it in his first two games back. He throws it with a circle grip and uses it primarily against lefties to generate a .538 OPS against and a nearly 15 percent swinging-strike rate. The pitch has arm-side run and will often stay up in the zone rather than tumbling, which means less groundball contact than you might otherwise expect.
The change is set off by a four-seam/cutter/sinker combo that he'll throw in the low-to-mid 90's, representing a significant jump from the offspeed offering that comes in around 83-84 mph. He's also got a pretty nasty curve that bites downward and gets a ton of grounders.
Anderson has been much less effective on the road this season and he can sometimes take a while to settle into a groove. A reverse-split pitcher, righties see him much better on the whole. To wit, he has allowed an .842 to righties away from Miller Park while lefties have posted a mere .652. It'll be paramount for Cubs hitters to attack the fastball early and wait back on the change and curve as the game goes on.
First pitch is set for 3:05 CT on CSN Chicago and MLB Network (out of market).
Here is today's #Cubs lineup.

Game preview: https://t.co/c1QBwcebFP pic.twitter.com/4X4eciXRxL

— Chicago Cubs (@Cubs) September 9, 2017