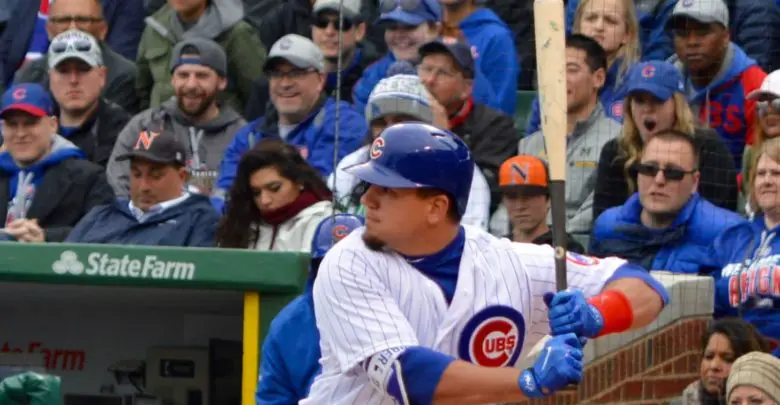 The Rundown: Three Score and Where Did Schwarber Go, Contreras Limited for Now
Maybe Chicken Little was right after all. Even if it's not actually falling, the sky looks like it's had a few too many drinks and is starting to lose its balance.
The Cubs scored only three total runs over the course of an embarrassing sweep at the hands of the Brewers, but the offensive issues stretch back further than that. If we take out the aberrant results in which they scored 14 and 8 runs, the Cubs have tallied a total of 10 runs in their other eight contests this month (including two shutouts and three one-run outputs). Without looking at the league-average numbers, I feel pretty confident in saying that 1.125 runs per game isn't going to get it done.
In light of that pathetic output, not to mention Cubs' pitchers propensity for giving up contact in the air, you can understand why Joe Maddon would want to go with a defense-first lineup. After all, run prevention is paramount when your own offense is at a premium.
But isn't there a point at which you need to structure your lineup in such a way as to attempt to score more runs? Like, defense is great and all, but Maddon's run-prevention strategy is actually working both ways. I'm speaking, of course, about the constant presence of Jason Heyward while Kyle Schwarber languishes on the bench.
It's not necessarily a direct correlation, as I'm not advocating for Schwarber to be out there in right and I understand that there's a need to rotate a bunch of guys in the outfield. There's also the matter of Heyward actually hitting pretty well here in September. But with very rare exception, he's not a guy who can change the game with one swing.
War Bear has essentially become a forgotten man and has been relegated to bench-bat duty at this point, a development that I just can't understand. He's gotten only 18 plate appearances in 10 September games, 14 of which came in his four starts. Schwarber has pinch-hit twice, entered as a defensive replacement once, and has remained on the bench three more times.
The first of those absences came when the Pirates started southpaw Steven Brault, an emergency fill-in who has been decent against lefty hitters in very limited exposure. Maddon has protected his slugger from like-handed pitchers, but Schwarber has posted a not-terrible .750 OPS and 94 wRC+ against them since returning from AAA. In that same time, Heyward has a .703 OPS and 84 wRC+ against lefties.
That might be just splitting hairs, but what's completely baffling to me is how Schwarber didn't get a single start in a weekend series in which the Brewers sent three righties to the mound. In his only action of the set, he walked and homered after entering for Jon Jay in the top of the 6th inning of Saturday blowout. So, yeah, he was responsible for a third of the Cubs' scoring over the weekend despite having only two plate appearances.
An argument could be made that Schwarber sat with Jimmy Nelson on the mound because Nelson features a curveball that can give lefties fits. And Schwarber's only got a .445 OPS against the curve this season, so okay. Then you had Chase Anderson and his nasty changeup going Saturday, so that's a reverse-split deal right there. And when you see that Schwarber has a career .700 OPS against Sunday starter Zach Davies, you can see why it's perhaps reasonable that he missed the finale.
Except most of that is a load of crap. Schwarber has a .952 OPS and four homers against the change this season, so there goes the argument for Anderson. Oh, there's also the fact that he's homered off of both Davies and Nelson. Like, earlier this season. So, I mean…WTF, Joe?
I give Maddon more than his fair share of slack and frequently point to his lineup construction being a product of proprietary, esoteric data than I have access to, but I'm struggling to understand how such information leads to results that fly directly in the face of logic. Because I spent more time constructing that overly long sentence than I did my thoughts on the topic, there could well be something I'm missing.
Perhaps Schwarber is a little nicked up and just needs a little time off from the field. But if that's the case, there's no way he'd be out there late in a blowout loss. You know, the same one in which he hit the Cubs' only home run of the weekend and their second in the last seven games. Which brings me to another point.
I've been seeing some "He's only hitting .239 in the second half" takes being presented as a reason for Schwarber not playing. First things first, can we just not with batting average? And what I mean by that seemingly fragmented sentence is that we need to stop looking at average as the front-line measure of a player's production. Over the same time War Bear's posted a seemingly low average (one that is 61 points higher than he had in the first half), he's got a wRC+ of 122.
In case you're not too familiar with that metric, it is a cumulative measure of offensive production that tells us how well a hitter creates runs. Wait, how well he what? Yes, CREATES RUNS. And Schwarber has done so at a rate that is 22 percent above that of a league-average hitter in the second half. Anyone wanna guess how many Cubs (min. 100 PA) have a better number in the second half?
If you said Willson Contreras (170), Anthony Rizzo (149), and Kris Bryant (141), you are correct. If, however, you opted for Javy Baez (111), Ian Happ (107), or Ben Zobrist (95), you were not. If we slim down the requirements, you could sneak Addison Russell and Tommy La Stella (both 125) ahead of Schwarber.
My point here — other than to reiterate how much I abhor seeing season-long stats like batting average used to determine the situational value of a hitter — is that having Schwarber in the lineup gives the Cubs the best opportunity to score more runs. Although, to be fair, there's nothing Maddon could do at this point that could measurably decrease their run-scoring.
WillCo's being eased back in
Though he struck out as a pinch-hitter late in Sunday's game, Willson Contreras being back on the active roster is a very big deal. But don't expect him to jump right back into the starting lineup when the Cubs open their series with the Mets on Tuesday.
"As we get into the next week, we'll try to get him involved in the games and get him at-bats and get him on the field, maybe not play a complete game," Maddon said prior the game. "We're still trying to figure out the entire program or plan. We have to get him going, we have to get him in a game."
Contreras had been with the Myrtle Beach Pelicans to get in some rehab work, but their playoff series was cut short due to fears of Hurricane Irma's impact. And with no other higher affiliates active in the postseason, the Cubs are going to have to ease their catcher back into action at the big-league level.
In addition to getting him acclimated to live action again, that means putting a rev limiter on a guy whose been known to redline it both physically and emotionally. And you know damn well Contreras isn't going to hit the field at anything less that [insert whichever percentage of effort you prefer], so the Cubs will probably be judicious with when and how much he plays over the next few games.
Once his health and the Cubs' confidence in his ability to maintain it over the course of repetitive games finally coincide, things will be looking back up in a big way.
More news and notes
Dexter Fowler suffered a left knee when he crashed into the outfield wall trying to catch a fly and he'll be out for a few days. There was no structural damage, so he should be able to return fairly soon.
The Cardinals are idle today, but the Brewers open a three-game set in Pittsburgh and could close to 1.5 games of the lead with a win.
The annual #CubsSocial Media Night is being held Tuesday prior to the game with the Mets. Registration is closed, but there'll be a scavenger hunt during the game for those of you who will be there. If you are registered, I'll see you at Brickhouse Tavern tomorrow evening.