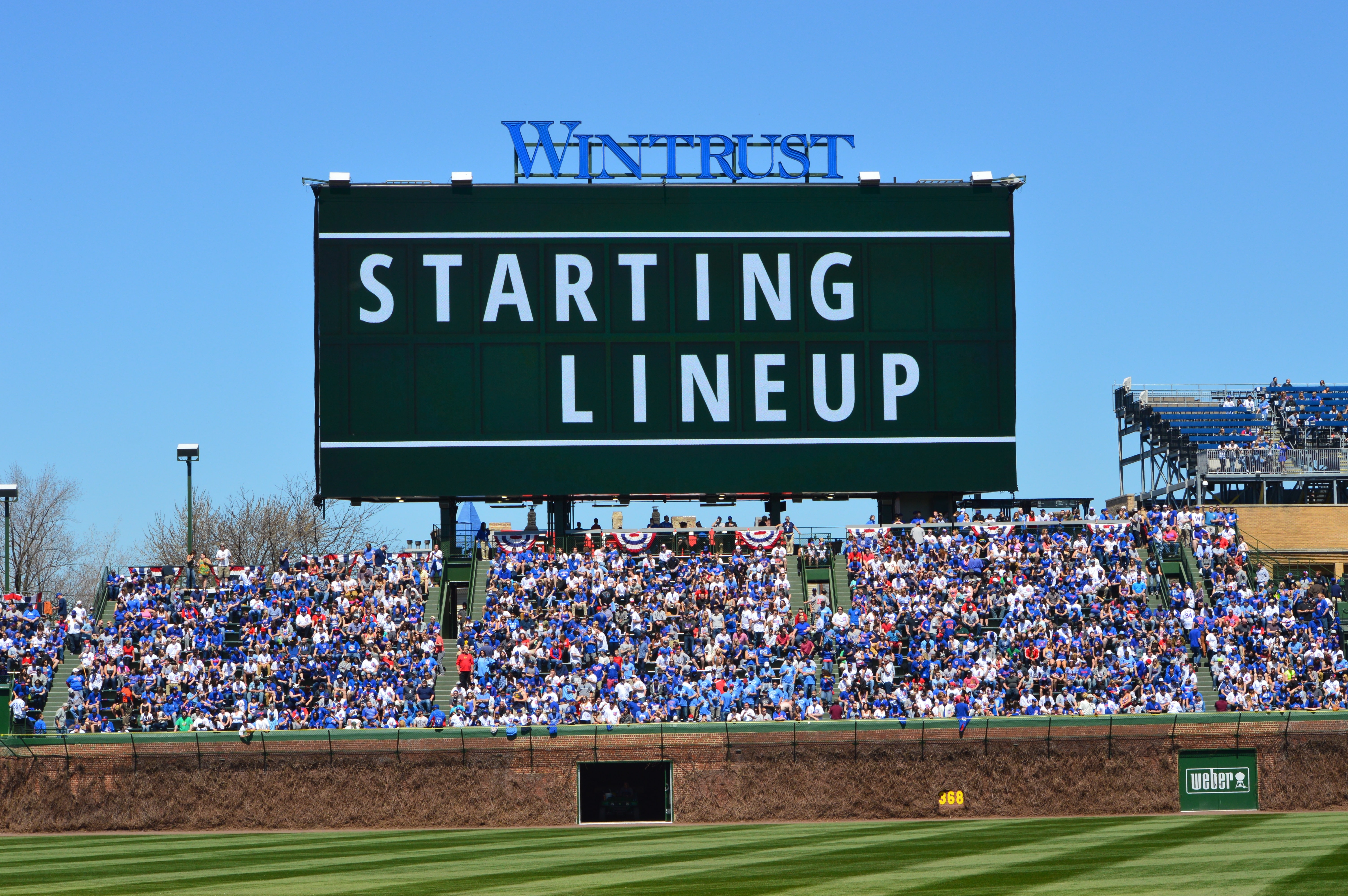 Chicago Cubs Lineup: Schwarber's Actually Starting, Contreras Cleans Up as Cubs Try to Avoid Shutout
Well, at least I got half of my wish. Kris Bryant isn't leading off, but at least Kyle Schwarber is back in the lineup. Ben Zobrist takes the top spot and plays second, followed by Bryant and Anthony Rizzo.
Willson Contreras is behind the plate and batting cleanup, but Joe Maddon said they'd be easing the catcher back into the action so we'll see how long he stays in. Ian Happ is in center, Schwarber is in left, and the Twitter-less Jason Heyward handles right. Javy Baez assumes his familiar role at the bottom of the order.
We've gotten a mixed bag from Jose Quintana thus far, but he seems to be finding his way to some extent here lately. His changeup has really looked good and we've seen a lot more of it of Q's last three starts. The curveball has been featured nearly as prominently, so don't expect that to be a huge part of tonight's repertoire. As always, the key will be settling in early and getting through the first couple innings unscathed.
The Mets have fared pretty well against southpaws this season, but it's hard to take that into account given all the injuries they've sustained. With Michael Conforto and Yoenis Cespedes out of action, there's really no reason to be scared of this lineup. Famous last words, huh?
Robert Gsellman came up in late August of 2016 and had a really strong run to close the season with the Mets, posting a 2.42 ERA and 2.63 FIP over eight starts and a relief appearance. Things haven't gone quite as well for the 24-year-old this season, as he's bounced back and forth from the pen to the rotation and missed a month and a half with a hamstring strain. Weird that a Mets pitcher got injured, I know.
Looking over his production this season, though, the time off from the injury may actually have served Gsellman well. His first 17 appearances (14 starts) were an abject disaster, marked by a 6.16 ERA and 5.10 FIP that were the product of much worse stuff than he'd displayed last year. His sinker velocity was dropping off markedly as games wore on and the spin rates on all of his pitches were significantly lower.
In addition to generating poor results, those decreases are strong indicators of injury. While it's unlikely the leg issue was at all related to those early struggles, the righty has looked a lot better in four starts since returning from the DL. The velocity numbers are pretty much identical to what he'd put up earlier, but his 2.91 ERA is a big improvement. Then again, a 4.53 FIP says maybe not much has changed after all.
Gsellman works mainly off of his sinker, mixing in a four-seam, slider, curve, and change. As you might have guessed from the decreased velo numbers, the fastballs have not looked good this season. That also means he gets much worse results as the game wears on, though he's actually fared well the second time through the order. My guess would be that he struggles to establish the fastball early, then has a period of success when the ancillaries kick in, followed by a downward trend as he tires.
The sinker has decent arm-side run and generates a fair bit of groundball contact, but Gsellman tends to leave it higher in the zone when facing lefties. He'll work the outside edges with the four-seam, which usually stays belt-high or in the upper third. His power slider is generally only used against righties and has similar 12-6 break to the curve, though the bender can catch a whole lot more of the plate against lefties.
While his overall platoon splits are nearly identical, Gsellman has been crushed by lefties on the road. Only seven of his 18 starts have come away from Citi Field so he's only faced 75 left-handed hitters outside of Queens, but they've slashed .349/.427/.636 in that time and have hit five of the six homers he's allowed on the road.
After being swept in frustrating fashion over the weekend, the Cubs really need to come out swinging in this one. Gsellman doesn't miss many bats and he's not going to walk many guys either, so it's a perfect recipe for hitters to be aggressive.
First pitch is at 7:05 CT and can be viewed on CSN Chicago.
Here is tonight's #Cubs starting lineup against the #Mets.

Game preview: https://t.co/s0qMCFvvMO #SocialMediaNight pic.twitter.com/1O0M2NlJl5

— Chicago Cubs (@Cubs) September 12, 2017