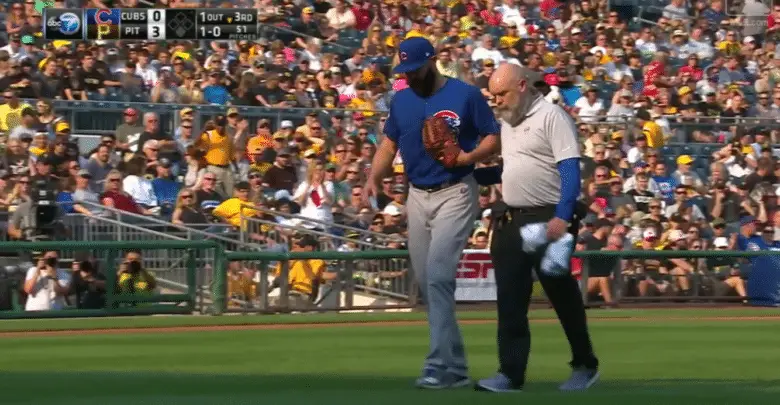 The Rundown: Brewers Get More Home Games, Arrieta Day-to-Day but Progressing
Well, this is certainly an interesting development. The Brewers, the same team that bellyached when the Cubs announced a rainout and again when they moved a game to Friday evening, have graciously opened Miller Park in order to host the Marlins this weekend. The three-game set was initially scheduled for Miami but had to be moved due to fallout from Hurricane Irma.
It's understandable that they'd move the series to Milwaukee, what with every neutral venue in the country otherwise occupied. Seriously, they're all taken up. Every ballpark in America is in use this weekend. Or so I assumed upon hearing that the Brewers were going to get 84 homes games this year.
Talk about gaining a competitive advantage from moving games. The Brewers are 40-33 at home and 36-36 on the road while the Marlins are 36-35 at home and only 32-41 on the road. Not to mention the Brewers are already in Milwaukee and will not have to travel during their off-day Thursday. The Marlins are in Philly and have a night game prior to flying into Cheeseland.
Good thing they're playing a Friday night game so the Marlins can get some rest. I suppose it's also good that the Brewers don't have to travel to South Florida, where the more direct sun would surely leave them needing aloe and Solarcaine.
Because the Marlins were supposed to have been the home team, they will bat last in each game. The Brewers have also said that tickets will be limited due to staffing shortages brought on by the short notice. No word on whether the Marlins will be allowed to erect a massive — and massively gaudy — temporary statue in center for the weekend.
The Cubs took no issue with the schedule change, which of course they didn't because they're not that petty.
Arrieta day-to-day
In other injury news, Jake Arrieta played a vigorous game of catch in the outfield prior to Tuesday's win. Though it's not quite game action, you can tell from the picture in Mark Gonzales' tweet that the pitcher is more or less going through his throwing motion. If you recall, it was during a warmup toss in his last start that the leg really seized up on him.
Arrieta playing catch: pic.twitter.com/7Uz8yra0yU

— Mark Gonzales (@MDGonzales) September 12, 2017
Small victories, to be sure, but those can really add up. And they may be adding up to Arrieta making his next start, which could come as early as next Wednesday in Tampa. Not only do the Cubs have Monday off to lengthen the rotation a bit, but they announced that Jen-Ho Tseng would be taking Mike Montgomery's spot, the one that had belonged to Arrieta.
Montgomery hasn't looked sharp in his last two starts and it's obvious the Cubs have a lot of faith in Tseng, a two-time winner of the organization's minor league Pitcher of the Year award, but do they want him out there for multiple starts? I stressed the "may" earlier because the Cubs are being very careful with Arrieta right now, knowing that any setbacks could cost him the remainder of the season and probably his Cubs career.
"Right now [Arrieta's status is] really a day-to-day thing," Chris Bosio told 670 The Score's Mully and Hanley on Wednesday. "We got good reports from the trainers yesterday, good reports from Jake. Had a nice throwing session where he got it up to about 120 feet, pretty effortless.
"But it's so important that obviously there's no setback. He's trying to do everything he can within reason; we gotta be smart about this. We gotta make sure he's healthy because any tweak at all could cost him the rest of the regular season.
"Now I don't know how many starts he's gonna have, I don't have that crystal ball. But he is progressing, he is getting better, that's all I can say."
Even though there was nothing really revelatory there, I detected cautious optimism in the pitching coach's monotonous delivery. If nothing else, it sounds as though everything is perfectly fine physically but that the Cubs are going to measure five times before cutting Arrieta loose to go all-out.
One potential ancillary benefit of that caution is that it gives the team a chance to see what Tseng can do in a meaningful game or two. After all, there's probably a spot in next year's rotation that the Cubs would love to be able to fill without giving up much talent or entering into a long-term deal. I don't believe Tseng is a favorite to earn said spot, but you never know.
Russell runs bases, takes BP
Addison Russell inched closer to a return Wednesday, running the bases and then stepping into the cage for a little BP prior to the game. As with other workouts, this was yet another very positive sign for the shortstop as he works back from a lingering bout of plantar fasciitis.
I wonder if he's rocking some custom orthotics in those cleats at all, since those can be really helpful for support and comfort when you've got soft tissue problems in the ol' dogs.
More news and notes
It sort of flew under the radar, but Tseng being called up meant that the Cubs had to DFA Pierce Johnson to clear room on the 40-man roster. Once a promising pitching prospect, Johnson could just never quite put it all together and maintain consistent health or performance. Even so, I am very surprised that Justin Grimm has not yet fallen victim to such a roster move.
Speaking of guys who were DFA'd instead of Grimm, Jack Leathersich is pitching out of the Pirates bullpen. He talked to the Pittsburgh Post-Gazette's Bill Brink about coming back from Tommy John and being claimed by the Pirates.
With a three-run home run and a bases-clearing triple against right-handed pitchers last night, Albert Almora Jr. now owns a .951 OPS against righties at home. That mark drops to .440 when facing righties on the road, but the outfielder's overall line continues to improve.
Registration is open for the chance to purchase Cubs postseason tickets. In addition to the standard form, there's a $50 refundable deposit to ensure that registrants are serious about buying. This may have been spurred by the overwhelming number of entries last season, many of whom may not have had the intention or ability to buy.
Big Papi has a new role with the Red Sox that the team says is some sort of forever deal. They didn't really get into many details, but one assumes it'll be something like the ambassador role held by former players like Billy Williams, Ryne Sandberg, and Fergie Jenkins.