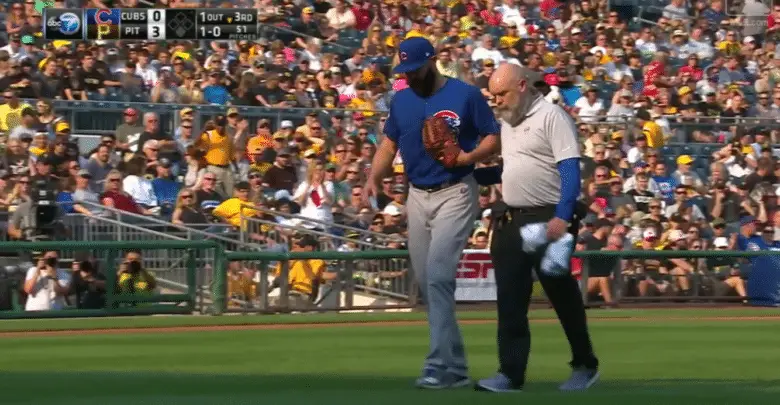 The Rundown: Cubs Win Spring Training Game, Arrieta and Russell Near Return
I had made the joke Thursday afternoon or early evening that Joe Maddon was simply trolling the Mets by rolling out a AAA battery in the final game of the series. The joke was on the Cubs early, though, as Jen-Ho Tseng struggled with command in his debut start and spotted the Mets five runs. But just like Muhammad Ali, the Cubs were simply letting their opponents punch themselves out early.
Okay, not really, but it sort of felt that way when Maddon swapped Tseng and Taylor Davis out for Mike Montgomery and Alex Avila. The new catcher walked to open the bottom of the 4th inning, after which the new pitcher singled and Jon Jay doubled to tie the game. Then Kris Bryant doubled home two runs. Then Anthony Rizzo doubled home Bryant and stole third. Then Ian Happ hit a sac fly and the Cubs were suddenly up 9-5.
It would all have been academic from there, except that the home team decided to hang another handful of runs on the Mets. The best part is that the scoring was capped by a laser beam of a home run hit by…Jason Heyward? I'm going to take partial credit for that one, since I disparaged his presence in the lineup in no fewer than three posts yesterday.
Almora is on fire
Despite what several people have told me, Albert Almora Jr. can hit righties. In fact, he has absolutely worn them out at Wrigley this season, and I'm talking about prior to the last two games. But, boy, have those last two games elevated his status even further.
After a three-run homer and bases-clearing triple Wednesday night, both against righties, Almora entered Thursday's game as a pinch hitter and promptly ambushed a fastball for a two-run double. Yes, it was also against a righty.
I'm not sure if it's the comfort level or the sight lines of playing at Wrigley or just an aberration of weird samples, but Almora is making a helluva case for himself when it comes to getting more playing time. And it comes at the same time that Jay, despite an RBI double of his own Thursday night, has been sputtering a little.
With Ben Zobrist putting it together and looking like a solid leadoff hitter, I really can't see any reason for Almora not to be out there regularly. He is superior to Jay in nearly every aspect and gives the Cubs their best chance to win as they head into some pivotal games against the Cardinals and Brewers over the next two weeks.
Plan for Russell and Arrieta
Jake Arrieta joined 670 The Score's Bernstein and Goff Thursday afternoon and said that he'd be pitching a bullpen session after his radio appearance. If all went well, Arrieta explained, he'd throw a simulated game a couple days later and they'd take it from there.
Aside from the actual schedule, it wasn't much different from what Chris Bosio had said the previous day, all the way down to the cautious approach to Arrieta's health. When you're dealing with anything as finicky as a hamstring, particularly when it's a pitcher's drive leg, you can't push things too hard.
Arrieta had already been playing catch and mimicking his pitching motion on flat ground, so Thursday's session was all about getting in some work on the mound. Provided everything feels good, Arrieta will likely pitch a sim game this weekend and could be in line to return to the rotation next weekend in Milwaukee. That's reportedly what the Cubs are targeting and it makes sense based on everything we know.
A smooth sim game on Sunday would set Arrieta up to pitch against the Brewers next Friday and the Cardinals the following Wednesday. Or he could go Saturday in Milwaukee and Thursday in St. Louis. There's obviously a lot involved here, but I'd put money on him coming back a week from today.
Addison Russell hasn't been vocal at all about his own injury, or about anything at all, for that matter. Given everything else circling around him this season, he's been lying pretty low. But his actions indicate that he's almost ready to return and Maddon has said that the shortstop is "very, very close."
The Tribune's Mark Gonzales said Russell could be back by the Brewers series, but there's a possibility he returns even sooner. He's been running the bases and taking BP of late, so the Cubs are obviously comfortable with him in those situations. Live game action is a little different and it's hard to believe they'd throw him right out into the field, but perhaps re-acclimating him as a pinch-hitter here and there would work.
The plan for now is have Russell rest Friday as the team reevaluates how to proceed moving forward. I'd be surprised if he made an appearance against the Cardinals, but less so if he suited up in Tampa next week.
More news and notes
The use of a pitch clock has been discussed as a possibility all year and The Athletic's Ken Rosenthal reports that it may indeed be integrated next season.Or gradually over a series of years.
Mike Petriello introduced a new defensive metric called outs above average (OAA) that uses Statcast's catch probability stats to assign value to catches made and subtract for those not made. The resultant score is a fielder's OAA. The Twins' Byron Buxton leads MLB with +23 followed by the Braves' Ender Inciarte (who I had wanted the Cubs to trade Jorge Soler for a couple years back) at +17. Jason Heyward is No. 8 on the list with a +9.
Former Cub Luis Valbuena bombed a homer off of the Astros' Mike Fiers, who didn't take kindly to Valbuena's bat flip. Mind you, we're talking about a guy who flips his bat on walks. So in a move born of the utmost douchebaggery, Fiers threw at/behind Valbuena's head the next time he came up. Rather than any real punishment, the pitcher was suspended five games, which really only backs his next start up by a day (he was also fined an undisclosed amount of money). I've said it here before, but I'll repeat now for the new folks: Throwing at hitters is dumb. It's also very dangerous, particularly when we're talking about headhunting, a form of retribution that has no place in the game. Given all we know about head injuries, I can't believe MLB isn't taking a harder line on BS like this. Hell, even before we knew about the lasting effects of head injuries (although the law of averages holds that at least one of the four people who read this probably doesn't buy into the research), it was obvious that a baseball to the dome was bad. This was a cowardly, asinine act on Fiers' part and MLB reacted with an impotent punishment that does nothing to curb future idiocy like it.
The Red Sox have activated David Price, who has been out since July 22 and will work out of the bullpen for the rest of the season.