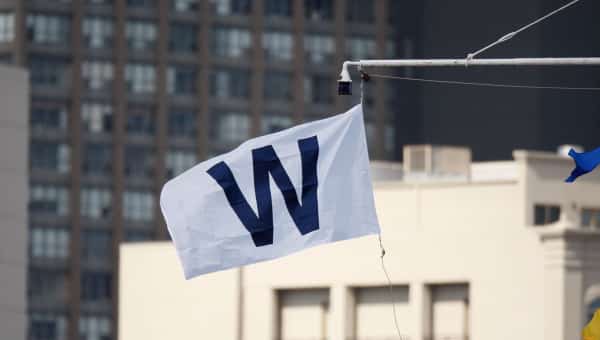 CI Recap (9/25/17) – Cubs 10, Cardinals 2: Cubs Cream Weaver
The Cubs assured themselves at least a tie for the National League Central Division by crushing the Cardinals in St. Louis Monday night. The Northsiders jumped all over talented rookie Luke Weaver and the game was finished in the 3rd inning. (Box Score)
Why The Cubs Won
Chicago scored early and often against Weaver, posting eight runs in the first three innings of the game. After that, a solid six innings from Jon Lester made this one a laugher.
Key Moments
Kris Bryant singled, Anthony Rizzo walked, and Ben Zobrist beat out an infield hit to load the bases with two out in the 1st. Addison Russell lined a double down the right field line to clear the bases and Jason Heyward followed with a double of his own to put the Cubs up 4-0.
Willson Contreras singled to open the 3rd and was forced out by a Zobrist grounder. Heyward walked with two outs to bring up Javy Baez with two down. Baez hooked a hanging offspeed pitch from Weaver into the stands in left to increase Chicago's lead to 8-1.
Stats That Matter
Jon Lester looked better after a rough start in Tampa: 6 IP, 1 R, 5 H, 4 K, and 2 BB. He had a few control issues, but less than the last few outings.
Kris Bryant got on base three more times Monday, including a homer. Bryant is likely to finish the season slashing around .290/.410/.540 with 30 homers and 85 RBI, what a loser.
Javy Baez had a single along with his three-run bomb. After fouling a pitch off his knee in the 8th inning, he went to the ground in agony and was attended to by trainers for several minutes. He then singled and left for a pinch-runner, hopefully just precautionary.
Bottom Line
The Cubs have eliminated the Cardinals from division contention. Now just one more win or Brewers loss gives Chicago the title outright. It's quite an accomplishment considering they were five games back at the All-Star break. The focus can now switch to the Washington Nationals in the NLDS.
On Deck
The Cubs look to celebrate a division crown Tuesday night in the Lou. Jake Arrieta duels with Carlos Martinez at 7:15 CT. ESPN and CSN Chicago provide the television coverage.