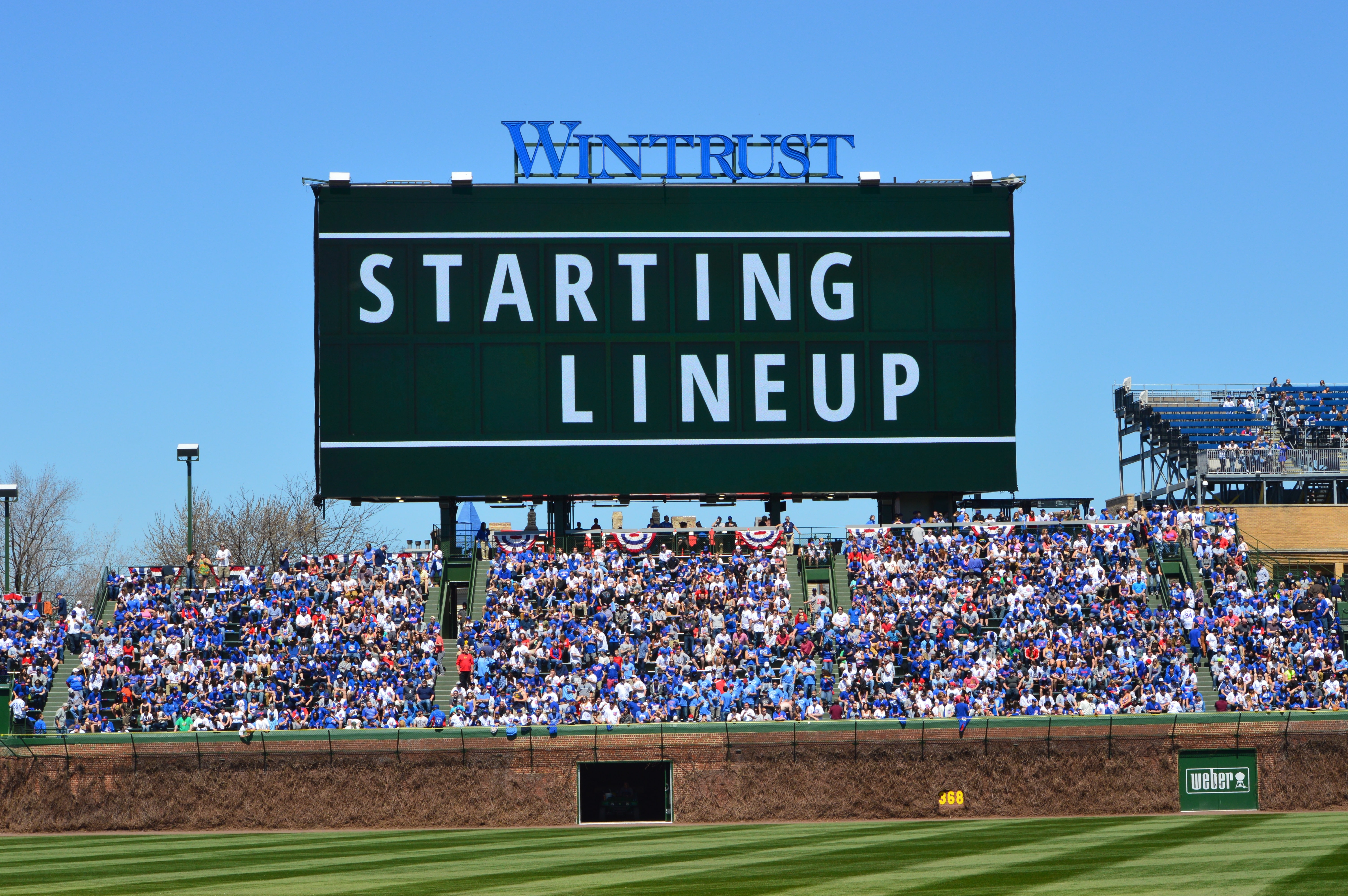 Chicago Cubs Lineup: Almora Leads Off, Schwarber Second in Arrieta's Potential Farewell
After looking all but lifeless in three previous games, the Cubs are hoping a new lineup can shock them back into something resembling a baseball team that can score in more than a single inning. It's certainly an interesting setup, and one that doesn't include Ian Happ, who's become a forgotten man since the end of the regular season.
Albert Almora Jr. leads off in center with a lefty on the mound, followed by Kyle Schwarber. Together, they represent three of the Cubs' four runs in the series. Awesome. Kris Bryant collected a pair of hits from the three spot last night and he's back there again, followed by Anthony Rizzo, who also got a hit. Those three knocks represent as many as the duo had tallied in their previous 38 at-bats combined.
Willson Contreras and Addison Russell are next, with Javy Baez moving up to bat seventh, where he'll have a little more protection in the form of Jon Jay. I know a lot of folks are really high on Jay and I agree that he's done a great job for the Cubs this year. But how Happ's not getting a shot in this situation, I'll never quite understand.
Jake Arrieta will be trying to stave off elimination as he takes the mound for the second time in the postseason. He was effective in his soggy start against the Nationals, but he was far from his best. Arrieta will need to be much better if he expects to push this to a Game 5 and you can bet he'll have his game face on early. Heck, he was laser focused last night.
Unless the defending champs go on to take four straight, this could very well be Arrieta's final start as a Cub. It's been one hell of a run, and now he gets to go from the brink to the Brinks truck. After the booing we heard last night, the fans at Wrigley damn well better give this man a huge ovation when he walks off the mound. I don't care if he sucks out loud, he deserves nothing but adulation.
Opposing the Cubs will be lefty Alex Wood, who is making his first start of this postseason after not taking the mound in the Dodgers' three-game sweep of Arizona. He hasn't been nearly the pitcher in the second half that he was in the first, which is really saying something for a guy with a 2.72 ERA on the season.
After holding opposing hitters to a .476 OPS through mid-July, Wood has given up a .768 OPS since. His 1.69 ERA and 2.04 FIP jumped to 3.89 and 4.76, respectively. And after allowing only two home runs prior to the break, he's given up 13 bombs since. Lefties have actually hit Wood better of late, which is why we're seeing Schwarber up near the top of the order.
Wood generates a fair number of ground balls with his sinker, which he'll throw about half the time. He's also got a curve that rolls up in the low-to-mid 80's and a devastating changeup that sits about 85 mph. Both of those pitches induce worm-burners at an even higher rate than the sinker, so Cubs hitters are going to need to be wary of the offspeed and breaking stuff.
Listen, there's really no need to get into this any further. As we've seen throughout the series, Dodgers pitching has completely befuddled these hitters. The Cubs absolutely have to get some balls in the air and they've got to press the issue. Despite hammering Yu Darvish early — five batted balls of 100+ mph in the first two innings — they were never able to string anything together and quickly sputtered out.
As strange as it sounds, the Cubs might want to avoid hitting and early homer and/or taking the first lead in this one. Or maybe they should just try score more than two runs. Yeah, that sounds like a plan.
Tune in to TBS at 8pm CT to find out whether or not I'll get to head to Wrigley for Game 5.
Here is tonight's #Cubs lineup.

NLCS Game 4 preview: https://t.co/B1PLkmw2uV pic.twitter.com/Siv90cQmzV

— Chicago Cubs (@Cubs) October 18, 2017