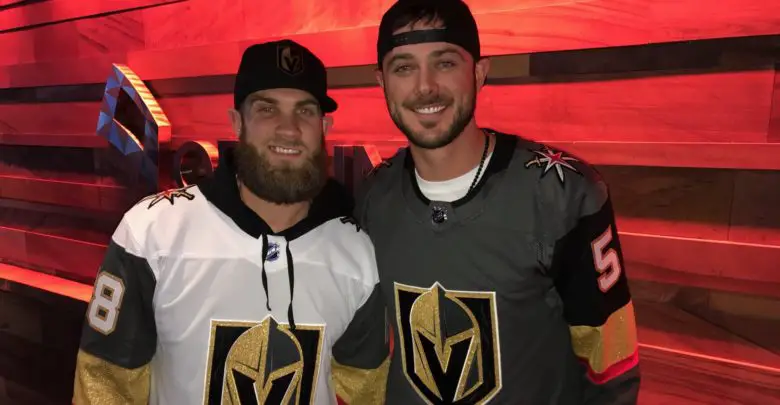 The Rundown: Brewers a Good Match for Arrieta, Harper and Bryant Team Up, What's Slowing the Market?
Do we believe that the lack of player movement heading into the Winter Meetings a week from Sunday portends a wild and crazy week in Orlando? I mean, what if the Winter Meetings come and go and Giancarlo Stanton is still a member of the Miami Marlins and Shohei Ohtani is still weighing offers from 30 teams?
I think the real holdup is that baseball is waiting for Alex Anthopoulos to settle in to his new job in Atlanta. The Braves GM has never been gun-shy when it comes to making splashy offseason moves. Yeah, that's the holdup. 
A Wisconsin friend (and reader) suggested I do a breakdown of the budding Cubs-Brewers rivalry and I promise I am going to get to that in a couple weeks. I am just waiting for SP Jake Arrieta to sign with Milwaukee, because that's when things go from simply fending off an annoying, over-achieving, semi-threat straight to DEFCON 5. Arrieta leading that staff with that bullpen behind him is a game-changer. It will be lit if Jake the Snake lands north of the Cheddar Curtain. 
As a former Wisconsin resident, I can tell you that Milwaukee should be more of a preferred spot for free agents. Third Ward is Rush and Division without the overpriced fare and Gold Coast pretentiousness. There are lakefront festivals every weekend between Memorial Day and the end of summer. Miller Brewing Company and Harley-Davidson endorsements are waiting for the right athlete. I mean, Cubs radio announcer Pat Hughes is so highly regarded in Milwaukee that he endorses Dr. Paul Levine DDS and has for years. 
Imagine Arrieta replacing "Tony" in the Bob Uecker Usinger Sausage commercials. Yaah? Yaaaaaah!
In all seriousness, this is a critical offseason for the Cubs and the Brewers and you have to include St. Louis in the mix, too. During the 2015 season, three teams from the Central made the playoffs, with the division title coming down to the last week of the season and only six games separating a 103-win Cardinals team from the Cubs and Pirates. Once the smoke of the Winter Meetings clears, we could be looking at a similar scenario with the 2018 Brewers replacing those 2015 Pirates.
I'll focus on those NL Central rivalries post-Orlando. It's hard to believe that anything could be more intense than the Cubs-Cardinals rivalry, arguably the best in baseball (apologies to Yankees and Red Sox fans), and the Brewers and Cardinals have a little history of their own. If Arrieta ditches Chicago and signs with Milwaukee? Game on, Brew Crew. Game on.
Cubs News & Notes
It's a rare feat when Kris Bryant, Bryce Harper, and Cubs Insider's Editor-In-Chief make the same news story, but yeah, it really happened. Bryant and Harper attended a hockey game together in Las Vegas and it apparently broke the baseball internet.
Could the perfectly coiffed right-fielder end up in Chicago, playing with his lifelong pal? I can't answer that, but I do believe it would be the best professional bromance since John Lennon and Paul McCartney started hanging out in 1957.
Speaking of bromances, we may see the Cubs corner men at this May's Kentucky Derby. Yes, there is a Cubs-inspired colt named Bryzzo on the current Derby trail. The juvenile son of Medaglia d'Oro debuted on Nov. 17 at Churchill Downs. I am not very familiar with horse racing, but I imagine the number of Cubs fans placing money on the horse to win will make Bryzzo a pre-post favorite.
More and more reporters are trying to break down the stagnation in player movement this offseason, including Bruce Levine. But the important thing to take form this article, if Levine's sources can be believed, is that the Cubs have offers out to a few free-agent starting and relief pitchers. Alex Cobb is believed to be mulling over offers from the Cubs (and other clubs) on multi-year proposals.
Kyle Schwarber is intent on remaking himself ahead of spring training.
On this day in 1971, the Cubs traded SP Ken Holtzman to Oakland for OF Rick Monday.
Tuesday Stove
The Marlins reportedly gave Giancarlo Stanton a trade ultimatum yesterday.
The hyperbole and superlatives surrounding Shohei Ohtani continues. Some of the quotes by unnamed baseball executives and player agents are quite creative:
"Shohei Ohtani," one agent said, "is like the baseball version of the new Amazon headquarters."

"This is a $200 million Powerball in a 30-person town," one National League executive said. "You kind of have to buy a ticket."
But agents aren't blaming the Japanese slugger for clogging the offseason express lanes, according to Jeff Passan. As one agent put it: "If Ohtani weren't coming and the Marlins were keeping Stanton, they'd come up with two other things to slow the market down."
The Los Angeles Dodgers were named Organization of the Year by Baseball America. The publication also named New York Yankees GM Brian Cashman as its Executive of the Year.
Two days ago I posted an outdated link regarding the best available players in the upcoming Rule 5 Draft. Here is the correct link to the story by Jonathan Mayo. I could see the Cubs having some interest in Minnesota SP Kohl Stewart.
The Sporting News lists eight possible destinations for Rays SP Chris Archer.
Former Atlanta Braves GM John Coppolella may have been banned permanently because he allegedly wouldn't cooperate with MLB in its investigation. Yesterday, in an appearance on ESPN Radio's Golic and Wingo, MLB Commissioner Rob Manfred made a comment that suggested that Coppolella may have been somewhat evasive under questioning. When asked about the penalties, Manfred said "while the Braves were completely cooperative in the investigative process, I can't say the same for John."
Wednesday Walk Up Song
Bad Boys by Inner Circle. Bryant-Rizzo-Harper 2-3-4? Yes please.