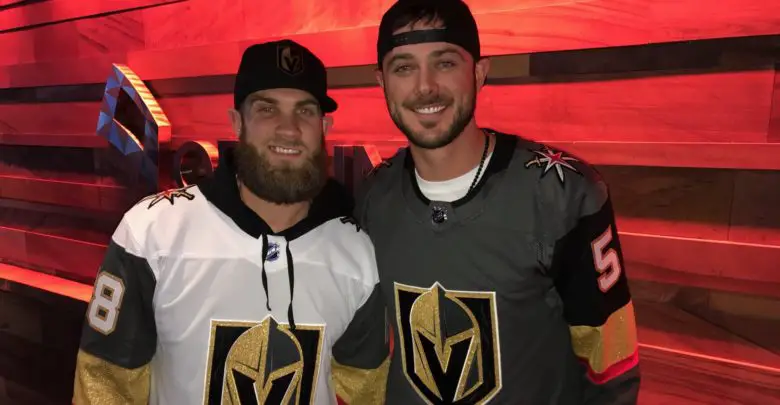 The Rundown: Cubs Were Awful in 70's, Why Harper Will Sign with Cubs, Stanton Saga Continues
MLB Network has been showing the Ken Burns Baseball Anthology, which has now become sort of my post-Thanksgiving/pre-Winter Meetings tradition. Last night covered the 70's, 80's and 90's and it was tough to watch for me, especially the 1970's. I still get choked up when I see Roberto Clemente get his 3,000th hit — the last of his career — in 1972.
Clemente had chartered a small cargo plane for a New Year's Eve flight to help victims of an earthquake in Nicaragua that offseason. The plane had a history of mechanical problems and pilots that were allegedly subpar at best. Overweight by nearly 4,200 pounds, the relief plane crashed into the Atlantic Ocean off the coast of Isla Verde, Puerto Rico immediately after takeoff on December 31, 1972 due to engine failure, killing everyone on board, including Clemente.
The 70's were a wretched decade for the Cubs. Those were my formative baseball years, and the Northsiders seemed to lose almost every game they played. Crowds at Wrigley Field were sparse and the atmosphere was nothing like it is today. There was no #ThatsCub culture. Some lowlights include:
On September 2, 1972, Milt Pappas no-hit the Padres 8–0. Should be a highlight, but…he retired the first 26 batters and was one strike away from a perfect game with a 2–2 count on pinch-hitter Larry Stahl. Home plate umpire Bruce Froemming called the next two pitches — both of which were strikes, in my opinion — balls. No perfect game, a fact Pappas disputed until his death in April 2016.
1973 was the only season between 1945 and 1984 in which the Cubs were still in contention on the last day of the regular season. Due to several rainouts, they still had four games to play against the first-place Mets, so double-headers were scheduled for September 30 and October 1 to end the season. If Chicago were to win all four games, there could have been an unprecedented five-way tie for first place, with each team having a below .500 record of 80–82 (also unprecedented). It would have taken at least three days of games to break the tie.
The Cubs won the first game and suddenly it seemed possible that the most unusual end to any season in baseball history might happen. But the Mets won the second game, eliminating three of the teams, including the Cubs. The Mets reached the World Series with an 82-79 record, losing to the A's in seven games.
Even worse, the Cubs released Pappas and traded Fergie Jenkins, Glenn Beckert and Ron Santo after that season. Billy Williams was traded later in 1974.
In a 22-0 shellacking of the Cubs on Sept. 16, 1975, Pirates second baseman Rennie Stennett would record a hit in all seven of his at-bats, becoming the first only modern-era player to accomplish this in a nine-inning game.
In 1977, the Cubs led the NL East by 8 1/2 games in late June with a record of  47–22, led by Bobby Murcer (27 HR, 89 RBI), and Rick Reuschel (20–10). By the All-Star break, the Cubs still sat 19 games over .500 with a two-game lead over the Phillies, but they swooned late in the season, going 20–40 after July 31. The Cubs finished in fourth place at 81–81.
The following two seasons also saw the Cubs get off to a fast start, as the team rallied to over 10 games above .500 well into both seasons, only to again wear down and play poorly later on, and ultimately settling back to mediocrity. This trait became known as the "June Swoon." 
On May 17, 1979 the Cubs scored 22 runs against the Phillies and lost 23-22. Things are so, so different now.
Cubs News & Notes
The Cubs met with Shohei Ohtani on Tuesday, according to MLB Network's Ken Rosenthal, and they made their pitch to the two-way Japanese superstar as to why he should come to Chicago. Ohtani has now met with each of the seven finalists except the Padres.
The Friars' connections to the phenom have been rehashed ad nauseam over the past 48 hours, but among most sportswriters they remain the favorite to sign Shohei.
In one post of a five-part series, Washington's Top News (WTOP) looks at the reasons why OF Bryce Harper will sign with the Cubs in 2018.
The Cubs reportedly have shown interest in former Twins closer Brandon Kintzler. 
The Cubs are also showing interest in Brandon Morrow as a potential closer.
Would you trade Kyle Schwarber to the Yankees for Delin Betances and Chance Adams? I'd think long and hard about that one and I am a lot higher on Adams than most, but I'd have to get someone other than Betances. 
I was actually thinking about possible Cubs trades involving War Bear or Ian Happ yesterday. I truly believe the Cubs see Happ as the heir apparent to Ben Zobrist and no way the team sells low on Schwarber. I don't think Theo Epstein will ever sell low again after the 2011 trade of D.J. LeMahieu for Ian Stewart.
In 1973, Ron Santo was the first MLB player to invoke his 10-5 rights in order to block a trade to the California Angels. He was eventually traded to the White Sox for Steve Stone.
Tuesday Stove
Derek Jeter's short time as a baseball executive has already eroded his baseball reputation.
The Cardinals signed starting pitcher Miles Mikolas yesterday. Other than his cool name, I'm unimpressed by the signing and I also don't see a need to read more into this than exists. The Cardinals need to replace Lance Lynn and everybody needs pitching depth. Does this mean the Cardinals may use pitching to acquire Giancarlo Stanton? It has been previously reported that Stanton will not accept a trade to St. Louis so I am going to leave it at that. 
There are other power-hitting outfielders available, and the Redbirds are looking at Evan Longoria, too. The Cardinals match up well with a lot of teams because of their pitching and outfield depth and may be the busiest team at the Winter Meetings next week.
It's debatable, however, that the Rays would be willing to trade Longoria. Along with the Cardinals, the Mets would likely be interested in the third baseman if he was made available. 
The Marlins still have yet to make a decision regarding Stanton. The team's investor deck, dubbed Project Citrus, indicates that the group wants to reverse critical P&L to substantially improve cash flow, so yeah, trading the remainder of a $325M contract might help just a bit.
Stanton was nearly drafted by the Los Angeles Dodgers 10 years ago, but they passed on him twice in favor of Chris Withrow and James Adkins. Stanton went to the Marlins with the 76th overall pick. 
Outfielders Dexter Fowler of the Cardinals and Hunter Pence of the Giants are actively recruiting Stanton.
It was reported yesterday that new Red Sox Manager Alex Cora had a confrontation with an Astros broadcaster this past season on a bus from the Houston airport to Minute Maid Park, then had a subsequent screaming match with A.J. Hinch.
The Indians inked RP Dan Otero to a two-year deal with an option for 2020.
The Tigers gave C Derek Norris a minor-league deal yesterday. The team also gave former Cubs CF Leonys Martin a major league contract.
The Royals signed buy-low SP candidate Wily Peralta yesterday. Many see this as the beginning of a forced rebuild of the system. The team may make any and all players available. I'd bet the Cubs could be potentially interested in Danny Duffy.
The Angels officially have a farm system again after signing FA shortstop Kevin Maitan yesterday. Though he had somewhat of a down year in 2017, Maitan is the No. 38 prospect at MLB Pipeline and was recently granted free agency due to penalties imposed against the Braves. Banned former Braves GM John Coppolella apologized yesterday for his actions.
Pepsi announced a marketing agreement with Yankees OF Aaron Judge.
Wednesday Walk Up Song
Move Along by The All-American Rejects