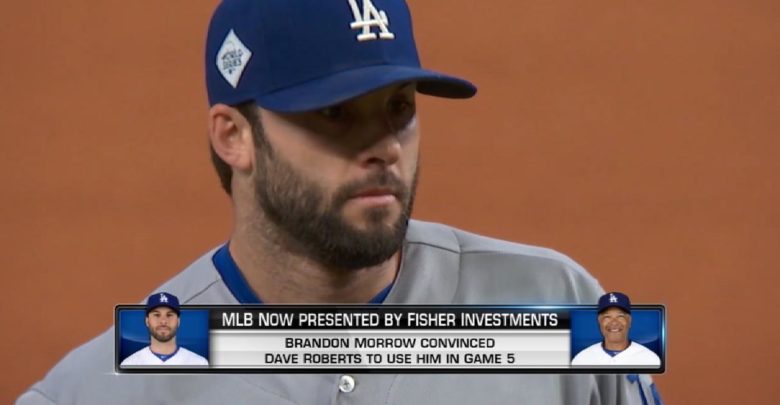 The Rundown: Cubs Land Morrow, No Trades Imminent, Cardinals Figure to Be Very Active
I went to bed last night and Brandon Morrow was a member of the Cubs, though the deal is pending a physical. As Ken Rosenthal tweeted this morning, it's a two-year deal for a guaranteed $21 million ($9M each in 2018 and '19, with $3M buyout or $12M vesting option for '20).
Brendan Miller provided a very detailed report on Morrow's transition from oft-injured starting pitcher to dominant reliever yesterday.
At any rate, the Cubs struck early and a number of reports have them close to signing a starting pitcher, presumably Alex Cobb, and another reliever. It appears the team wants to get its heavy lifting done quickly so that they can see what other deals present themselves as they round out the roster. Though it's possible we may see a trade or two from Theo Epstein and Jed Hoyer this week, it's more likely that they decide to wait until the July trade deadline to address any needs in that manner.
That being said, there is undoubtedly a lot of interest in their bounty of position players, so there should be plenty of rumors. A number of teams are interested in OF Kyle Schwarber, including the Red Sox, and there will be plenty of interest in Ian Happ, Javy Baez, Addison Russell, and possibly Albert Almora Jr.
Shortly after the Morrow signing was announced, the Cardinals returned serve with a relief pitcher signing of their own, inking Luke Gregerson to a two-year deal worth $11 million. The new Redbirds reliever suffered declining numbers across the board last season, but he has been above average across 600 innings throughout his career. The signing may indicate that GM John Mozeliak will tread lightly through free agency, as the team has historically, or it may mean they intend to move hard on a slugger like J.D. Martinez or Jay Bruce. 
The Cardinals are stacked with young starting pitchers and outfielders and could make a serious run at White Sox 1B Jose Abreu, Rays 3B Evan Longoria, Blue Jays 3B Josh Donaldson, Marlins OF Marcell Ozuna, or Orioles SS/3B Manny Machado. Ozuna may represent the likeliest scenario. 
Meanwhile, the Yankees are poised to strike again. After trading for Giancarlo Stanton, GM Brian Cashman may look to trade for Rays SP Chris Archer, and could offer players like OF Clint Frazier, SP Chance Adams, minor league, slugging OF Estevan Florial, and RP Delin Betances, who could be the reclamation project that allows the Rays to then trade closer Alex Colomé. Archer has four years of control left at an affordable $34.08 million. If the Yankees can swing a deal for the 29-year-old starting pitcher, they'd have an excellent young core that would own the AL East, if not all of baseball, through the 2020 season at least. The Cardinals are said to be heavily interested in Colomé as well.
The Yankees also need to do something with Jacoby Ellsbury, who is a $68 million reserve outfielder at this moment.
Cubs News & Notes
If the Cubs and Cobb do not come to an agreement — there are at least four other teams bidding for his services — who will be the team's fifth and final starter? The free agent market is rather slim if you remove Jake Arrieta and Yu Darvish from the equation due to expected $100+ million contract offers. The trade market is clearly an option, with the Cubs currently possessing a surplus of young position players.
Will the Cubs orchestrate any trades this week? They are unlikely to sell low on Schwarber, though Javy Baez and/or Addison Russell should be in high demand. I imagine the Cubs would have to be presented with a deal that they absolutely cannot refuse to trade any of those players, and you can add Happ to that list too. 
The team still has work to do in the bullpen. Morrow's reported $10+ million per year makes a Wade Davis return less likely, but the Cubs certainly need another impact reliever or two and Morrow hasn't been officially named the team's closer, though that seems like a formality based on his numbers last season. There are still plenty of high-leverage relief options available through free agency, including Brandon Kintzler, Jake McGee, Addison Reed, and Bryan Shaw.
Sunday Stove
The Red Sox have some work to do and Jason Mastrodonato of the Boston Herald has a honey-do list for GM Dave Dombrowski.
The New York Mets are willing to trade Matt Harvey and have talked to at least two teams about a deal for the former All-Star pitcher. The Mets, however, have made it clear to teams that Noah Syndergaard and Jacob deGrom are not on the table.
The Cardinals and Athletics match up well as potential trade partners and the A's continue to have interest in OF Stephen Piscotty.
The Nationals could use SP Gio Gonzalez as a trade chip. The team is looking for starting pitching, right-handed relief, a lefty-hitting first baseman and bench help. The Nationals are said to be interested in Jake Arrieta as well. 
The Indians have made a contract offer to Carlos Santana. The slugging first baseman's agents are still waiting for his market to form, however. The Rangers, Padres, Phillies, Red Sox, and Mariners have been previously linked to Santana this offseason.
The Angels have held talks with SP C.C. Sabathia.
After trading Starlin Castro, the Yankees have a hole at second base to fill. Their internal options include Ronald Torreyes, Gleyber Torres, and Tyler Wade. Ian Kinsler could be a trade option.
The Cardinals, who offered pitching prospects Sandy Alcantara and Jack Flaherty, and were willing to pay nearly $250 million of Giancarlo Stanton's $295 million guarantee only to be kicked to the curb, could return to the bargaining table with the Marlins. They'll focus their talks strictly on outfielder Marcell Ozuna, who they wanted in the first place. They will likely look at Arrieta and Yu Darvish, and closer Wade Davis is probably in play as well.
The Pirates are listening on ace Gerrit Cole and are said to have engaged the Giants regarding Andrew McCutchen.
New Braves GM Alex Anthopoulos will look to add multiple veterans to his increasingly robust core of young talent. The team's projected payroll for 2018 is only $89M, so expect to see the Braves oft-mentioned this week. Lance Lynn seems like a fit in Atlanta.
Monday Walk Up Song
Ladies and Gentlemen by Saliva