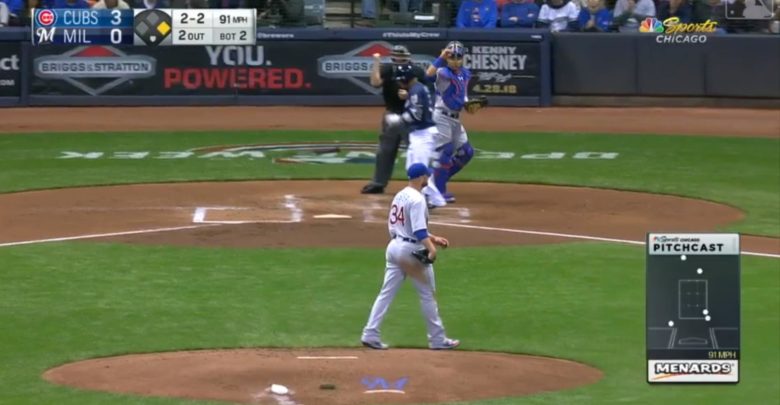 Lester Can Easily Overcome Velo Dip with Command He Showed Against Milwaukee
Jon Lester didn't look like himself against the Miami Marlins during his Opening Day start, not that one bad start in late March was surprising or worth panic. But still, I really wanted to see him throwing BB's during his second outing against the Brewers. And Lester did exactly that, shutting down the Brew Crew Thursday night with his trademark command and crisp stuff.
The most encouraging sign from Lester's last start was the stark difference in command and/or game plan. It's more likely that the Brewers needed to be pitched to differently than the Marlins, but Lester hammered the outside portion of the strike zone heavily against Milwaukee, whereas he tried to go in on the hands to Marlins righties and ended up missing over the plate.
We saw a lot of this against the Brewers:
Lester painting tonight. Six strikeouts through six innings. pic.twitter.com/jMU5AcA5Ce

— Cubs Insider (@realcubsinsider) April 6, 2018
And the data is eye-popping. Notice how he is basically hitting the same spot with fastballs in the Milwaukee start compared to the Marlins outing.
Fastballs Against Brewers on 4/5
Fastballs Against Marlins on Opening Day
As a side note, Lester's velocity during Opening Day was unusually low at 90.16 mph, the lowest one-game velocity of his career. This was in contrast to his 93 mph average in 2016 and 91.5 mph last season. Lester followed up the slow outing by averaging 91.3 mph against the Brewers, which is more or less in line with last season when he induced a career-best whiff rate and the Cubs' best exit velocity against.
Lester has already showed that he can live with the velocity dip, as he generated more whiffs and weaker contact last season than when he was throwing faster. But as everyone in his camp expresses, the command has got to be there. If the command is this sharp going forward then, oh my, we are in for another treat this season.