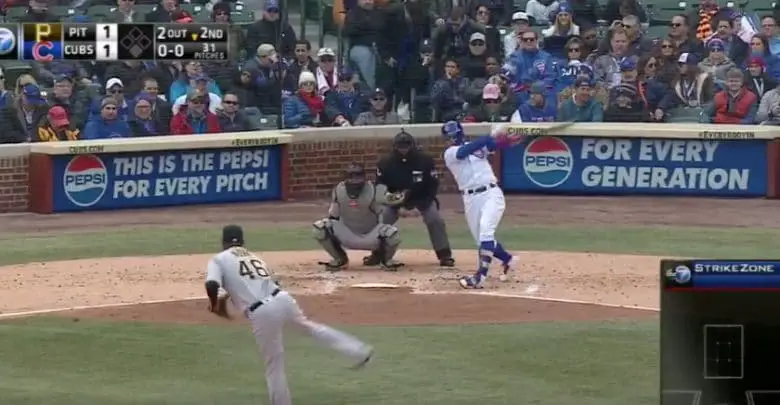 The Rundown: Harper-to-Cubs Rumors Resurface, MLB's Oldest Usher Retires, Red Sox & Mets Off to 9-1 Starts
Blah. Meh. Shrug. Losing is a disease, right?
Ten games in and the Cubs are still a .500 team and that fast start that Joe Maddon had hoped for seems to have given way to a repeat of the start of the 2017 season instead. It's easy to say the Cubs are a better team than this, but they are 2-4 against teams that really weren't supposed to compete for anything but a high draft pick. Sure, the sample size is small, but it would be nice to see a dominating performance or two and a string of wins.
Tyler Chatwood didn't pitch well yesterday despite statistics that may have suggested otherwise. Javy Baez hit two home runs, including this bomb that christened Wrigley Field for the 2018 season.
Calm like a Javy bomb. #EverybodyIn pic.twitter.com/OrZzVkFBnK

— Chicago Cubs (@Cubs) April 10, 2018
I'm still looking for some fire from this team. At times they seem to want to keep it in the tank, so to speak, and though I certainly do not live in fear of the Pirates running away with division, it would be nice if the Cubs could just beat the teams they are supposed to beat. Still, you can't take anything away from a Pittsburgh team that is at the top of their game right now. The 8-2 Pirates lead all of baseball in runs per game (6.6) and team batting avg. (.286).
No need to panic, though. I'd still bet on the Cubs being the team to beat at the end of this year. Let it ride.
Cubs News & Notes
The Cubs purchased the contract of first baseman/outfielder Efren Navarro from Triple-A Iowa to replace Anthony Rizzo on the 25-man roster. The left-handed-hitting Navarro, 31, is a lifetime .243 hitter over parts of five seasons with the Angels and Tigers. He was 3-for-12 with three RBI in three games at Iowa.
Sister Jean of Loyola took the bump to throw out yesterday's first pitch, but facts being facts, she's 0-2 in her last two starts. I know that's a little hot take-ish. Sue me.
Entering Monday's snowed-out home opener at Wrigley Field, Cubs relievers had thrown 38.1 innings, posting a major-league best 0.94 ERA. Maybe Pedro Strop should throw out the first pitch.
An Instagram picture posted by Kris Bryant and a comment that appeared twelve minutes later by Bryce Harper fueled rampant speculation that Harper has already made up his mind to come to Chicago next season.
How About That!
The Red Sox became just the third American League team in the last 15 seasons to win nine of its first 10 games. The equally hot New York Mets are also 9-1.
ESPN analyst Rick Sutcliffe suggested that the 24-year-old flame throwing pitcher Luis Severino was tipping his pitches during last night's Yankees-Red Sox game at Fenway Park. Boston beat Severino 14-1.
A night after Joey Votto twice denied fans foul balls, the Phillies faithful let the Reds first baseman hear it with a cacophony of boos at every opportunity. Votto didn't have any opportunities to field balls near the stands and went 0-for-4.
Nationals left fielder Adam Eaton appears to be headed for the disabled list once again. Eaton missed most of last season after tearing his ACL. This time around, the issue is simply a bone bruise in his ankle.
Blue Jays right-hander Aaron Sanchez held the Orioles hitless for the first seven innings of Tuesday's game in Baltimore before Tim Beckham led off the 8th inning with a double. Sanchez still got the win despite issuing five walks.
Phil Coyne, an usher for the Pirates for the past 81 years, has officially retired at the age of 99. Coyne has been escorting fans to their seats since 1936, the same year the Baseball Hall of Fame inducted its first members, a group of five players that included Honus Wagner and Babe Ruth.
Tuesday's Three Stars
Mookie Betts – The Red Sox OF was 4-for-4 and hit a grand slam on a monster night, leading Chris Sale and Boston over the Yankees for their ninth straight win. Betts joined Ken Griffey Jr. (1996) as the only players to have four hits, five runs and four RBI in a game against New York.
Blake Snell – The Rays' young starter pitched one-hit ball and struck out 10 through six innings as Tampa kept the White Sox winless at home this season.
Javy Baez – Chicago's acrobatic second baseman hit two home runs in yesterday's 8-5 loss to the Pirates. Although Baez's .194 batting average leaves much to be desired, the 25-year-old figures to be a big part of the Cubs offense this season.
Hot Takes & Syrup
Mark McGwire thinks he would have hit 70 home runs without the assistance of PEDs  according to Jayson Stark in this piece for The Athletic (subscription required/recommended). He hit 70 bombs in a season in which he walked so often (162 times) and whiffed so often (155 times) that the baseball only left the batter's box 358 times. That computes to a rate of one home run for every 5.1 balls in play – the greatest ratio in history.
Which hot start in baseball are you buying the most? The Red Sox and Mets look legitimate but I am still long on the Astros.
Steven Souza, Jr. of the Diamondbacks threw some shade at his former team for cutting Corey Dickerson.
They Said It
"For a guy like [Giancarlo Stanton], he's going to have weeks where he gets a little out of whack and it doesn't endemically look great. But I think once he finds that feeling, and strings a couple of at-bats together, look out. I think that's when he takes off. In the grand scheme of things, I'm not worried about it.'' – Yankees manager Aaron Boone
"A slugger leading off. First of all, he's gonna make contact. Now he understands that he can do damage in the strike zone. He's just going to have to put the ball in play. I know that he's not swinging and missing, but I told him that there's nothing wrong with swinging and missing at pitches. Doesn't matter. Go for it. With his ability, he's going to put the ball in play later on in the at-bat. You can see he's ready to hit." – Red Sox manager Alex Cora
"There's fight in the team." – Pirates manager Clint Hurdle
Wednesday Walk Up Song
Take Your Medicine by The Quick & Easy Boys. New day, new game.