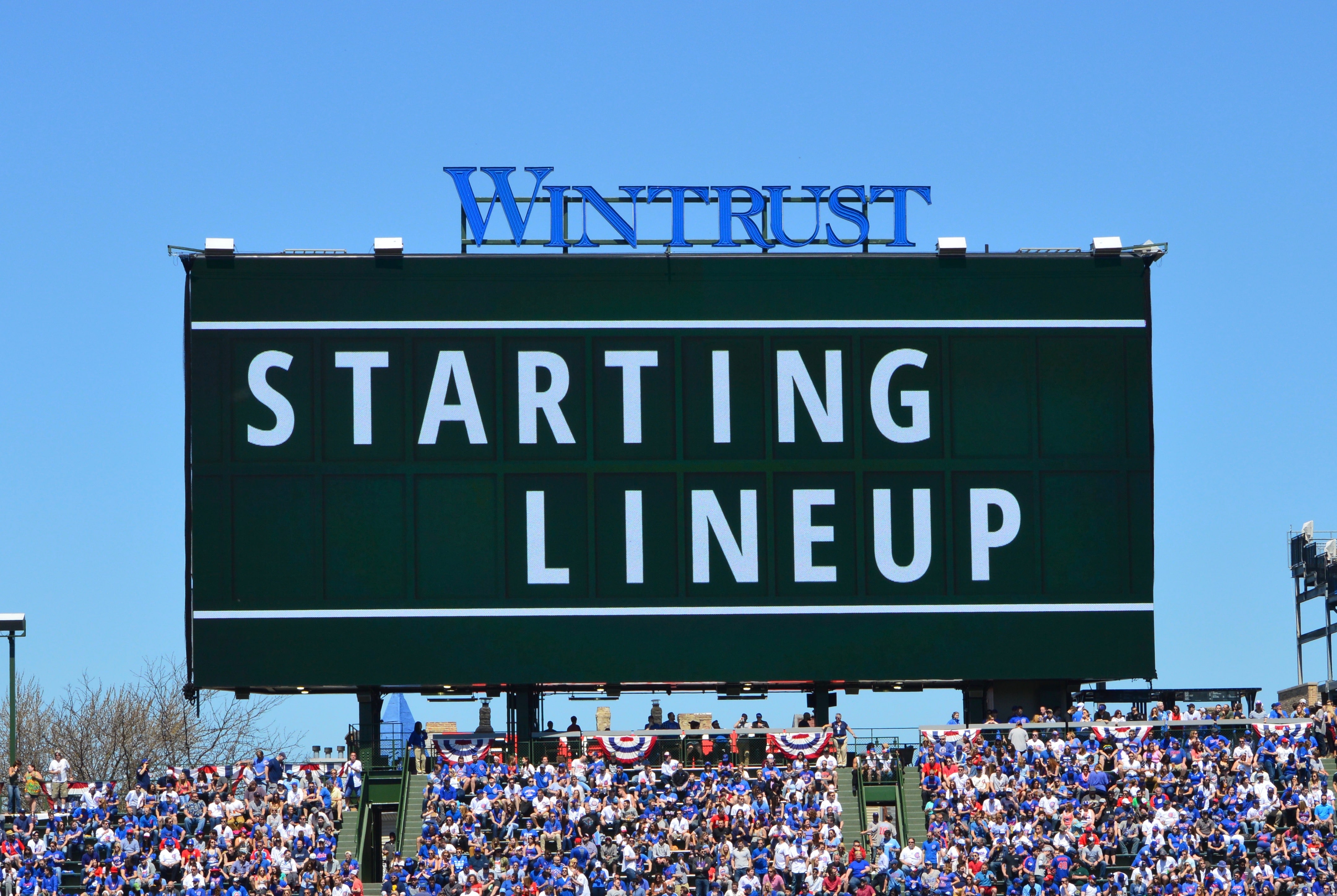 Chicago Cubs Lineup: Al Mago, Bryzzo, WillCo, Zo Anchor Righty-Heavy Order to Back Lester
Is it weird for anyone else to see the same two names listed at the top of the lineup pretty much every day now? It can't just be me. Don't get me wrong, I love it. Just not something I'm used to during Joe Maddon's tenure.
Albert Almora Jr. and Javy Baez are once more acting as sparkplugs, followed by Kris Bryant, Anthony Rizzo, and Willson Contreras. Ben Zobrist gets the starts in right in this one, Addison Russell is at short, and Ian Happ bats eighth in left. He'll bat right, though, as the Cubs face a lefty pitcher who's been stifling lefty hitters on the road.
Jon Lester is on the mound in hopes of continuing a quality start streak that stretches back to the first game in Cleveland. I'm speaking, of course, about rotation as a whole, since a one-game streak for Lester wouldn't be that cool. Also, he didn't start that first game in Cleveland and has posted quality starts in his last two games. Wait, what the hell am I talking about?
Lester didn't pitch in the Mile High City when the Cubs were out there the last time these two teams squared off, so he'll have the benefit of facing them in the heavier air. That could affect Nolan Arenado's performance, since the third best third baseman in the game — not THE GAME, just this specific contest — has a 205 wRC+ at Coors and a 77 on the road.
Small samples, you say? Sure, but the .473 career wOBA Arenado has posted when facing lefties at Coors drops to .330 in other ballparks. He's batting .250 in eight at-bats against Lester, so we'll have to see whether he can defy the odds in this one.
Sign-stealing former Cub DJ LeMahieu is only 1-for-9 against Lester, but he's been crushing lefties on the road this season. Well, if you consider a 1.723 OPS, .689 wOBA, and 336 wRC+ to be "crushing." Perhaps "vaporizing" would be better, particularly if you're into low-key weed jokes related to a team from Colorado. Something tells me that his .417 BABIP in those situations is a little high to sustain, though.
The second half of the all-southpaw duel will be 24-year-old Kyle Freeland, a Denver native who's used to wearing purple from his college days at the University of Evansville. He's no longer an ace, either literally or figuratively, and this feels like a matchup the Cubs should really be able to take advantage of.
Freeland will rely heavily on a fastball trifecta that balances a low-to-mid-90's four-seamer with a sinker that sits about 92 and a cutter that he slows down to 87 or so. He'll work in a change and slider once in a while, but neither pitch is even average at this point.
The cutter is easily his best offering and he'll use it to get swings and misses, varying its location based on the handedness of the batter. The young lefty is equally comfortable throwing it to anyone and he'll generally keep it outside to both righties and lefties, though he's usually up and out to the former and down and away to the latter.
Freeland generates a good deal of soft contact, but he's been giving up a lot of fly balls to balance things out. He's also got one of the heavier platoon splits we've seen from Cubs opponents lately, particularly when pitching on the road. And believe it or not, Freeland is actually a lot better when pitching at home. All of this is to say that the Cubs' right-handed hitters should be generating most of the offense in this one. And they'll have to since there's only one lefty and he's not hitting well.
*Paging Albert Almora Jr. Albert Almora Jr., please report to the batter's box to begin a new hitting streak.*
First pitch is set for 6:05pm CT and can be seen on NBC Sports Chicago or ESPN (out of market only). God bless you poor souls living beneath the Cubs' blackout cloud, those whose Comcast cable package doesn't include NBCSC and who will feel crushing disappointment when the Four-Letter's promise of Cubs baseball fails to materialize. Hey, there's always 670 The Score.
Here is tonight's #Cubs lineup against the #Rockies! #EverybodyIn

Stream on @YouTubeTV: https://t.co/t4XvcdoeJc pic.twitter.com/BnqeDNO0o0

— Chicago Cubs (@Cubs) April 30, 2018