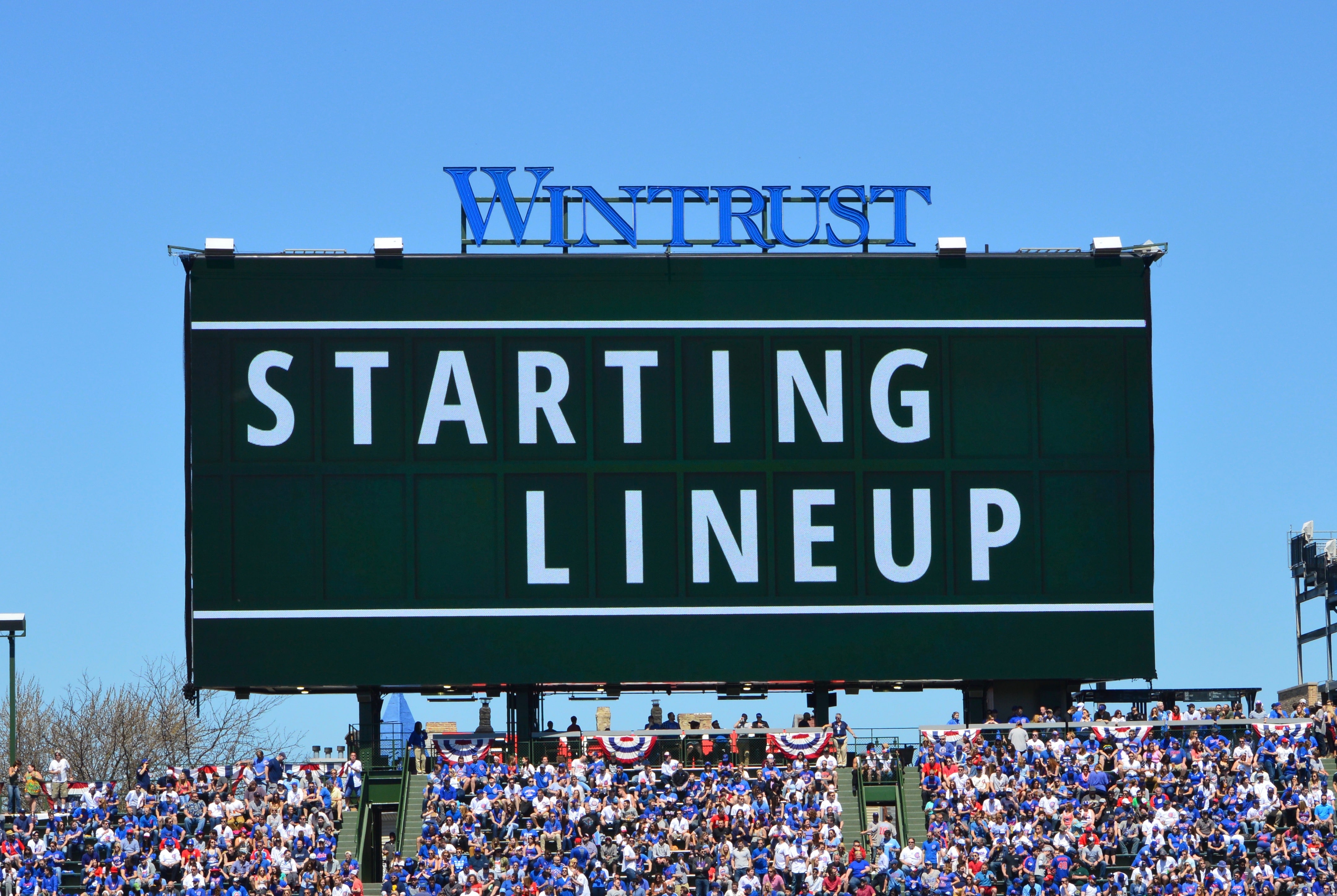 Chicago Cubs Lineup: Al Mago, Bryzzo, WillCo, Zo Leading Order, Darvish Pitching Rubber Game
If your undergarments are still pinched and twisted over the absence of Al Mago at the top of the order, you've got some relief coming your way this afternoon. They're both back in their now-familiar spots after getting a rest against a very tough righty.
The Bryzzo Brothers are also back where they belong, with Wilson Contreras catching and cleaning up, and Ben Zobrist playing left. Addison Russell is at short with Jason Heyward in right to complete the lineup.
Yu Darvish is still looking for his first win as a Cub, though he pitched well enough to deserve a W in his last outing against the Brewers. The same is true of his earlier start in Milwaukee, so now it's a matter of pitching well against a team that can actually score runs.
Darvish has struggled early with his command, some of which could well be due to the cool temps and unsavory conditions. His pitch mix is all over the place and the slider has gotten a lot less work while the cutter has seen a marked increase over the last four starts. That most recent outing was very encouraging, though, as the righty was able to mix pitch speed and location to great effect.
Most notable was a sequence in which he fired a 95 mph fastball and followed it by humping a yakker that bent physics at a mere 64 mph. The number 31 flying is a staple on the foul poles, but seeing it as a velocity differential was…whoa.
The Rockies haven't gotten much going against Cubs pitching, relying on a few wind-aided homers for their runs last night, but Darvish is going to need to keep them down again to get a series win.
Tyler Anderson, who's something of a left-handed Kyle Hendricks, is making his seventh start for the Rockies this season. The 28-year-old southpaw is bigger (6-4, 210) than Hendo and he throws a few ticks harder, but he'll work that four-seam/changeup combo pretty frequently. He's also got a cutter and sinker, mixing in a curve now and again.
He'll use the change and curve to generate swinging strikes (9.57 K/9) and his 70.5 percent contact allowed is easily the lowest of his career. When hitters do make contact, though, they're hitting the ball hard and in the air. Anderson's 22.9 percent groundball rate is the lowest in baseball and both his line drive (28.6) and fly ball (48.6) are eighth-highest in the game (min. 20 IP).
Anderson's 8.8 percent home runs-per-fly ball rate is pretty solid, but that's only because he gives up so durned many flies. If the wind is blowing out at all this afternoon, the Cubs could really benefit from this batted-ball trend. The numbers are too small this year to draw much from, but Anderson has allowed an .840 OPS to righties when pitching on the road. And even though lefties are 70 points lower, the 15 of them he's faced away from Coors this year have posted a 1.050 OPS.
In case you were wondering, yes, that is the exact same number Anthony Rizzo has put up in his role as the second greatest leadoff hitter of all time. Look for Rizzo and the rest of the order to be patient against a guy who's walked more than his fair share this season (5.13 BB/9) and to be ready to hammer his mistakes.
First pitch is set for 1:20pm CT and will be carried by NBC Sports Chicago and MLB Network (out of market only).
Here is this afternoon's #Cubs starting lineup. #EverybodyIn

Stream on @YouTubeTV: https://t.co/t4XvcdoeJc pic.twitter.com/78CANwj7XG

— Chicago Cubs (@Cubs) May 2, 2018