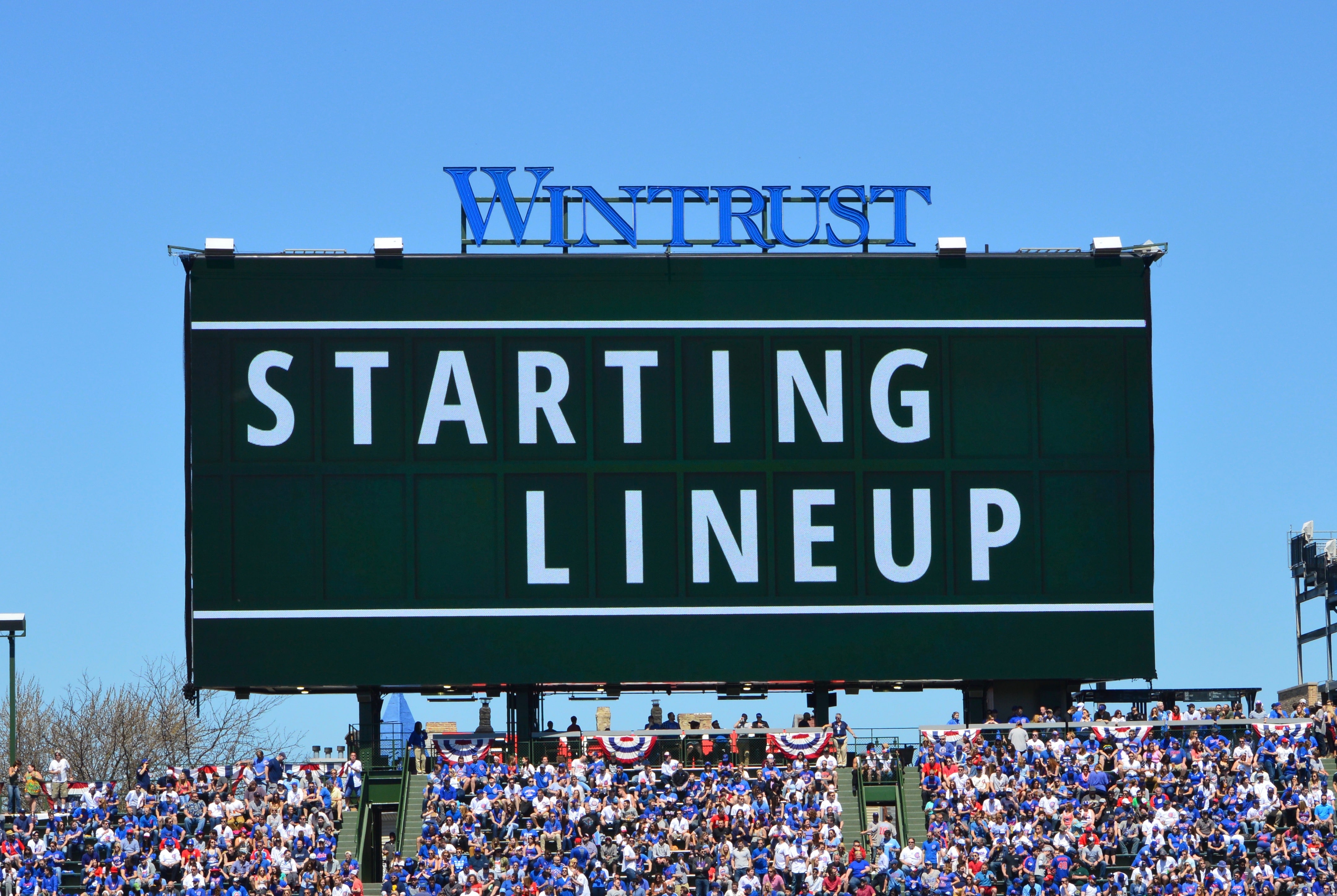 Chicago Cubs Lineup: Zo, Bryzzo, WillCo First Four, Lester on Mound as Cubs Try to Hammer Homer(s)
In what has become all too common a theme this season, rain in Atlanta forced the Cubs and Braves to bang Thursday's series finale. That's actually better for the Cubs, though, as it allowed them to head to Cincinnati a little earlier and now gives them the opportunity to go with regular starters for this weekend's double-header. With days off sandwiching the upcoming Cleveland series, rest shouldn't be an issue.
Of course, the forecast for Cincy is showing pretty heavy chances of rain for pretty much the next four days, so who knows. Maybe they'll have to play it like a beer-league softball tourney and just pull an all-nighter.
Ben Zobrist is leading off in this one against a righty who's really bad against lefties, so maybe he can start things with a bang. Then the Cubs line up Kris Bryant, Anthony Rizzo, Willson Contreras, and Addison Russell through the heart of the order.
Kyle Schwarber bats sixth, Javy Baez is seventh, and Ian Happ bats eighth and plays center. It would have been nice to see Albert Almora Jr. in there to see if he can continue to improve his numbers against righties, but this particular matchup could help Happ regain some confidence.
Jon Lester will be on the bump looking to maintain what has been oddly deceptive consistency so far. He has gone at least five innings in all but his first start and has given up only six earned over his last five starts combined, but he's done it in an odd manner. Check out these game scores: 29, 73, 34, 73, 46, 56, 43, 61. Notice a pattern?
The lefty has yet to string together consecutive starts with game scores of 47 or better, which is a little concerning. Or not, up to you. He's also failing to keep the ball on the ground, as evidenced by a 26.6 percent groundball rate over the last five starts. That's not a recipe for success when pitching at Great American Ball Park.
Few know more about that than the incredibly unfortunately and appropriately named Homer Bailey, who comes into the game with a 5.59 ERA over nine starts. The 32-year-old righty has battled injuries and poor performance throughout his career and hasn't quite lived up to the six-year, $105 million extension prior to 2014. Cubs fans may remember that deal as the harbinger of Jeff Samardzija's departure, as it was essentially used as a template for the former Cub's demands.
In any case, the Cubs are better off with each of those pitchers where they are now, especially Bailey. Even though his velocity is right in line with his career averages, he's striking out fewer batters than ever (5.40 K/9) and he's giving up an astounding 40.9 percent hard contact. More than 62 percent of his overall contact is in the air, too, so look for the Cubs to do damage.
The right-handed Bailey has been absolutely lambasted by lefties, who are slashing .333/.411/.700 against him at GABC this season. He has an 8.89 FIP against lefties at home and his 3.89 HR/9 against like-handed hitters in Cincy signals good things for the Cubs' bats.
Often when we see a pitcher struggling, it's because he's having trouble throwing his fastball for strikes or getting the right feel for a breaking pitch. In Bailey's case, however, every single one of his pitches has been part of the problem. He's not walking many batters, so control isn't an issue, but the numbers above tell us that his command has been lacking.
Every single version of every single offering he has used this season has produced negative value, and that's really saying something for a guy with a Yu Darvish-ish repertoire. Bailey's primary arsenal consists of a four-seam, slider, splitter, sinker and curve, but he's also got a change and a cutter (though the latter could just be a misclassification). Whatever the case, they're all bad.
Though he's had two separate starts with just one earned run allowed, Bailey has given up at least three in each of his last six starts. No excuses in this one, the Cubs must jump on him and terminate his cement-mixer meatballs with extreme prejudice.
First pitch is set for 6:10pm CT and can be seen on NBC Sports Chicago. Schwarber will go yard in the 2nd inning, so be sure you're watching by then.
Here is tonight's #Cubs lineup against the #Reds. #EverybodyIn

Stream on @YouTubeTV: https://t.co/t4XvcdoeJc pic.twitter.com/4yd5a9lTAn

— Chicago Cubs (@Cubs) May 18, 2018