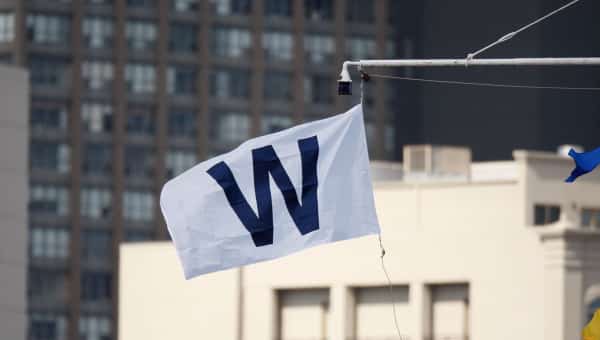 CI Recap (5/18/18) – Cubs 8, Reds 1: Cubs Muck Up Reds in the Rain
The Cubs looked to get back on track against the last-place Cincinnati Reds at a rain-drenched Great American Ball Park Friday. Thanks to a fast start on offense and a quality effort from Jon Lester, Chicago got the no-sweat win.
The Cubs greeted Homer Bailey rudely after a 90-minute rain delay, rapping five straight hits in the top of the 1st. Anthony Rizzo, Willson Contreras, and Addison Russell all had RBI singles in the frame. That 3-0 lead was more than enough cushion for Lester, who was great in six one-run Innings.
The rain fell for most of the game and the only real drama was whether the game would be delayed after it had begun. The umpires kept it moving and it went the full nine. Justin Wilson, Justin Hancock, and Mike Montgomery cleaned up the final three innings for the easy Cubs win. (Box score)
Why the Cubs Won
The offense scored early and kept adding on as the game continued. That, combined with the excellent pitching by Lester, removed most of the drama from this one.
Key Moment
With men on second and third and none out in the top of the 1st, Rizzo lined a single the other way to left field to give the Cubs a 1-0 lead.
Stats That Matter
Lester was on his game yet again Friday: 6 IP, 1 R, 2 H, 8 K, 1 BB. He was throwing hard, hitting 93 mph on the gun a couple times. After some short starts the past few games, it was good to see him go six strong.
Russell reached base five times, including four hits. After a very slow start with the bat, Russell is starting to come on of late.
Rizzo had two hits and a couple other very well-struck outs. It seems like he has to heat up soon, perhaps this is a start.
Ian Happ had an odd game, as the Reds intentionally walked him three times to get to Lester. He doubled his fourth time up, but struck out the last time to make sure we didn't think it was an imposter.
Bottom Line
With a double-header Saturday, the Cubs were able to pick up a win without having to use any key relievers. That puts them in a good position for tomorrow and the offense did what it needed to against a struggling Homer Bailey.
On Deck
The Cubs play game one of a day-night double-header at 12:10pm CT Saturday. Kyle Hendricks faces Luis Castillo in a game televised by WGN.