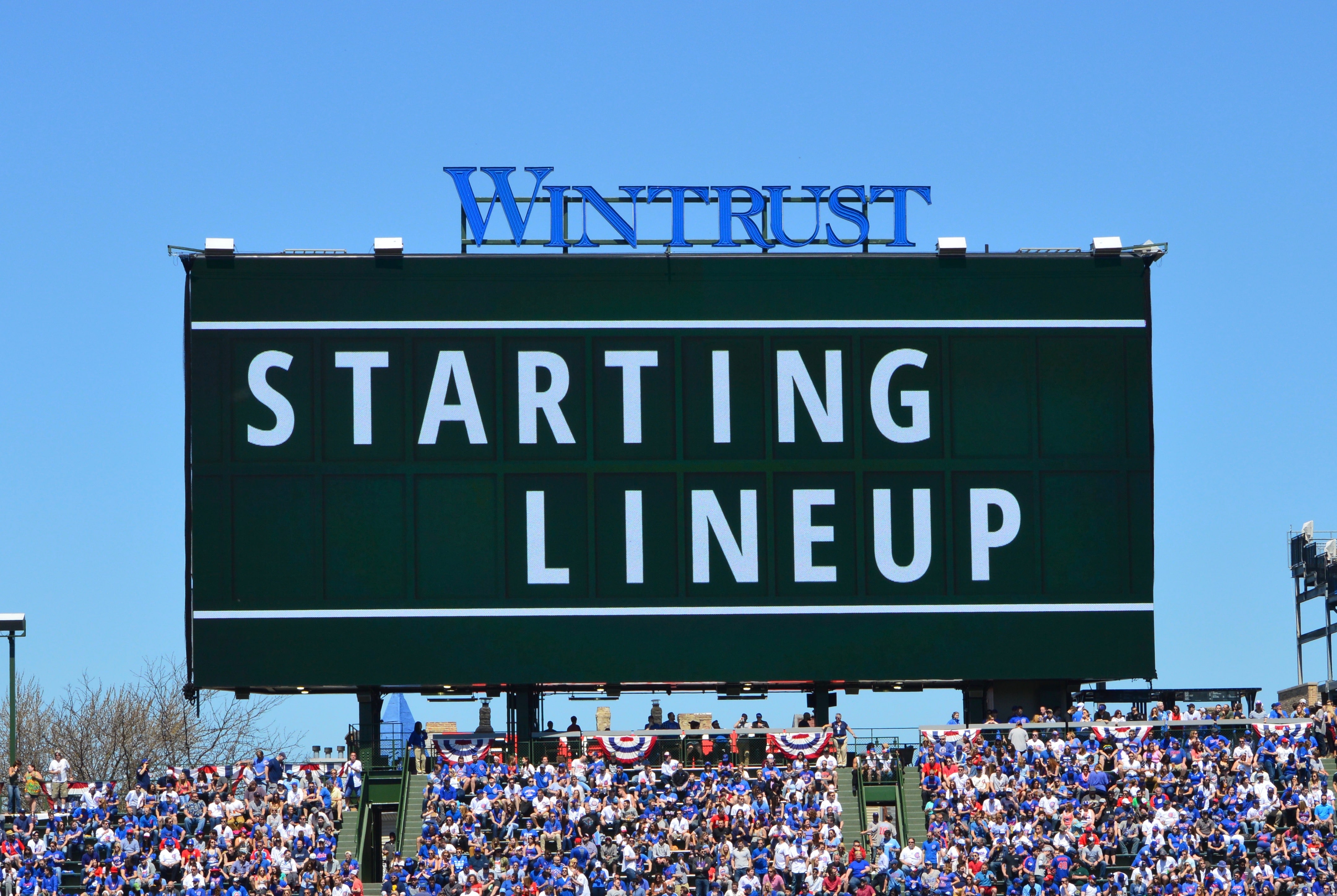 Chicago Cubs Lineup (Game 1): Almora Leading Off, Russell Cleaning Up, Professor Lecturing
The forecast in Cincinnati calls for at least a 35 percent chance of scattered/isolated thunderstorms from about 1pm ET through the rest of the day, but you know the Cubs and Reds are going to do everything they can to get this in. I guess that means Joe Maddon's got his mudders out there for this one.
Weather update: The forecast has been downgraded to mostly cloudy with a 15 percent chance of rain through 4pm ET, so things look good for the early game. They may need the tarp between, as it looks like 40-50 percent chances for t-storms from 4-8 pm. They're only supposed to be scattered, though, and things clear out again after that.
Albert Almora Jr. returns to the leadoff spot against a righty starter who's been worse against righties when pitching at home. He's followed by Kris Bryant and Anthony Rizzo, with the hot-hitting Addison Russell moving up to the cleanup spot.
Kyle Schwarber likewise bumps up a spot with Vic Caratini slotting in sixth and catching. Javy Baez will bat seventh and Ian Happ handles the duties in right. Jason Heyward was activated from the concussion DL and got into Friday's game, but may not be ready to go on what figures to be a slick track in Cincy.
The unflappable Kyle Hendricks will be on the mound for this early game, which is probably best for everyone involved. He's been the Cubs' most reliable strike-thrower and he doesn't jack around out there on the mound. And while he could still improve his command in the zone, he's clearly doing a better job than his fellow starters when it comes to avoiding walks.
Hendricks has given up as many homers as he has allowed walks (nine apiece), though he's only given out two free passes in his last five starts combined. And he's coming off of a loss in which he was only so-so against the White Sox, so expect the Professor to be on some graduate-level isht this afternoon.
Going for the Reds will be 42-year-old pitching convert Luis Castillo, who is back in the bigs after a working his way back following his retirement in 2010. I'm sorry, what was that? Oh, this is a different Luis Castillo, you say? Yeah, but that's not nearly as cool a story. Okay fine, I'll just edit out the part where I thought the former Marlins star had made an incredible comeback.
Interestingly enough, the man starting for the Reds in the early contest did actually play in the Miami organization for a while. He came to the Reds in 2017 and made 14 starts at AA before his promotion to Cincy, after which he acquitted himself pretty well in the majors. Castillo never logged as much as an appearance in AAA and only accumulated 460.1 innings across six MiLB seasons, so he's still got some learning to do.
We're seeing that this season as the young pitcher has struggled mightily with his fastball, which may in turn be hurting the effectiveness of his changeup. In terms of per-100-pitch value (3.04), Castillo's change was one of the top six in MLB last year. And he used it for nearly a quarter of his offerings, so it's not like a novelty that he only threw once or twice a game.
Even though it's been more hittable than last year, the pitch still generates an incredible 31.8 percent swinging-strike rate and gets the most swings and least contact of anything in Castillo's repertoire. That includes a fastball/sinker combo that he can run up there in the upper 90's, along with a slider that has gotten less usage as the change becomes his preferred out-pitch.
Castillo has traditionally been more or less split neutral, though lefties have gotten the best of his this season. That hasn't been the case at home, though, so the Cubs are really going to need to be vigilant against that tumbling offspeed stuff. He'll still pull the string on righties, but lefty hitters will get a much heavier dose and they'll want to look to wait back and go oppo against its arm-side tail.
Actually, the Cubs would do well to simply avoid two-strike counts in the first place. Maybe sit dead red early and pound a few errant fastballs into the seats to chase Castillo early so we don't have to watch that changeup give them hell all afternoon.
Weather permitting, first pitch is scheduled for 12:10pm CT and can be seen on WGN.
Here is today's #Cubs Game 1 lineup. #LetsPlayTwo

Preview: https://t.co/C1Uzdz898E #EverybodyIn pic.twitter.com/9rVWJqok4Y

— Chicago Cubs (@Cubs) May 19, 2018