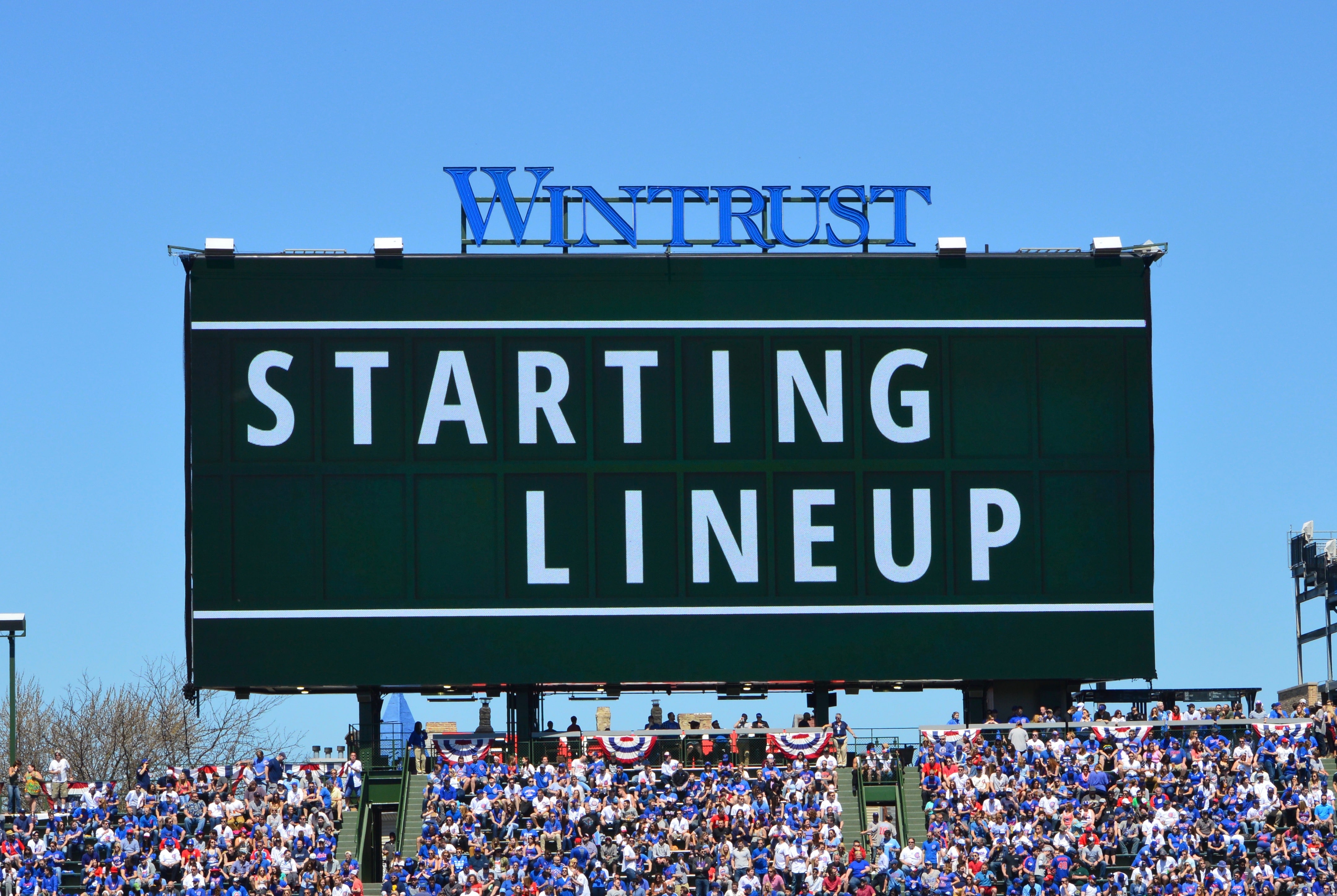 Chicago Cubs Lineup: Zo Leads Off, Happ at 3B, Darvish on Mound
Huh, so this is interesting. Ben Zobrist is leading off at second base, Albert Almora Jr. is in center, and Anthony Rizzo is at first. Willson Contreras will be catching and cleaning up. Nothing too wild so far, right?
WIth Kris Bryant getting a rare day off, Ian Happ gets the start at third base. Yes, Happ is at the hot corner and batting fifth, which is, uh, something. He's been crushing the ball, though, so this could maintain the confidence boost he's gotten from Reds pitching.
Kyle Schwarber is batting sixth in left, Javy Baez is seventh at short, and Jason Heyward is in right. The Cubs are playing their fourth game in three days, hence the shuffling, so we'll see if this wacky lineup can keep the offense going.
Yu Darvish is making his second start after coming off the DL and the Cubs could really use a longer effort from him. He was looking sharp until leg cramping took him out of the game in Atlanta, so it's just a matter of maintaining that groove he had found with his nasty stuff. The slider was biting like crazy in that one.
Jose Quintana saved the bullpen last night and another such outing would further charge that collective battery with two off-days coming up this week. Darvish has sprinkled in a few good starts so far, pretty much a theme for Cubs pitchers, but it's high time he started to establish a more consistent performance.
With the Reds' staff looking like it's running on E, they'll turn to Mahle in an attempt to salvage a series split. I'm speaking not of crystalized MDMA, but of the same Tyler Mahle who shut the Cubs down in his first start of the season back on April 2 in Cincy. He's basically been Mehle since then, but has the stuff to put up an encore performance should the Cubs let him.
A seventh-round pick in 2013, Mahle cruised through the system in a little over three seasons. He worked almost exclusively as a starter and put up very consistent walk and strikeout numbers during that time. Those marks are actually a little elevated for him thus far in 2018, as his 8.69 K/9 and 3.02 BB/9 are both higher than he'd ever posted in the minors.
Then again, the 23-year-old righty walked nearly five men per nine innings in his brief big league stint last season. He's attacking the zone more this season but has been getting hit much harder as a result. Mahle's getting grounders only 38 percent of the time, with 25 percent line drives and 37 percent flies. Making matters worse, only 15 percent of that overall contact has been soft.
Cubs hitters will get a heavy dose of fastballs, offset by a slider and change that have seen their respective usage shift from last season. Which is to say Mahle's using the slider less and the change more. He's also got a curve, but he rarely uses it at all and it may simply be a misclassification.
The fastball is his bread and butter and is actually his only pitch that has produced positive value this season. It isn't overpowering, sitting around 93, but he can locate it all over and generally keeps it up in the zone (hence all the batted balls in the air). He'll usually keep the slider away from righties, though it can hang against lefties, and the change usually has a little arm-side tumble against lefties.
Unless he tightens some things up, those lefty hitters could really tune him up. Mahle has allowed .281/.385/.573 slash to oppo-handed hitters, and they've hit seven of the 10 home runs he's allowed. Keeping that fastball up in the zone will be a recipe for disaster, especially if the Cubs can wait back on the change. We saw how Ian Happ was able to do that against Luis Castillo in Saturday's early affair, now more guys have to get in the rhythm.
First pitch from the Queen City is set for 12:10pm CT and will be carried by ABC-7.
Here is today's #Cubs lineup for the series finale.

Game preview: https://t.co/lfcZUDKGMx #EverybodyIn pic.twitter.com/rkMrmUPZpr

— Chicago Cubs (@Cubs) May 20, 2018