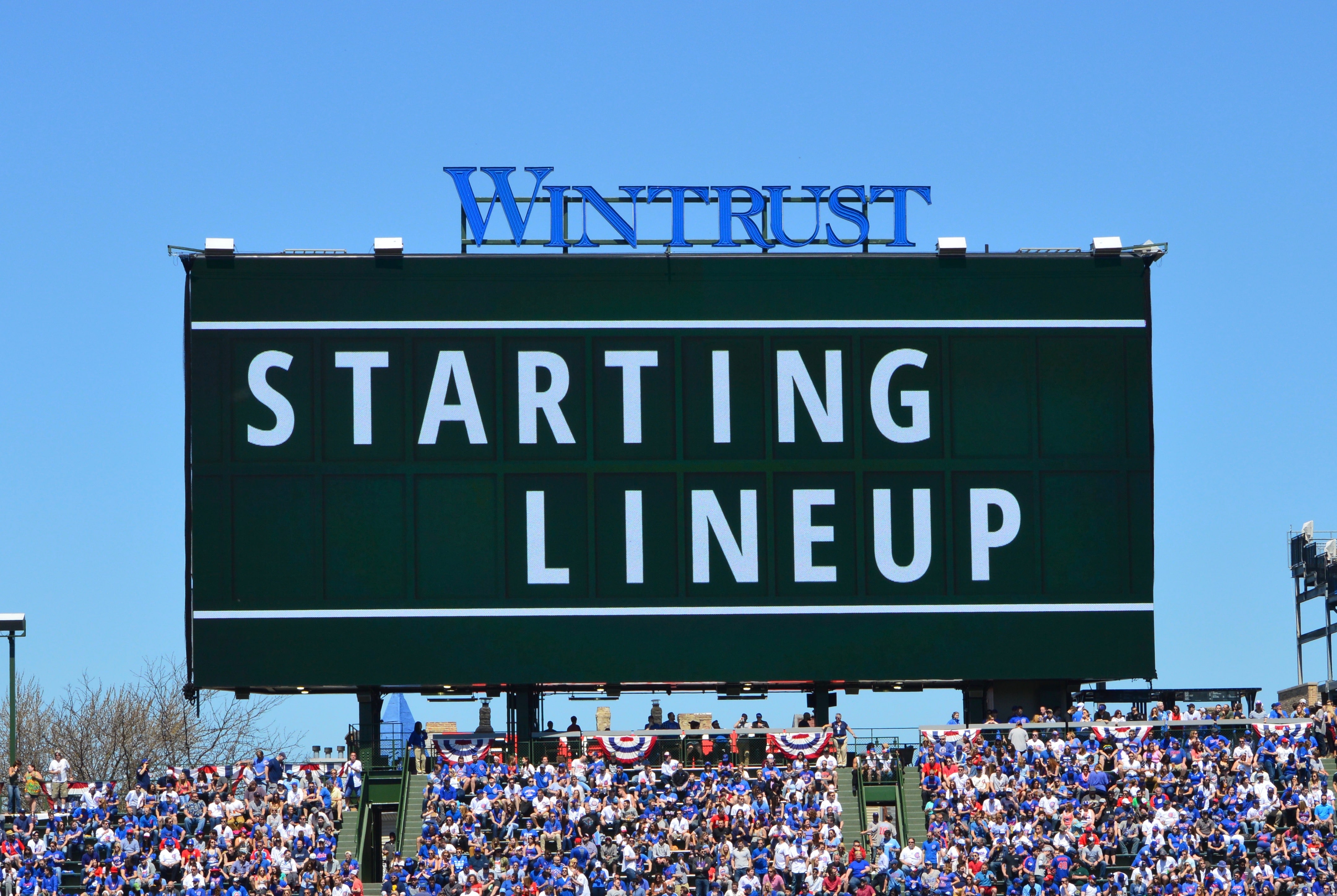 Chicago Cubs Lineup: Zobrist Leads Off, Happ in CF, Lester Pitching
Ben Zobrist leads off and plays second tonight in Pittsburgh, followed by Kyle Schwarber in left and Kris Bryant at third. Things could get interesting if any of those guys reach base in the 1st inning.
Pretty much everyone is expecting Anthony Rizzo to be plunked at some point in this one, but the timing will depend on how the situation ahead of him unfolds. If the Pirates to opt to put one in the ribs of the man who's been hit more times than any other player in baseball (106) since he debuted in 2011, I hope he mock slides into first base afterwards.
Fun fact: Rizzo is currently tied with Barry Lamar Bonds for 74th all-time when it comes to getting hit by pitches. Wearing another pitch will tie him with Pete Rose, and getting hit twice more puts Rizzo on par with Cubs legend David DeJesus. Only four players in MLB history have been hit more in fewer than Rizzo's 4,086 plate appearances. Can you name them? Answers below.
Willson Contreras bats fifth, Ian Happ is back in center after resting for a while from the effects of a diving play the other day, and Addison Russell brings his hot bat to the seven spot. Jason Heyward will bat in his traditional eighth position.
Jon Lester comes into this one riding a streak of three consecutive starts with just one earned run allowed in each. In fact, he's only given up five earned in his last five starts combined (29.2 IP) and has struck out 26 against 12 walks in that time.
Lester continues to give up a lot of contact in the air and he hasn't been getting much soft contact, but he's getting opponents to hit the ball at the defenders behind him. He's also been giving up more batted balls to the pull field, which could be a good thing given PNC's cavernous gap in left-center and the Cubs boasting the best defensive left fielder in the game.
On the mound for the Pirates will be 26-year-old rookie Nick Kingham, a big righty who has displayed pinpoint control in three career starts. Kingham has only walked two batters against 21 strikeouts in 18.1 innings, so the Cubs figure to get plenty to swing at in this one.
Of course, it's hard to take much away from his performance in such a small sample, particularly when Kingham is significantly outperforming nearly all of his minor league stats. One thing that has held true throughout his professional career is that he does a good job of keeping the ball on the ground and in the park.
The 6-foot-5 righty has a five-pitch mix centered around a low-90's fastball that he typically keeps down in the zone. His slider is a different story, as he has struggled with the feel for it thus far and has left it up more frequently than he'd like. It isn't a sweeper and has more curveballish movement when it's actually breaking.
Kingham will also throw a change and curve, the former of which has been a very solid weapon for him. That offspeed offering stays over the plate but tumbles straight down to get swinging strikes. Kingham will likely tempt the Cubs with a lot of stuff that looks just good enough to hit but really isn't, so the theme in this one is how they are able to handle those pitches down in the zone.
First pitch from Pittsburgh is set for 6:05pm CT and it's going to be another balmy one out there. It'll be so hot — hot how will it be? — that Clint Hurdle's face may actually get as red as his backside by the time Rizzo comes to bat. You can catch all the action on WGN and 670 The Score.
Here is tonight's #Cubs starting lineup in Pittsburgh.

Game preview: https://t.co/MUG6iZSZLB #EverybodyIn pic.twitter.com/TD25lgXCwo

— Chicago Cubs (@Cubs) May 29, 2018
Jason LaRue, 107 in 3,103; Steve Evans, 111 in 3,893; Carlos Quentin, 127 in 3,247; Reed Johnson, 134 in 3,992