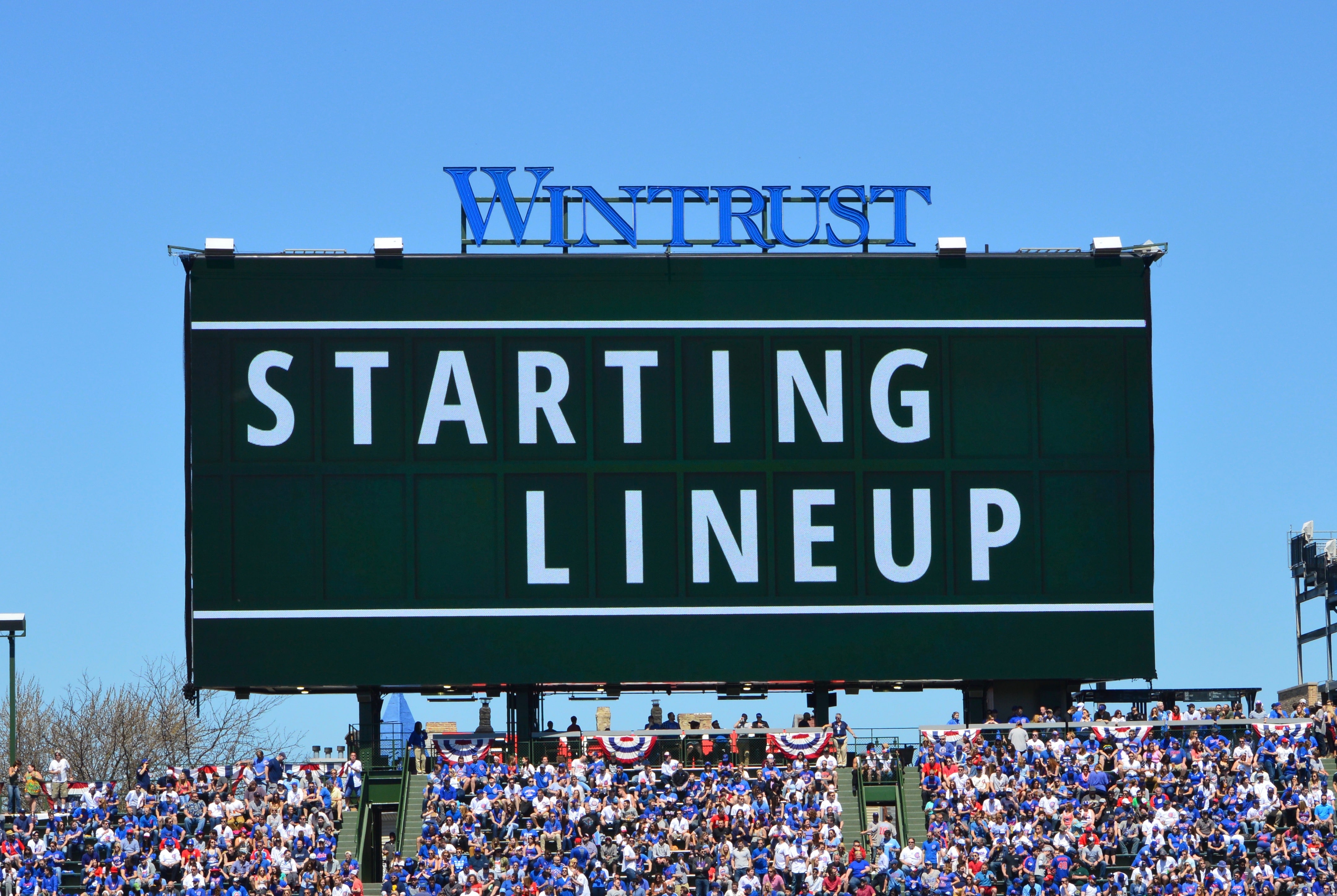 Chicago Cubs Lineup: Zo Leads Off, Heyward Second, Happ in CF, Q Goes Against Lugo
Either Joe Maddon is counting on a reversal in the splits, or he doesn't care about them at all, because he's going lefty-heavy against a righty who has allowed a .379 OPS to lefties this season. Yay, baseball!
Ben Zobrist leads off at second base, followed by Jason Heyward, Kris Bryant, and Anthony Rizzo. Heyward is coming off of consecutive three-hit games and his peripherals signal a big improvement over his numbers from the past two seasons.
Willson Contreras bats fifth, Javy Baez is playing short and hitting sixth, Kyle Schwarber handles the duties in left, and Ian Happ is in right. The Happ thing bothers me, given his struggles against righties and against curveballs. More on that in a bit.
Jose Quintana takes the mound in search of a bounceback start, which has been more or less his MO this season. He'll have a really good outing, then a bad one, then a good one, etc. The strikeouts have been there for him, but the control hasn't, at least not consistently.
The Mets are have the worst OPS (.605) and ISO (.095) in baseball against lefties and their 27 percent K-rate is worse than all but the White Sox (27.2). They do walk at a 10 percent clip, though, so Q will still have to work. But with so many key players on the shelf, it's hard not to imagine a get-right game for the Cubs' starter.
Assuming he doesn't become the 69th Met to land on the DL this month, Seth Lugo will act as the front man for the Queens of the Band-age. The 28-year-old righty started 18 games last season, but this will be his first start in 2018 after 20 relief appearances. He's only gone as many as three innings only three times to this point, so we may see Johnny Fullstaff in this one.
Lugo is in the rotation after Noah Syndergaard hit the DL with a strained finger tendon, which is sort of like using Liam Hemsworth as Chris's stunt double. You know, because he's not Thor. Although he does have a big hammer that he'll use pretty frequently, so perhaps the analogy isn't as far off as I first thought.
Lugo has struck out 34 and walked only nine in 32.2 innings of relief, and only three of the 24 hits he's allowed have left the yard. Typically a pretty even-split pitcher over the course of his brief career, Lugo has absolutely dominated lefties this season. The 59 left-handed hitters he's faced to this point are slashing a mere .094/.203/.176 with a .184 wOBA against him
Believe it or not, those numbers are even worse when Lugo pitches at Citi Field, though we're only talking about 27 batters so far. Even so, he's made some pretty clear changes to his pitch mix that are fueling the results. Both versions of Lugo's fastball sit about 93, but he's cut back on the four-seam usage by nearly one-third this season. He's also dialed back the slider and change just a little.
As you may have guessed from the earlier wordplay, Lugo has been using the curveball a lot more this season. It's actually his most-used pitch, making up nearly a third of his total repertoire. Even though they make more contact against it than his other offerings, hitters have only a .370 OPS against the curve because they beat it into the ground at a 70 percent rate.
You might think that eschewing one pitch in favor of the other was the result of one being ineffective, but that's not the case at all for Lugo. Pitching backwards off the bender allows him to use that heater to put hitters away. Have of his strikeouts have come from the four-seam, which he'll elevate in the zone to change eye level and end at-bats.
Keep in mind, however, that this is all coming from abbreviated stints out of the 'pen. Lugo's velocity numbers are all up significantly across the board, likely the result of him going more max-effort rather than trying to conserve energy. He can also rely more heavily on the deception in his sequencing since opposing lineups don't turn over against him.
Only 11 batters have faced Lugo twice in a game this season, but their results could be telling for the Cubs. Batting average jumped by 79 points and OPS went up by 50 points from the first to the second at-bat, trends that are the reverse of what happened against Lugo last year.
If he's planning for a sprint, the Cubs may simply need to wait Lugo out and let him burn through his energy stores. If, however, he's looking to go four or more innings, they should be licking their chops for that third time through the order. Hitters slashed .352/.412/.506 with a .389 wOBA in those situations when Lugo started last year.
First pitch from Flushing will be at 6:10pm CT and will carried by NBC Sports Chicago and 670 The Score.
Here is tonight's #Cubs lineup against the Mets. #EverybodyIn

Stream on @YouTubeTV: https://t.co/t4XvcdoeJc pic.twitter.com/mVeo82IKqo

— Chicago Cubs (@Cubs) May 31, 2018