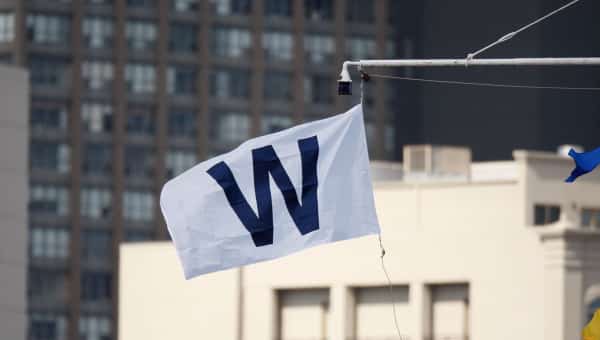 CI Recap (6/9/18) – Cubs 2, Pirates 0: Pirates Slip Up, Lester Dominates in Cubs Win
The Cubs looked to keep their hot streak going against Pittsburgh Saturday at Wrigley. Thanks to a dominant pitching performance and a key Pirates mistake, Chicago was able to get the series clinching win.
The Cubs struck for the only runs in the game in the bottom of the 1st inning. Kris Bryant got plunked and Jason Heyward hit a routine fly ball to left center…or so it appeared! Centerfielder Starling Marte slipped on the grass, and the ball bounced by him for a double. A Ben Zobrist grounder and a sacrifice fly by Anthony Rizzo gave the Northsiders a 2-0 lead.
That was more than enough for Jon Lester who stymied the Pirates for seven strong innings, allowing just one hit. Bucs starter Nick Kingham was also excellent and matched Jon the rest of the game. Justin Wilson threw a perfect 8th and "Everyday" Steve Cishek went 1-2-3 to save the shutout victory. (Box score)
Why the Cubs Won
The pitching was great all day Saturday, the Cubs retired the last 19 Pirates batters in a row. Jon Lester, Justin Wilson, and Steve Cishek combined for a Cubs shutout.
Key Moment
Marte's slip was very reminiscent of Gregory Polanco's game ending fall a couple years back. If the Pittsburgh centerfielder makes that catch, the game might have gone to extra innings tied 0-0.
Stats That Matter
Jon Lester only allowed three baserunners all game: 7 IP, 0 R, 1 H, 5 K, and 2 BB. He has a 1.63 ERA in his last eight starts. There is little doubt the big lefty is the Cubs ace so far this season. He's allowed no runs and just three hits in his last two starts.
Justin Wilson continues to look very good of late, with two strike outs today. His control is much better and with a 2.36 ERA, Chicago has the kind of reliever they thought they traded for last year.
Bottom Line
The Cubs have won another series making it five in a row, their last series loss was to the Indians in mid-May. The bullpen has weathered the loss of Carl Edwards quite well so far.
On Deck
Chicago looks for the sweep Sunday afternoon at 1:20 pm CT. Kyle Hendricks looks to rebound from a tough start against Joe Musgrove in a game that airs on WGN.