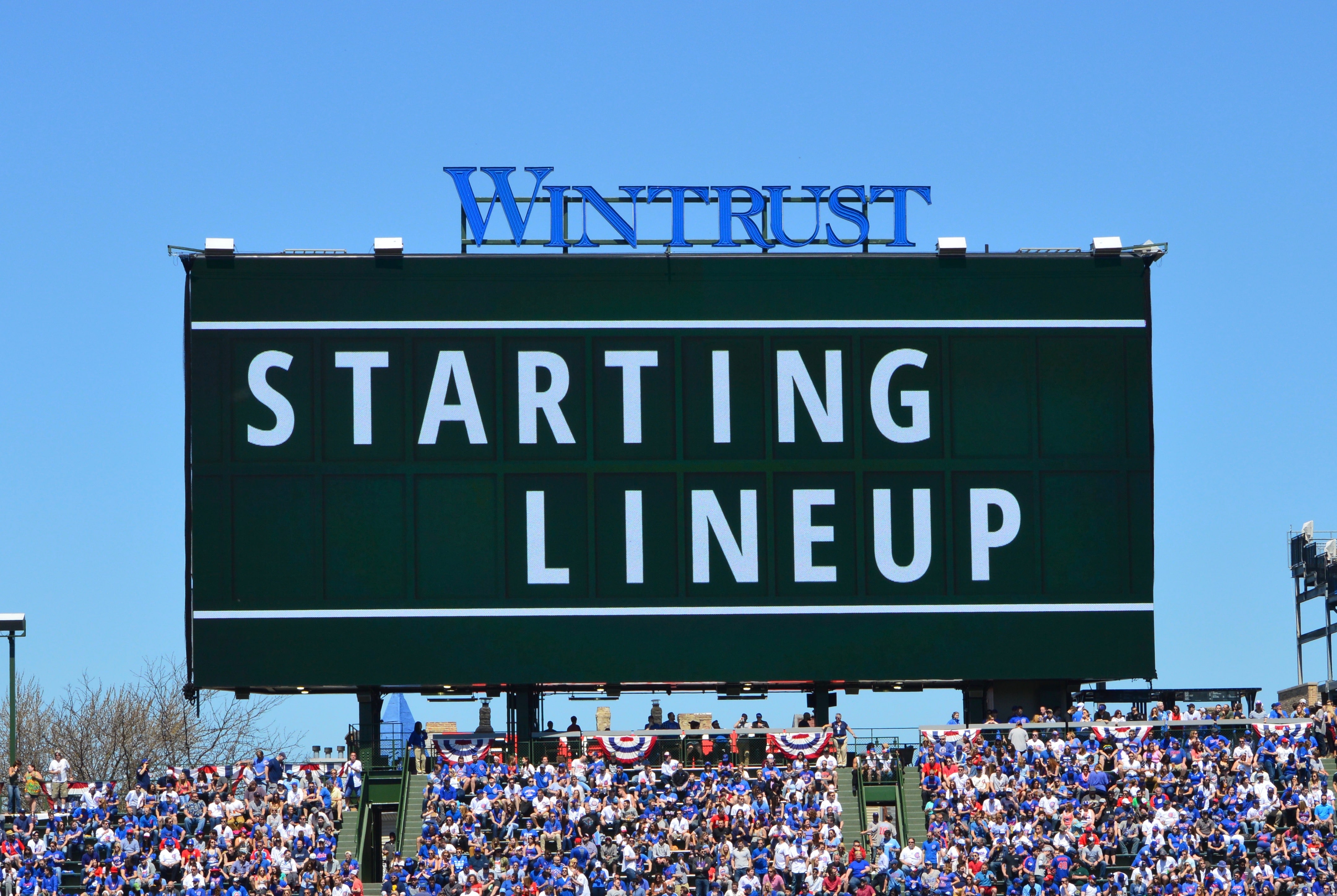 Chicago Cubs Lineup: KB Leads Off, Javy Batting Third, Hendricks Pitching on Dark Night in Cincy
Kris Bryant is back in the leadoff spot after a stellar series with the Dodgers, with Jason Heyward batting second and Javy Baez — who is in the midst of a patented hot streak — batting third. Anthony Rizzo cleans up and Addison Russell brings his improved mechanics to the fifth spot.
Kyle Schwarber is batting sixth once again as he looks to make it three straight games with a homer, Willson Contreras bats seventh, and Ian Happ will hit eighth in center. Happ is probably better served in a corner spot, but that's so hard to do given the way Schwarber and Heyward are hitting.
Many will also point to Albert Almora Jr's performance and wonder why he's not in there, but you also have to look at the matchups and see where to best split up the playing time. Joe Maddon has proven himself to be an expert when it comes to balancing at-bats and putting his guys in the best position to succeed.
Kyle Hendricks will be on the bump in this one and could really use a strong outing to sort of get back on track this season. Though he's been solid in general and has gone at least five full innings in all 14 starts thus far, Hendricks' propensity for giving up dingers is a little disconcerting.
He's allowed a homer in four straight games and five of his last six, bringing him to a total of 14 surrendered on the season. That's only three shy of his career high of 17 from 2015 and last season, and his 1.51 HR/9 is nearly 50 percent higher than the 1.10 he allowed last season. Great American Ball Park isn't necessarily the best spot to get that under control, but the Reds are still the Reds.
I will not make a dildo joke. I will not make a dildo joke. I will not make a dildo joke. I will not make a dildo joke.
Once such a feared presence on the mound that he was known as the Dark Knight of Gotham, Matt Harvey has been about as effective as George Clooney's codpiece in Batman & Robin over the last few years. And though his tenure with the Reds started out with some promising efforts, he's been decidedly pedestrian in his four most recent starts.
Harvey hasn't actually given up a ton of hits, but the contact he allows is usually hard and in the air. His fastball has lost some of its zip and he's locating it differently from earlier in his career when he was considered elite. While he used to locate up in the zone and would really bust righties in on the hands, he's frequently left the heater right in the heart of the zone this season. That isn't great when it's a few ticks slower.
The changeup has been absolutely brutal for him as well as it stays over the plate instead of tumbling to his glove side. At -5.73 runs per 100 pitches, Harvey's change rates as the worst in MLB among pitchers with at least 60 innings this season. His curve is among the four worst in baseball, but he has stopped throwing it as frequently and has scrapped it altogether in some games.
Harvey's slider, however, is still a good pitch that sweeps away and that he's comfortable using against hitters from either side. Thing is, he can't really leverage it too well when his other pitches are all pretty awful.
Lefties have fared best against Harvey this season and have posted a combined .862 OPS with a .365 wOBA during his time with the Reds. Righties are at .690 with a .294 wOBA, both of which are slightly worse than league average in righty/righty matchups.
Given their success against the Reds and the way several of their hitters are gaining some momentum recently, this feels like a game in which the Cubs could really go off. If, that is, they can even get this game in. There are heavy thunderstorms in Cincinnati this afternoon and the inclement weather is expected to linger throughout the evening.
First pitch is scheduled for 6:10pm CT and can be seen on NBC Sports Chicago and MLB Network (out of market).
Here is tonight's #Cubs starting lineup against the Reds. #EverybodyIn

Stream on @YouTubeTV: https://t.co/t4XvcdoeJc pic.twitter.com/gH30GdHUGh

— Chicago Cubs (@Cubs) June 21, 2018