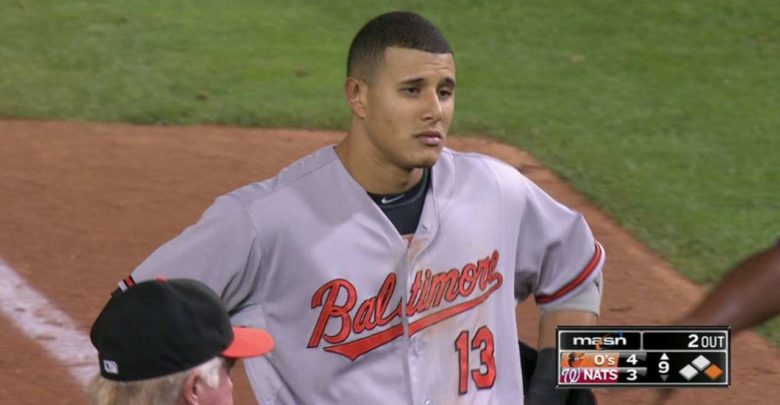 Cubs Trade Rumors: Machado Deal Close, Not-Brewers Favorite to Land Him
It's been expected for some time now that Manny Machado would be traded shortly after the All-Star Game. But what been educated speculation is now starting to gain credence in the form of several corresponding reports that the Orioles are close to a deal that would send Machado to a team that is not the Brewers.
Buster Olney reported that the O's "have structure of a deal in place, and are going through the medicals," which would indicate that things are more or less done. We've seen Baltimore scuttle deals in the past by getting finicky on health issues, so you've always got to watch for that. Seeing what happened with Zach Britton after they backed out of a deal with the Astros last season, however, they might be less stringent this time around.
Sources: The Orioles have structure of a deal in place, and are going through the medicals/paperwork portion of the transaction. Dodgers have been very invested in their pursuit of Machado, as have the Phillies and other teams, but this in not finished yet.

— Buster Olney (@Buster_ESPN) July 17, 2018
I joked a little about the Brewers no longer being the favorite to land Machado because that's good news for the Cubs. That team appears now appears to be the Dodgers, who are reportedly willing to part with top outfield prospect Yusniel Diaz. It'd surely include more than that, but Diaz is ranked No. 4 in the Dodgers' system and No. 84 overall in MLB.com's top 100.
Breaking; The Dodgers appear to be the leading contender for superstar Manny Machado as talks head toward the finish line. The situation is fluid and brewers and phillies may still have an outside chance. Barring turnabout, deal should be done this week. Story comin on @Fancred

— Jon Heyman (@JonHeyman) July 17, 2018
Sources: top OF prospect yusniel diaz is indeed in the Dodgers' Machado offer currently on table

— Jon Heyman (@JonHeyman) July 17, 2018
USA Today's Bob Nightengale confirmed that the Dodgers are indeed the prohibitive favorite, which would make them the team building that structure Olney mentioned. Citing a "baseball official with direct knowledge of the deal," Nightengale wrote that the trade would be finalized Wednesday.
The Dodgers made some big moves this past winter to get themselves under the competitive balance tax threshold, which could be a factor here as well. Cot's Contracts has them at about $15.5 million under the $197 million limit, which should allow them to accommodate the $6.9 million left on Machado's $16 million salary quite nicely. Possibly adding other players in trades and then factoring in bonuses and whatnot might eat into some of that cushion, though.
As an aside here, how about the Dodgers getting a renewed version of Matt Kemp in that aforementioned salary dump? That move with the Braves was purely to avoid the luxury tax, but Kemp has looked completely different from the hobbled old man we saw in Atlanta. And it could be that fortuitous turn that has the Dodgers in position to make this trade to offset the decidedly unfortunate loss of Corey Seager.
The Phillies had reportedly achieved frontrunner status yesterday and are willing to part with their second-best pitching prospect in the deal, but it appears the Dodgers are clear favorites at this point. Either way, the common thread through all the reports is that the Brewers are at the periphery at best. Anything can happen at deadline time, though, so I suppose we can't count them out.
If things play out as they're being reported, the Cubs won't have to battle through a Machado-boosted team until the postseason. Well, except for maybe facing him for three games in Philly in late August/early September. And with very close races in the NL West and East, it's entirely possible that the team "winning" this deal doesn't even make the playoffs.
Wouldn't that be the best?