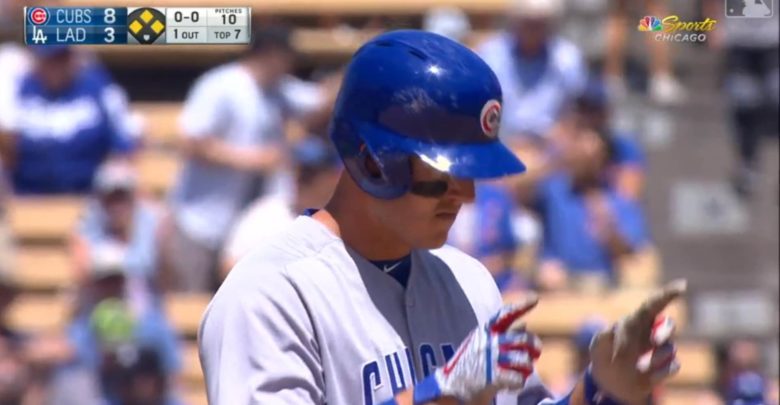 Revisiting Those 11 Bold Preseason Predictions Ahead of Second Half
It's become my annual tradition to put out a series of predictions at the beginning of the season, then to follow up on them intermittently. I had almost forgotten about this year's crop, but the light bulb went off when I was trying to come up with All-Star break filler material.
No need for further preamble, let's get to it…
1) No Cubs starter will reach 200 innings
Jon Lester leads the team with 111.2 IP and Kyle Hendricks is just behind at 110.1 at the break. And while that might make it seem as though they're both well on pace to crack two hundy, we have to remember that the season is actually 57 percent over. Then you figure the Cubs will go with a six-man rotation at least once or twice in the second half, plus you've got September call-ups.
Were they to maintain their current pace, Lester and Hendricks would get to 194.1 and 192 innings, respectively. As it is, though, I'd say they both end up around 180-190.
2) Kyle Schwarber will hit 40 home runs
It'll take a little doing, but Schwarber could get there. But wait, he actually hit 55 dingers in the Home Run Derby, so I was right.
3) Ian Happ will lead team in CF innings
Boy was I off here. This was really one of them that fits the billing of "bold," since it was unlikely. Unless something happens to Albert Almora Jr. (547.2 innings), Happ (248.1) will finish a distant second.
4) Jason Heyward will become a bench bat
Happy to be wrong about this.
5) Justin Grimm will not make the Opening Day roster
This was the first to be determined and I'm happy to have been right about it.
6) The Cubs will not trade for a closer
May still be too soon for this one. They've already got a closer in Brandon Morrow, but they continue to be connected to Zach Britton of the Orioles. Even if he wouldn't handle the 9th inning regularly for the Cubs, he is a closer.
7) Victor Caratini will be traded
Still a possibility, but Caratini has come back up and played well. And with Maddon saying that he wants to give Willson Contreras a little more rest, Caratini could assume a larger role. I still think he'll end up being moved at some point in the future, though, if only because he could probably start somewhere and bring the Cubs back someone they really need.
8) Chris Gimenez will prove his worth beyond his connection to Yu Darvish
Woof.
9) Kris Bryant will hit .300+ with 40+ doubles, a BB rate over 15%, and K rate less than 18%
He's hitting .280 with 21 doubles, an 11.1% BB rate, and a 21.6% K rate. And that's with the bum shoulder that hampered much of his first half. All these numbers are still within reach, but it's going to take some doing. Nothing a hot stretch or two can't fix.
10) Addison Russell will post at least a 110 wRC+ and 4 fWAR
His wRC+ is at an even 100 and his 2.2 fWAR puts him on pace for 3.83 by season's end. Could be close.
11) Jake Arrieta will take the mound at Wrigley on Tuesday, June 5
Arrieta did not pitch against the Cubs, so I was wrong. But he was on the field, so that's pretty close.
Overall, not a bad set of predictions, inasmuch as you can say that about stuff like this where you make some reaches.