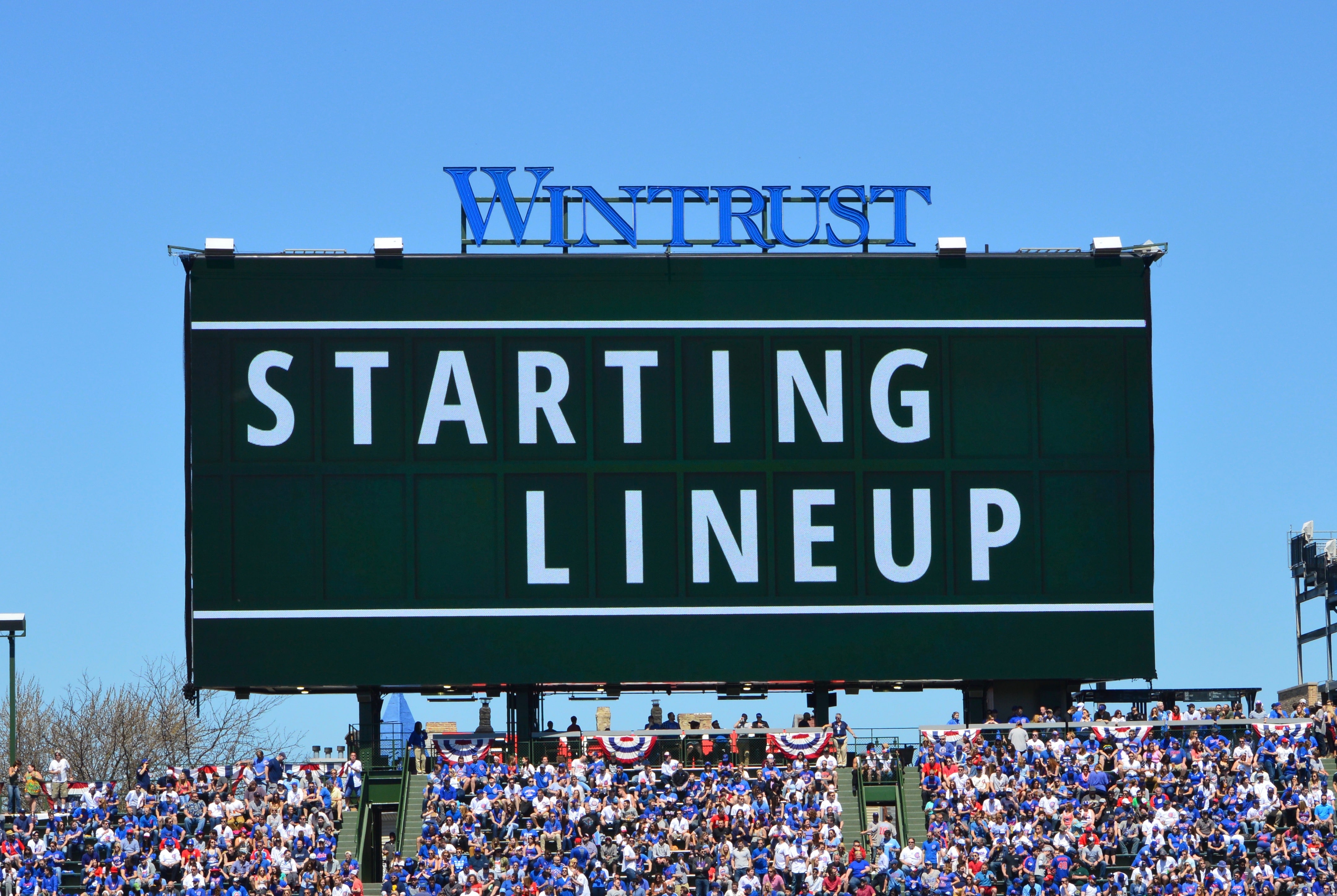 Chicago Cubs Lineup (Game 2): Bryzzo Leads Off, Montgomery on Mound
The Cubs are going for the doubleheader sweep on this fine, cloudy evening in Wrigleyville.
Bryzzo leads off for the first-place Cubs, which appears to be a new thing that Joe Maddon enjoys doing. I can dig it. Rizzo, the unequivocal Greatest Leadoff Hitter of All Time, had a phenomenal first game with three walks and one triple in five plate appearances batting first.  Bryant sat in the first contest, but he pinched hit later in the game and grounded out to third.
Heyward, batting third, hit in the same spot during the first game and went 1-4 with a walk and two runs scored. The athletic right-fielder bolted around the base paths in that first game, going first to third twice and respecting 180. What say you, Evan?
Instead of advertising Cialis or Viagra et al during Cubs games, they should just loop Heyward going first-to-third on Zobrist singles.

— Evan Altman (@DEvanAltman) July 21, 2018
The electric duo of Javy and Willy bat cleanup and fifth, respectively, tonight. El Mago already lit the Cardinals on fire throughout the first game by going 3-4 with two RBI and one run scored, all while flashing leather and arm strength. Willy joined KB on the bench in the afternoon game, but he'll start behind the dish well-rested.
Schwarber follows the top five hitters in the six hole. Even though the stocky left-fielder only had one official at-bat this afternoon, he walked twice, hit a deep sacrifice fly, and scored a run.
Almora Jr. and Addison round out the lineup ahead of tonight's starting pitcher Mike Montgomery. Both Albert and Addi got the afternoon off prior to their start this evening.
Mike Montgomery has looked quite pedestrian over his last four starts after looking like Cy Young over his first five. But he's gone at least five innings in each and has more or less kept the Cubs in the game.
On the mound for the visitors will be 25-year-old righty John Gant, who'll be making his seventh start and 13th overall appearance on the season. He's no relation to Ron Gant, who is probably best known for his time with the Braves but played for the Cardinals for three seasons in the late 90's.
Gant's mainly a fastball/changeup pitcher, though he's got a curve that he'll mix in there and a slider that can keep hitters guessing. He keeps the ball down and keeps it in the yard despite quite a bit of hard contact in the air. And if his 0.55 HR/9 isn't enough to tell you that he's due to be lit up, his .219 BABIP against sure is.
What's really odd in looking at the splits is that, while they're almost even on a platoon basis, Gant's results vary wildly based on whether he's home or away. He has just destroyed both righties and lefties at home, but the former group is way down at .098/.196/.150. When he's on the road, righties are at .278/.390/.371, which is probably closer to who he really is.
We'll see if the Cubs can expose the truth Saturday night at 6:15pm CT in a game you can watch on FOX.
Here is tonight's #Cubs lineup for Game 2 of the doubleheader! #LetsPlayTwo

Game preview: https://t.co/cG9J3rEg0B #EverybodyIn pic.twitter.com/JZF0T9JCCZ

— Chicago Cubs (@Cubs) July 21, 2018