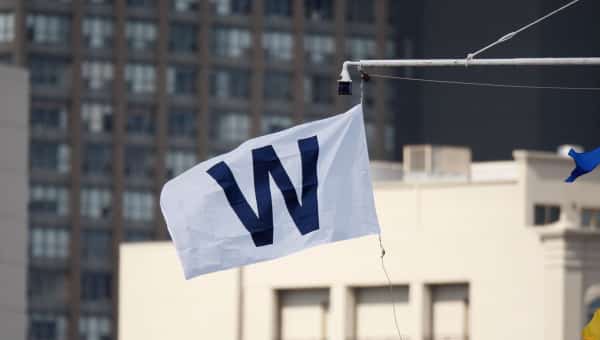 CI Recap (8/10/18) – Cubs 3, Nationals 2: Cubs Rally; Hang On Late For Win
After a disappointing shutout loss to the Royals on Wednesday, the Cubs looked to bounce back against a desperate Nationals team Friday at Wrigley Field. Chicago's offensive frustration continued early against starter Jeremy Hellickson, but they finally got a lead late and hung on for a one-run victory.
Kyle Hendricks' opening-inning issues continued Friday as he allowed a one-out hit to Trea Turner and hit Anthony Rendon with a pitch. After David Bote caught Bryce Harper's pop-up with a slick backhand stab behind third, Juan Soto singled home Turner to put the Nats up 1-0.
More small-ball extended Washington's lead in the 2nd inning, starting with Daniel Murphy singling and advancing to second on a Hellickson bunt with two down. Adam Eaton poked a single between first and second to score Murphy and double the lead. The Nats starter kept the Cubs hitless through the first five innings.
The turning point came with two outs in the bottom of the 6th inning. Anthony Rizzo worked a 13-pitch plate appearance, fouling off some tough offerings before finally drawing a walk. The battle clearly gassed Hellickson, who proceeded to walk Javy Baez and Ben Zobrist on eight pitches. Lefty Sammy Solis came on in relief, no-no still intact, and immediately surrendered a game-tying two-run single to Jason Heyward.
Things got crazy in the bottom of the 7th inning, when Kyle Schwarber singled off of Solis to begin the inning. Solis was lifted for Greg Holland (no relation), who Willson Contreras greeted with a bunt to third. Anthony Rendo fired wide to first and the Cubs had men on second and third. Then home plate umpire Bill Miller ruled, probably correctly, that Contreras was inside the baseline and not in the designated running lane, so he was out and Schwarber had to go back to first.
Joe Maddon was furious and was ejected, but not before actually reenacting the play to show Miller how he was wrong.
After those fireworks, play resumed with Ian Happ and Addison Russell each getting a hit to load the bases. Rizzo drew another huge walk, this time forcing in the go-ahead run to make it 3-2. Reliever Koda Glover entered and was able to retire Baez and Zobrist to keep the lead at one.
Brandon Kintzler walked Harper and Juan Soto with no one out in the top of the 8th. Carl Edwards Jr. took over from there and, in a 2017 NLDS flashback, Contreras picked the rookie Soto off first with a snap throw. Edwards got pinch-hitter Mark Reynolds to fly out and Murphy to ground to second to end the threat. Pedro Strop pitched around his own 9th inning error to save the 3-2 win. (Box score)
Why the Cubs Won
Kyle Hendricks kept the Nationals to only two runs long enough for the Cubs to rally back. The bullpen also was able to keep Washington scoreless with a little help from Contreras.
Key Moments
There are actually two key moments in this game. Rizzo's huge walk totally knocked Hellickson out of his rhythm and got the Cubs into the Nats 'pen. Contreras's pick-off was huge because Washington had two on and nobody out and getting the first out on the bases took some of the pressure off Edwards.
Stats That Matter
Hendricks pitched well and was the victim of a lot of soft hits: 6 IP, 2 R, 8 H, 5 K, and 0 BB. His control was much better and I really can't think of many well hit balls.
Rizzo didn't have a hit, but his three walks were perhaps the biggest plays of the game.
Heyward only had one hit, but it was kind of an important one.
Bottom Line
That game felt a lot like the Nats/Cubs playoff series last year: Hard-fought, came down to the wire. The fact that Hendricks looked good against a tough lineup is a positive sign for the Cubs.
On Deck
Jon Lester looks to improve on his shaky second half against Tanner Roark on Saturday at 3:05 pm CT. The game airs on Fox Sports 1 and ABC-7.